J. J. Watt's Hurricane Harvey Fund Has Raised Millions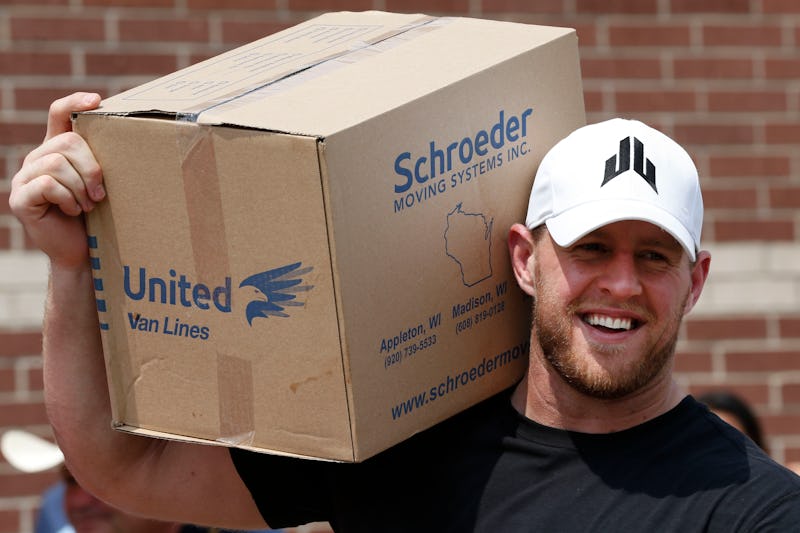 BRETT COOMER/AFP/Getty Images
Houston is receiving some serious help with post-hurricane recovery from an unlikely source, one of its star football players. Number 99 for the Houston Texans has stepped up in a big way since the city was devastated by the storm, and he's just getting started. J.J. Watt's Hurricane Harvey relief fund has raised over $18 million, and it could grow significantly larger as fundraising efforts continue.
Watt started the fundraising drive with the initial goal of just $200,000, which was surpassed within hours of launching the campaign. As of Sept. 3, the fund had topped $18 million, thanks to some big chunks of change chipped in by Watt's celebrity pals Ellen DeGeneres, Drake, and Chris Paul. The campaign's revised goal on Sunday night was $20 million, with little signs of slowing donation rates.
On Sunday, Watt also walked the walk by delivering truckloads of supplies that were collected from his hometown of Pewaukee, Wis., where Watt's mom was in charge of the donation drive. It took 10 18-wheelers to drive the supplies down, but this "phase one" operation, as Watt called it in an interview Sunday, hasn't cut into the foundation's budget so far.
"Not a single dollar has been spent yet," Watt told USA TODAY. "All 10 semi-trucks were donated ... so we haven't even spent a single cent yet and that's a testament to the community."
This is by no means Watts' first foray into philanthropy — in fact, one of the reasons he's so beloved within the Houston community is his dedication to local causes (along with his stellar stats as the Texans' star defensive player). For the last five years, Watt's foundation has been active within the Houston community creating and supporting athletic programs for middle schoolers. One of the organization's main fundraising event is a charity softball game and home run derby between the Texans' offensive and defensive squads. Since 2013, the Charity Class has raised over $3 million for Watt's foundation.
Watt's efforts are incredible, but unfortunately they're nowhere near meeting the need that the areas affected by Harvey will experience over the next several years. Texas governor Greg Abbot announced Sunday that the damage could cost more than $180 billion to fix, and the federal government's initial aid package will only give the state $7.4 billion in cash. Way more fundraising efforts will have to attempt to make up some of the difference, so if you haven't given yet, you can start with Watt's foundation or another local Houston charity.