A-Rod Had The BEST Reaction To Jennifer Lopez's VMAs Performance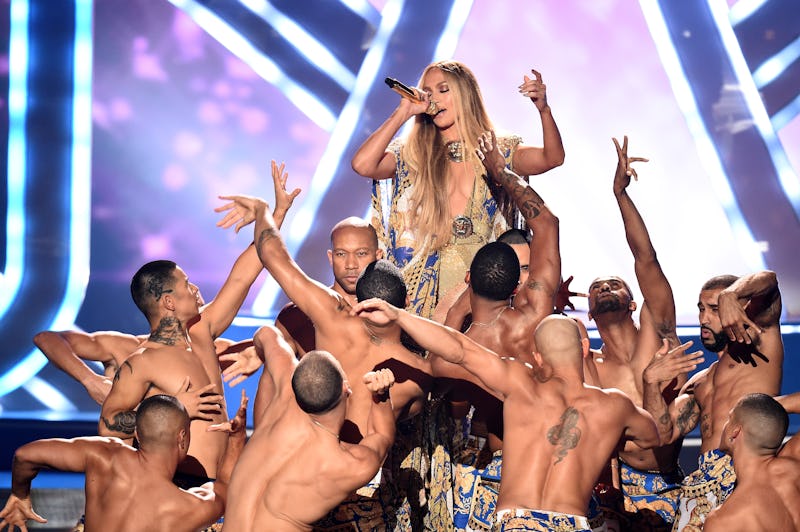 Michael Loccisano/Getty Images Entertainment/Getty Images
Jennifer Lopez took the stage at the 2018 MTV Video Music Awards, and the singer certainly proved why she deserves the Video Vanguard Award. In addition to performing a medley of her greatest hits, J. Lo's 2018 VMAs performance captivated the attention of her man, A-Rod, aka Alex Rodriguez, and fans everywhere. Looking every part the proud boyfriend, Rodriguez whipped out his cell phone and started recording parts of Lopez's performance. Yes, even the man she's dating was so mesmerized by her performance, he had to take a pic.
Rodriguez might have reacted to Lopez's performance like a regular fan, but he's not just a huge J. Lo stan. He's also her boyfriend, and, as a man lucky enough to be by Lopez's side, he got a shoutout from the singer herself. After wrapping up her monster performance, which included "On the Floor," "Love Don't Cost a Thing," and the iconic "Jenny From The Block," Lopez accepted her award with a sweet speech. And after shouting out her managers, her collaborators, and her children, Lopez thanked Rodriguez towards the end of her speech. "Alex, you're like my twin soul," she said. "My life is sweeter and brighter with you in it."
He was pretty excited throughout the performance, really.
Like he really, really couldn't believe how awesome Jennifer Lopez is. (A fair point, mind you.)
Even J. Lo's fans were impressed by how much Rodriguez seemed to love her performance.
Some, like @agent_shir, made the very apt comparison between Rodriguez and Regina's mom from Mean Girls.
Of course, this is pretty normal behavior for Rodriguez. On Sunday, the day before the Awards, the former baseball player shared a behind-the-scenes video of Lopez's rehearsal on Instagram. "The amount of sweat, focus, drive and determination she puts in everything she does is truly inspiring," he wrote of Lopez in his Instagram caption. "A lifetime of achievement, and she still reaches for the sky every single day." Rodriguez was even spotted taking pictures of Lopez on the VMAs pink carpet before the show, proving his love for Lopez truly knows no bounds.
Meanwhile, fans were similarly obsessed with Lopez's stunning performance. Though they didn't have the privilege of being in the room, like Rodriguez, fans showed their love for Lopez from afar, showering her with praise on Twitter.
Fans were especially grateful to Lopez for bringing up Ja Rule, her frequent collaborator, to the stage.
Famous fans also were quick to shower Lopez with love, with everyone from Fergie, to Ryan Seacrest, to Real Housewives of Atlanta star Kim Zolciak-Biermann. "Not sure what we did to deserve that epic @jlo concert but I'm grateful," Seacrest wrote. "Congrats on the Video Vanguard Award Jen — well deserved! #VMAs."
Lopez's performance didn't just impress, it blew fans away. And celebrities might be famous and glamorous, but even they are not immune to the power of an epic J. Lo performance. One thing's for sure, tonight, during Jennifer Lopez's Vanguard Award performance, we were all A-Rod.