Jack & Rebecca's Relationship Timeline On 'This Is Us' Shows True Love Takes Work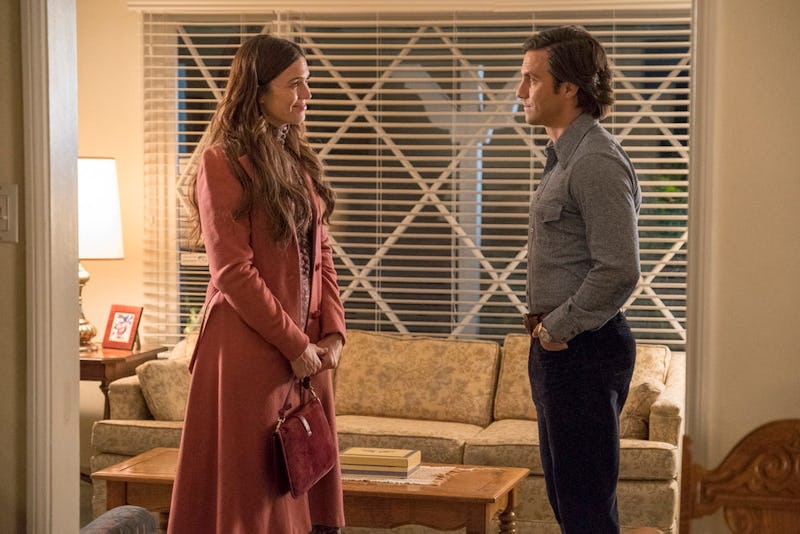 Ron Batzdorff/NBC
This Is Us fans were so excited to see Rebecca and Jack's first date play out on the Season 3 premiere — that is until it didn't go very well. They didn't have a very good time at first, and it was painful to watch them be so awkward around each other. Then, in a dagger to the hearts of all Jack and Rebecca fans, when he was on his way to return her coat — he saw her kiss another man. So, in an effort to reassure fans that this other man is likely a blip on Rebecca's radar, this Jack and Rebecca relationship timeline for This Is Us hints at how long it will be before they're together for good.
During the first date episode, Jack watched Franco Harris complete the Immaculate Reception during a Steelers game, which in real life fell on this Dec. 23, 1972. Jack was 28 at the time, according to Life and Style reporting on this quote of his from a previous episode:
"You know when I was a little boy I didn't know what I wanted to be when I grew up. Adults always ask little kids that. I never had a good answer. Not until I was 28. Until the day that I met you. That's when I knew exactly what I wanted to be when I grew up. I wanted to be the man that made you happy."
So, that 1972 was the fateful year that they met. Here are some other major moments leading up to Jack's death last season.
1975 — Jack And Rebecca Considered Themselves A Family
TV Guide pointed out that the Season 1 premiere shows that Jack and Rebecca have family photos dating back to 1975. So they were at least together starting then, if not earlier.
1976 — Jack And Rebecca Get Married
In the Season 2 episode "Vegas, Baby," Jack and Rebecca are shown celebrating several wedding anniversaries. In one, Rebecca is clearly pregnant and she and Jack are celebrating their fourth wedding anniversary. Fans learned in the Season 1 premiere that the Big Three were born on August 31, 1980 and we learned they were conceived during the January 20, 1980 Super Bowl. That means that Rebecca was pregnant between January and August 1980 and celebrating their fourth wedding anniversary. That puts the date of their marriage between January and August 1976.
January 20, 1980 — Rebecca Gets Pregnant
Jack and Rebecca conceive the triplets during Super Bowl XIV, according to the TV shown during the episode. That Super Bowl aired on January 20, 1980
August 31, 1980 — The Big Three Are Born, Jack Turns 36
Rebecca and Jack's kids are born on Jack's 36th birthday and they adopt Randall after their son Kyle passes away during birth.
1980 — 1996 — Jack And Rebecca Raise Their Kids
Fans see a lot of these years, but nothing particularly important happens between Jack and Rebecca in their marriage until the kids are teenagers and Rebecca wants to start her singing career back up again.
February 14, 1997 — Jack And Rebecca Have A Huge Fight
The Season 1 finale shows Jack breaking his sobriety and fighting with Rebecca's fellow bandmate after he finds out the two of them used to date. Rebecca drives Jack home from her gig and the two get into a huge blow up, venting years of frustration about failed dreams, child-rearing struggles, and marital frustrations. Rebecca eventually suggests that the two separate and Jack leaves for Miguel's house.
Viewers know that it's a Valentine's Day gig that Rebecca was playing, and she mentions that she's put everyone ahead of herself for 16 years, which would make her kids 16 and the year 1997.
1997 — Rebecca & Jack Reunite, Jack Goes To AA
As Vulture pointed out, the Season 2 premiere picks up right where Rebecca and Jack left off, and shows Rebecca being able to make it only a few hours without Jack before she drives to Miguel's to work this thing out. Jack confesses his drinking problem has returned and Rebecca promises they can make it through together. Jack starts going to AA with Rebecca's support.
January 25 & 26, 1998 — The Pearson House Catches On Fire, Jack Dies
According to SB Nation, the Pearson fire broke out following Super Bowl XXXII, which took place on January 25, 1998. Although Jack was able to get all of his family out of the house (including the dog) he passed away in the hospital later on from a smoke-induced cardiac arrest.
All together, Jack and Rebecca knew each other for 25 years and were together for at least 22 of them. While I'm sure these soul mates would have wanted more time together, they had a beautiful life while it lasted. And we can all rest assured that Jack and Rebecca will be together in the past timeline before long — nothing can keep true love apart forever.