Why Jack Pearson & His Dad On 'This Is Us' Have So Much In Common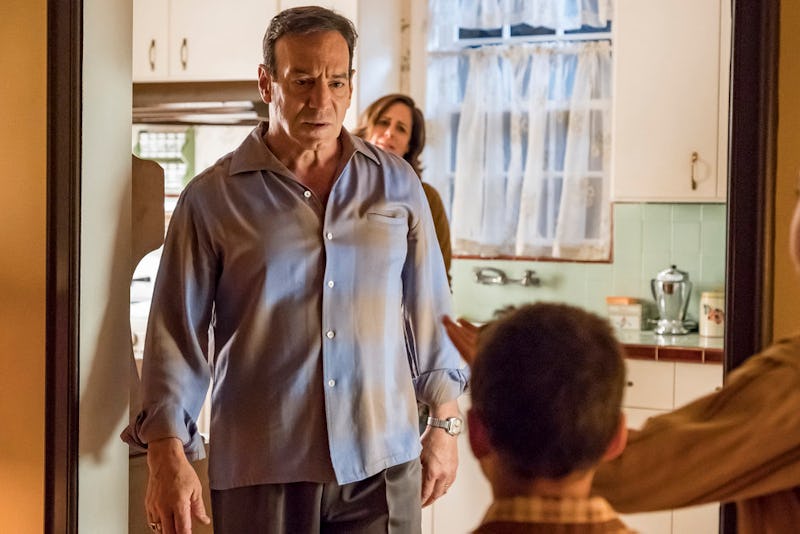 NBC
Stanley Pearson wasn't always the crass, abusive father and husband people know him as. During last week's episode, Jack's Dad on This Is Us was seen for the first time sans-whiskey glass in hand, and he was a completely different person. Up until this point on the show, many assumed he had always been a harmful drunk — or at least for the length of Jack's life, he was. That may explain why it came as such a surprise to many to not only see Stanley sober, but to watch him respectfully deny a sip of booze from his own father's flask.
"You want a swig?" Stanley's father asks him as they patiently await the birth of Jack's brother, Nicky, at the hospital. Jack is just a toddler. "Come on dad, you know I don't drink," Stanley replies. Just a few years later, he would take every last sip he could get.
But now fans know that Stanley was a good father, and a loving mentor to Jack with all the right intentions, just like parents everywhere. They also know for sure that alcoholism seems to run in the Pearson family. They're just not sure how Stanley's life went down hill so quickly. But with these few extra bits of his backstory provided by the occasional flashback, they're slowly figuring him out.
His Alcoholism Came Later In Life
And it happened fast, which means something traumatic had to have happened to trigger his use. After all, the earliest scenes of Stanley's inebriated abuse toward his family take place when Nicky is just a few years old. According to Refinery29, whatever happened must've taken place between 1948, when Nicky was born, and 1956. There are many fan theories out there that speculate what pushed him over the edge, including the Korean War and the loss of a third child.
Because the war took place between 1950 and 1953, per R29, Stanley would've likely been in tip-top shape for battle. And he could be using the alcohol to cope with PTSD. Another more layered theory is that Stanley's binge drinking is stress-induced by Nicky's alleged poor health and the loss of a third child, which could be directly linked to his severe treatment of Jack's mother.
"Stanley and Marilyn (Jack's mom) lose a third baby," one Redditor wrote. "My prediction is based on two things. One, Jack and Rebecca also lost a third baby - it would be a connection across storylines that the writers love making. Two, it might "explain" Stanley's hostility particularly towards Marilyn if he blames her for losing the pregnancy or other something else involving losing the third child."
His Relationship With His Dad Was Strained, Too
You can definitely cut the tension in the room with a knife whenever a grown Jack and Stanley share a scene. It looks like, before Stanley developed a drinking problem of his own, that could've been the case with him and his own father. Fans don't know much about the details of their relationship, but by the looks of it, there seems to be a similar tension that was bred early on. So that may speak to the issues Stanley himself has with fatherhood.
He Taught Jack How To Take Care Of Others
One of the most admirable, heart-melting traits within Jack Pearson is his ability to love and care for others. No one would've dreamed that he learned that from his father, but now that we've seen more of Stanley's past, that inheritance seems more likely. With a young Jack in his arms as they admire newborn Nicky from outside the hospital nursery, Stanley bouts a familiar phrase. "Remember, big brother's look out for their little brother," he tells Jack. "It's their only job. It's the only thing that matters." That's a motto fans hear from Jack throughout the series in one form or another, so it looks like he and his father have more in common than they initially thought.