Jack & Nicky's 'This Is Us' Vietnam Flashbacks Are As Ominous As You Think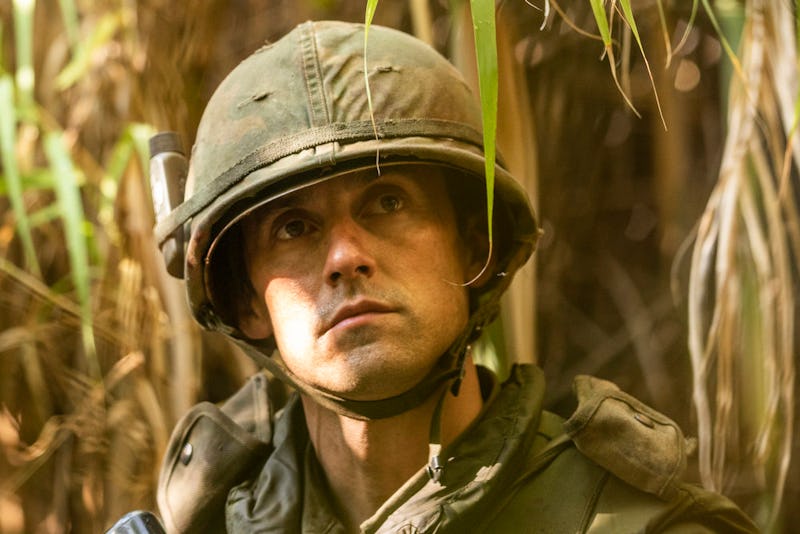 Ron Batzdorff/NBC
Fans of This Is Us are well aware that although a character's fate may be known, the journey to that point is rarely predictable. Jack and Nicky's This Is Us Vietnam flashbacks on the Oct. 16 episode — simply titled "Vietnam" — ended and began the same way: with Jack (Milo Ventimiglia) coming face-to-face with his little brother, Nicky (Michael Angarano). As Jack utters the words, "Hey, little brother," and a demoted Nicky tosses a match into a barrel of gasoline, the Pearson boys' faces show how much can be communicated with just a look — and signified the dark times ahead.
"There's a little thing Milo does at the very, very end of the episode, and at the beginning, when he sees his brother for the first time," series creator Dan Fogelman explained in an interview with Entertainment Weekly, published on Wednesday, Oct. 17. "It is the most subtle little flinch ... and it's not just that he's dirty and his haircut is different. There's clearly something a little bit different ... it's also a big precursor to all the stuff that's coming next."
As fans saw in the episode, much like his heroics later in his life, Jack long played the role of the family protector — from saving his mom from his abusive, alcoholic father, right up to his enlisting in the military when his little bro's letters from Vietnam indicated he'd not been coping well with the horrors of war. As described by Fogelman to EW, the Nicky that Jack encounters in Vietnam is a "broken," "unhinged, and "very damaged little brother," a year into serving overseas in the war. Viewers naturally have to wonder: Did Jack arrive too late?
"We have a really complicated journey ahead for Jack and Nicky in Vietnam," said Fogelman, adding that "at the very last minute" he asked Angarano to shave his head and lose weight to show the physical part of the transformation. "The guy we meet in Vietnam is a very different version of the guy that we knew back in Pittsburgh."
As echoed by Angarano in a separate interview with EW, "There's one thing for sure — the man that [Jack] sees at the end of that episode is not his brother." (Figuratively speaking, of course.)
So what exactly was behind Nicky's brief, yet powerful reaction to seeing Jack? "There's part of him that's happy," Angarano further explained to EW. "I think there's also part of him that resents that he's there. There's part of him that's surprised that he's there. And I think in an instant, even though he's in a completely foreign land, a completely different headspace, and a shell of his physical self, he probably gets 21 years of sibling dynamic in about three seconds."
Teased the actor, "I think Nicky is on a course when Jack finds him ... and it might be too late by the time Jack has gotten there already."
Ventimiglia also shared his thoughts on the ending scene with EW. "I don't think it is until that moment that Jack seems him that he realizes just what he's up against," he said, adding that the story will pick up from that moment in later episodes. "He now has a bigger job than just surviving a war. He's got to survive the war, hopefully for him and his brother ... Jack has to be the hope, he has to be the light, he has to be the beacon at the other end of the turbulent storm."
Of course, viewers already know what happens to Nicky on This Is Us, but, even so, Ventimiglia — whose real-life father, Peter Ventimiglia, was actually a Vietnam vet himself — said that fans "should be prepared" for what's to come. "I think people know something ominous is coming ... the casualty that happens in war, the emotional innocence that's lost, the physical family that's lost, all of that," he told EW. "War is a nasty, nasty thing, and it puts people on different paths because of it. We all know how Jack's story continues beyond it, but we just don't quite know what happened to him in war — and we're going to find out."
Fans will certainly be tuning in to NBC on Tuesdays at 9 p.m. ET to see how this chapter plays out on This Is Us.