Jacob Tremblay Meets His 'Star Wars' Hero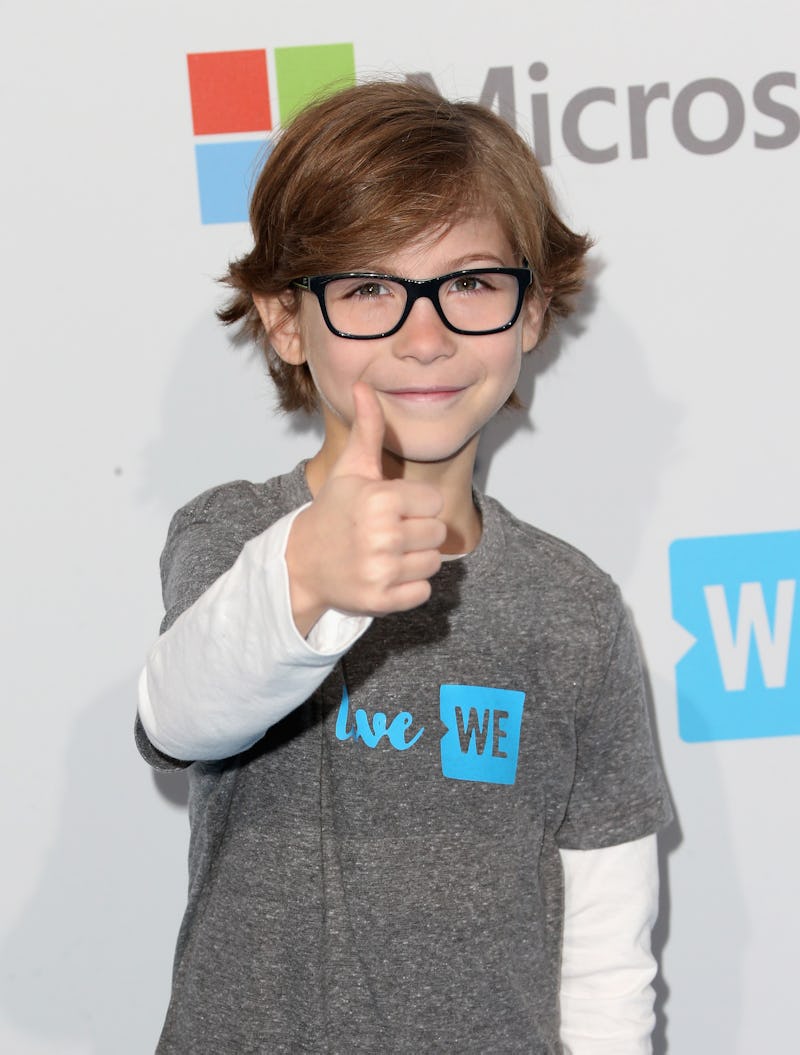 Frederick M. Brown/Getty Images Entertainment/Getty Images
A note to my fellow Star Wars fans — reading this post will probably make you insanely jealous of Room actor Jacob Tremblay. He may only be 10 years old, but Tremblay has already gotten a chance to meet numerous Star Wars cast members, including Mark Hamill, who played Luke Skywalker in the original Star Wars trilogy, then reprised his role in the The Force Awakens. Tremblay and Hamill met on the red carpet at the premiere of Tremblay's newest film, The Book of Henry, in Los Angeles, CA, on Wednesday, June 14.
Now, if you follow Tremblay on Instagram or Twitter then you already know that he's a huge Star Wars fan. Like, if you ever need something to make you smile then the video of Tremblay giving Chewbacca a high-five will definitely do the trick. This video of him dressed as Han Solo next to two Stormtroopers is also pretty amazing, but now I'm getting distracted...
It's definitely safe to say that Tremblay is a Star Wars fan, and his captions for the photos he shared of his meeting with Hamill only further prove that point. He tweeted a message that says, "Geeked out, big time, don't even care!" Tremblay also shared the photos to Instagram, with a caption that reads, "This was absolutely everything I always knew I needed!"
How adorable is Tremblay posing (in the second and third photos) like he's holding a lightsaber?
After the screening Hamill responded to Tremblay on Twitter, calling The Book of Henry "a beautiful film," and noting that it was "unpredictable" and "heartfelt." Seems like you could say that Tremblay and Hamill are definitely fans of each other's work. Oh, and lucky for us, E! News caught the meting on video for all of us to watch. Pay attention to Tremblay's face when he first sees Hamill.
Like I mentioned, this isn't the first time Tremblay has meet someone from the Star Wars universe, back at the 2016 Oscars he posed for a photo with C-3PO, R2-D2, and BB-8. Tremblay shared the pic to Insta with a caption that said, "My new squad!"
At the 2016 Oscars Tremblay also posed for an adorable photo with Daisy Ridley, who plays Rey.
In his caption Tremblay claimed that Ridley "is even cooler" than her character Rey. Can you imagine how awesome it would be to be able to meet so many of your idols as a kid? Yeah, I'm totally jealous, I'll admit it.
In the past Tremblay admitted that he'd asked The Book of Henry director Colin Trevorrow — who is also directing Star Wars: Episode IX — for a role in the film, which is slated for release in 2019. And that's an idea I can totally get behind. Not only because Tremblay is a big fan of the franchise, but because he's talented and could undoubtedly breathe life into whatever Star Wars character the filmmakers cast him in. Here's hoping it happens.