This Fact About Jacqueline's 'Bachelor' 1-On-1 Makes The Date So Much Better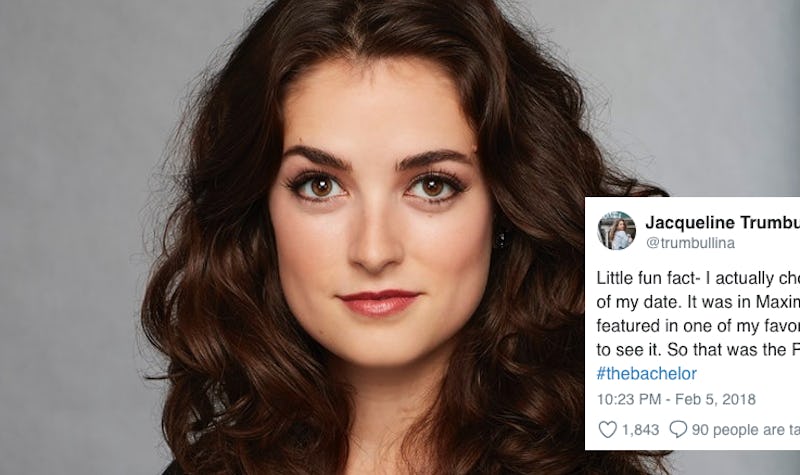 ABC/Craig Sjodin
After weeks of getting very little screen time on The Bachelor, Jacqueline finally had her first one-on-one date with Arie. Sure, Jacqueline didn't get a lot of time in the spotlight, but she actually played a very instrumental role in Monday's episode. Jacqueline actually planned her Bachelor one-on-one date with Arie in Paris.
In a tweet that Jacqueline shared during the episode, she revealed,
Little fun fact- I actually chose the location of the dinner portion of my date. It was in Maxim's, a beautiful art nouveau restaurant featured in one of my favorite movies, 'Gigi.' I'd always wanted to see it. So that was the Paris dream Arie referenced. :) #thebachelor.
Watching this show it seems like even the Bachelor himself is a little bit in the dark when it comes to the agenda of these dates. Would anyone who is actually going on the date choose to fake wrestle or go to a dog show with uncooperative dogs? No. Obviously, the women are (usually) surprised when those date cards arrive and even throughout the dates themselves, but Jacqueline actually did have the control here. If only she had some say in when she got this solo date with Arie instead of waiting until Week 6 of the season.
A viewer responded to Jacqueline's tweet and asked, "How far in advance did you select it? Wasn't the restaurant closed for just you guys?" Jacqueline shared, "I had mentioned it a few days prior and was surprised with it."
It makes sense that the traveling locations are decided beforehand, so they can get permission to film at certain locations and book lodging accommodations. Often, it seems the lead gets to choose who gets one-on-one time, but when it comes to who decides the dates and when, it seems to depend on the situation.
In a Yahoo! blog post that host Chris Harrison wrote about Kaitlyn Bristowe's Bachelorette season, he revealed that he chose Kaitlyn's companion and the plan for one of her solo dates. "The next date was something new we thought we'd try this season: I set Kaitlyn up on a surprise date with one of the guys," he wrote. "The reason I picked Ben Z. was because I knew she was really intrigued by him after their last conversation, and I thought they needed some one-on-one time together. The date I set up for them in the Escape Room put their young relationship to the test."
During a People blog that former Bachelor Nick Viall wrote about his one-on-one date with Kristina Schulman last season, he revealed, "Picking Kristina for the one-on-one felt long overdue. For some time now Kristina and I built a strong connection, but I had been waiting for the right date to have that extra time with her."
And, in a blog that Arie wrote this season for People about his solo date with Bekah M, it seemed like Arie didn't have a say in their date activity, which started out with horseback riding. Arie wrote, "I'm not much of an equestrian guy, so I have to give a big shout-out to my horse General for making me look good for my date."
So, it might just be a mix of different situations with how much anyone knows about any given date on this show. For the most part, it seems like the lead at least gets a heads up on the activity, even if they don't get to choose it, but more often than not the contestant doesn't usually have input like Jacqueline did. It's very cool that she got to go to a restaurant that she's always wanted to visit, especially since she was in the middle of filming a reality show and wouldn't have expected it.