Jaden Smith Will Play A Young Kanye West In New TV Show & Yes, You Read That Correctly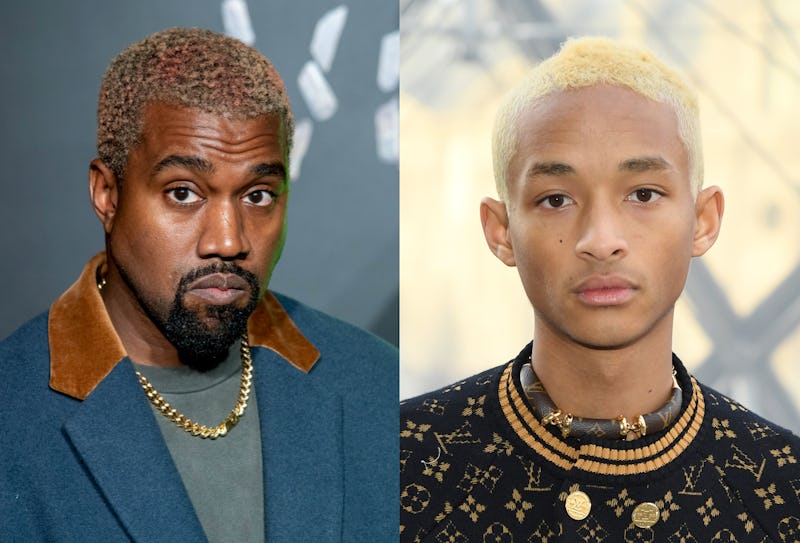 Roy Rochlin/Getty Images Entertainment/Getty Images; Pascal Le Segretain/Getty Images Entertainment/Getty Images
We know that Jaden Smith is one of the best at keeping up with the Kardashians, being very close friends with Kylie Jenner (through Jordyn Woods) since they were both kids. But now, the actor will literally become one of the famed Kardashian family members for his next project. Jaden Smith will star as a young, alternate reality Kanye West in Omniverse, a new show from the rapper himself, and it sounds totally wild.
Omniverse, as reported by Deadline, will be a limited half-hour anthology series with Smith attached to star, and Lee Sung Jin, who's currently an executive producer on Amazon's Undone, signed on as the show's writer. Both will also act as executive producers on the show, alongside West and his current manager Scooter Braun, who also famously looks after the careers of Justin Bieber and Ariana Grande. Lee Sung Jin clarified the show's complex plot in a statement obtained by Bustle, saying:
"I'm honored and thrilled to be collaborating with everyone involved to present an alternate world through the eyes of a young man somewhere in the multiverse who happens to also be a Kanye West. Omniverse is not set in our world nor about our world's Kanye West as we aim to add a new spin on alternate realities, consciousness, and push the limits of half hour narrative."
While plot details are very scarce, Deadline reported that the new series will "examines the many doors of perceptions." While Smith is set to portray West onscreen, it looks like the actor will be going in a different direction with his role, playing a different version of the rapper that doesn't exist in real life. The outlet explained, "Season One explores the Ego through an alternate reality Kanye West."
Of course, if anyone in the world knows a thing or two about the Ego, it's definitely West himself. Not only did he once feature on a remix for Beyoncé's uber-catchy hit song named "Ego", the rapper has been both criticized and praised in past years for his inflated ego.
Some writers, including BBC's Greg Kot, have argued that West's penchant for self-indulgence allows for his talent to shine brighter, which in turn gives us better music. "Those who think they can do no wrong or don't care what others think of them are more prone to take risks, to push beyond what's considered acceptable, to break rules in the name of furthering not only their own greatness, but their own conception of what art is and what it can do," he wrote in 2014.
Sadly, at least for supporters of West's ego and all the artistic benefits that it brings, the rapper himself tweeted in June 2018 that he had killed his ego.
This will be West's first major foray into television, and given Drake's involvement in the upcoming HBO show Euphoria, this could end up being a major trend among rappers. And given that the show centers on his life, could West possibly star in the show as well, even if only for a simple guest appearance? Maybe one of the Kardashian family members will also make their acting debut. There is no further news on casting as of now, but the possibilities are very intriguing.
Showtime has put the show in development, with a production schedule and release date still to be determined. Hopefully, the show premieres sooner than expected. The chance to see a Smith play a West is just too exciting to miss, and the world is surely already waiting with bated breath.
Editor's note: this piece has been updated to clarify Smith's role.