Jameela Jamil Just Shared Some Truths Accepting Her Iconic Women In Film & TV Award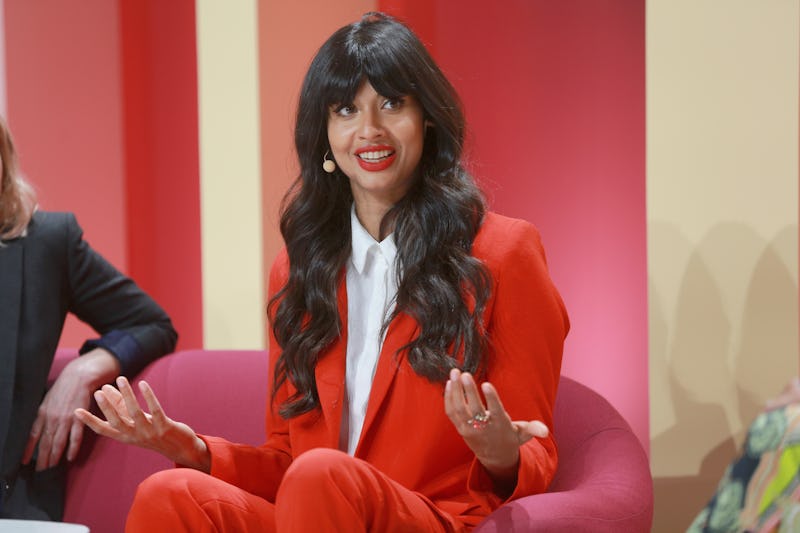 Rich Fury/Getty Images Entertainment/Getty Images
Not to make everyone feel old, but T4 used to be the highlight of my day thanks to a certain presenter. This lady made me feel like I could do anything and everything, and has gone on to prove that women can do even more than just that. Especially since Jameela Jamil won the Achievement of the Year Award at this year's Women in Film and TV Awards, courtesy of ITV Studios. I mean, talking about absolutely slaying it.
This year has seen Jamil champion body positivity and self-confidence, which was obviously evident in her acceptance speech. I wish I could be this inspiring after winning such a momentous award. "I still think we're in a time where women are told 'no' and 'don't' and 'can't' way too often," she said.
"Just three years ago, I left to go to America and I was told before I left by way too many people that I was 'too old,' 'too fat,' and 'too ethnic' to start again in a new country, so I am thrilled to have been given the opportunity to prove that you can start again in your 30s and you can be brown and you can be outspoken and you can still have a career."
She added: "Thank you to all of you and thank you to the women who have held me up during my career." It's been a hell of a year for Jamil, and what a way to close it. From being recognised as one of BBC's 100 Women of the Year, The Good Place being renewed for a fourth season (she portrays philanthropist Tahani Al-Jamil) to starting a much-needed body positivity movement on Instagram, Jamil has certainly made 2018 her year.
And she's not shy from admitting how the past 12 months have changed her outlook on life, either. "This year in particular has taught me so much about the struggle of women and our shame," she wrote on Twitter. "Reading back old diaries, blogs, tweets that I wrote remembering things I said and thought before I understood society, my own ignorance and sometimes even internalised misogyny."
It's this honesty — and down right realness — that has made Jamil such an important role model for young women today, which WFTV have certainly realised in giving the actor this award.
Jamil will now be among some of Britain's most prestigious women in entertainment, including Julie Walters, Dame Helen Mirren, Rosamund Pike, Amma Asante, Waad Al Kateab, and Mishal Husain to name a few. Can you even think of a more iconic group of women to be around? I think not.
Gosh, I feel like a proud mother having witnessed Jamil's career grow from entertainment host to established actor. For someone that was basically told she wouldn't amount to anything if she went ahead at turning to a new page in her life, the actor has certainly proved all those naysayers completely wrong.
I for one cannot wait to see where she ends up next.