James Comey Confirms The FBI Is Investigating Trump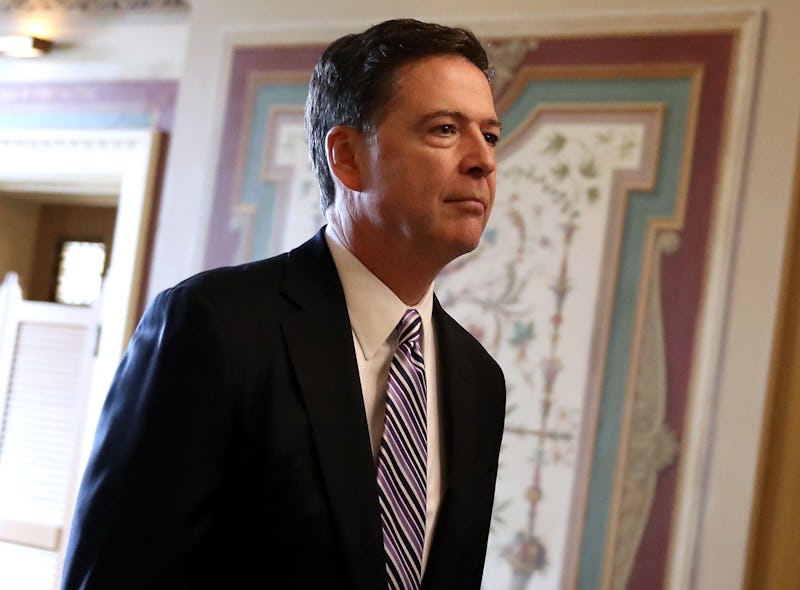 Justin Sullivan/Getty Images News/Getty Images
During his testimony to the House Intelligence Committee on Monday, James Comey confirmed that FBI is investigating possible connections between the Russian government and Donald Trump's 2016 presidential campaign. According to Reuters, the FBI director said the investigation would look into "whether there was any coordination between the campaign and Russia's efforts." Comey then added, "Because it is an open, ongoing investigation and is classified, I cannot say more about what we are doing and whose conduct we are examining." Though he said the FBI does not normally comment on ongoing investigations, Comey assured that the Justice Department authorized him to do so because it is in the public interest.
The House Intelligence Committee hearing comes in the wake of Trump's accusing Barack Obama, via Twitter, of having Trump Tower's phones tapped while still in office. Trump has yet to produce evidence to back up his staggering claim. But in early March, Comey asked the Justice Department to issue a statement discrediting the president's charge against the former president. Later during Monday's hearing, Comey went further, saying that the FBI has no evidence to support the accusatory tweets. When it comes to the Russian intelligence investigation, however, if the FBI finds that the Trump campaign did act illegally, it could spell major trouble for the new president.
Perhaps most surprising about Comey's statement is his admission that the investigation into collusion between Russia and the Trump campaign began in late July. This would have been after Comey announced that the FBI recommended that no charges be filed against Clinton for her handling of emails while serving secretary of state. But this also means that the investigation into the Trump campaign was well underway in late October when Comey informed Congress of a new probe into newly discovered Clinton emails. Many believe that announcement was the final nail in the coffin for the Clinton campaign.
In December, the New York Times reported that members of the American intelligence community believe Russian hackers had worked to harm Hillary Clinton's chances at winning the election. Still, a Kremlin spokesperson has denied Russian involvement in the 2016 presidential campaign. And Comey's confirmation of the investigation comes months after initial reports of possible hacking.
Despite his groundbreaking statement, Comey evaded several other questions asked of him during Monday's congressional hearing. He declined to comment on Trump advisers Roger Stone's and Paul Manafort's possible roles in the alleged collusion, among other subjects. Details on the investigation are still coming out, but one thing that is for sure is the relationship between the FBI and the Trump administration was most likely not strengthened by Comey's statements.