James Comey (Apparently) Burst Out In Beyonce Songs During FBI Meetings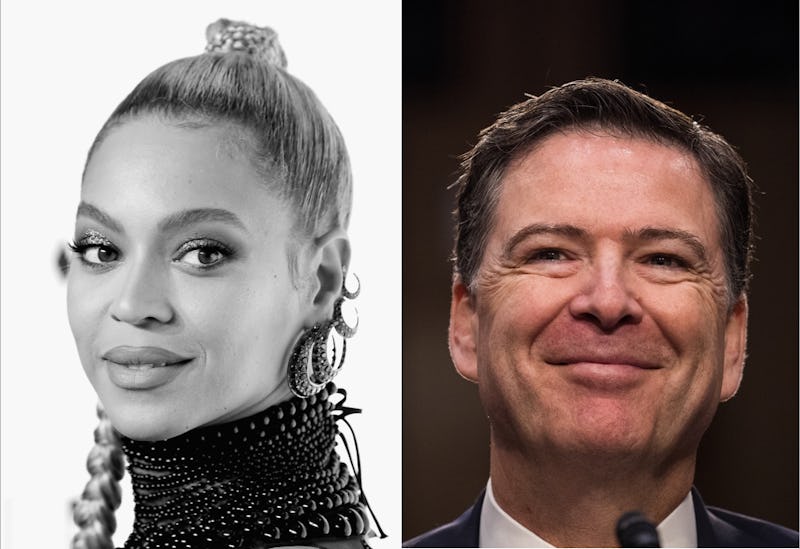 Theo Wargo/Getty Images Entertainment; Drew Angerer/Getty Images News/Getty Images
In an interview this week, James Comey said he once sang Beyoncé's "Sandcastles" during an FBI briefing. The former director of the bureau explained that he was being briefed on a counterintelligence case with the codename "Sandcastles," prompting him to burst into song in front of his fellow agents.
"[Cases] always have weird code names," Comey said on PBS NewsHour. "It was 'Sandcastles,' and so I said 'Beyoncé!' And I was the only one in the room who had any idea what I was talking about. People were like 'What?' I said, 'We built sandcastles'… Honest to God, I sung like that."
"Sandcastles" is the eighth track from Lemonade, Beyoncé's critically-acclaimed concept album about her relationship with Jay-Z. Although Comey didn't identify which counterintelligence case was given the nickname "Sandcastles," Lemonade was released in April 2016, suggesting that the briefing took place sometime after that but before Comey's firing in May 2017.
In the same interview, Comey said that he also listens to Taylor Swift and Kendrick Lamar, and that as FBI director, he didn't watch television shows like Homeland or The Leftovers, which focus on espionage and U.S. intelligence agencies.
"Why do I need that stress?" he explained. "It's like, 'I'm gonna die.' Why do I need that? I get that all day long [as FBI director]. But now that I'm totally zen, and don't wear ties anymore, maybe I will get back to it."
Comey, who's promoting his new book A Higher Loyalty, also discussed his reading habits. He said that he recently read three history books: The Last Lion by William Manchester, the last book in a trilogy about Winston Churchill; Why The West Rules — For Now by Ian Morris, about the last few centuries of geopolitical relations; and Grant by Ron Chernow, which focuses on former president Ulysses S. Grant. Comey said that Grant was a "a reminder of just how vicious and screwed up our politics have been" in the past.
"It was a great reminder that everything you think is new is not new in a lot of ways," Comey said. The book "talked about Andrew Johnson following Lincoln, and what a demagogue and racist Johnson was, and how ugly it was. I enjoyed that reminder. It centered me a little bit."
A Higher Loyalty, which focuses in part on Comey's experiences working under President Trump, was an immediate hit, selling 600,000 copies in its first week and rocketing to the top of the New York Times best-sellers list. As CNN noted, every book to top the Times' nonfiction besteller list in 2018 has been about Trump.
Although A Higher Loyalty covers many portions of Comey's career, including his experience prosecuting mobsters in New York as a U.S. Attorey, the book gained attention primarily for the passages in which Comey recounts conversations he had with Trump prior to being fired. Comey writes that the president repeatedly brought up the unconfirmed report that, as a private citizen in 2013, he paid prostitutes in Moscow to urinate on a bed that Barack and Michelle Obama had once slept in. That same report, which came in the form of a document now known as the "Steele Dossier," alleged that Russian intelligence services might have video of the alleged incident.
Trump has publicly said that the Steele Dossier "fake," and in an apparent denial of the prostitution allegations, said that he's "very much a germaphobe." In A Higher Loyalty, Comey says that Trump made similar denials to him over the course of several conversations in 2017, and that he wanted the allegations disproved for the sake of his wife Melania.