James Comey's "Mildly Nauseous" At The Idea That He Affected The Election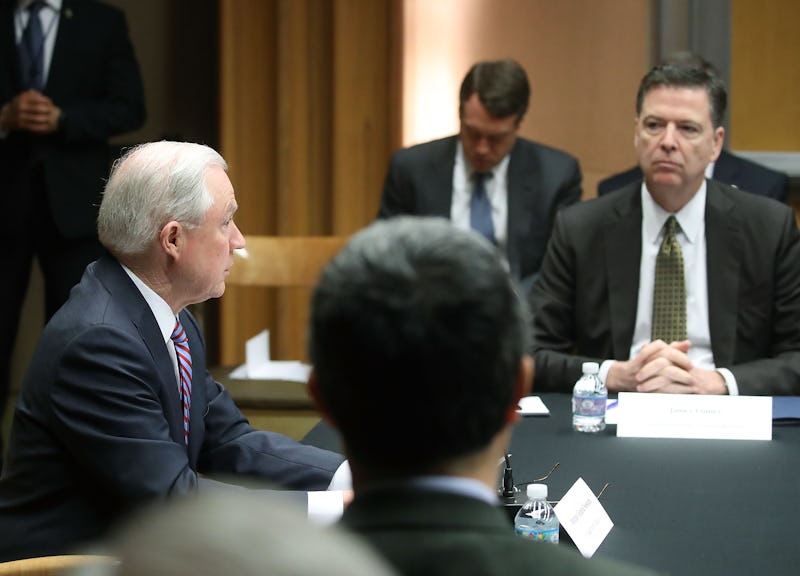 Mark Wilson/Getty Images News/Getty Images
FBI director James Comey faced intense questioning at a Senate judiciary committee hearing on Wednesday. Defending his move to notify Congress about discovering more Hillary Clinton emails shortly before Election Day — that ultimately amounted to no new revelations — Comey said he was "mildly nauseous" that Clinton's vote outcome could have been affected by him.
This is the first time Comey has given a public explanation for his move. According to Comey, he made a public announcement on October 28 as he believed that his agents had received further insight about Clinton's choice to use a private email server. Comey defended his action by explaining that the failure to publicize this information to the Congress would necessitate an "act of concealment." He said that hiding the information about the emails would have been "catastrophic."
While Iowa Sen. Charles Grassley told Comey that the questions he was receiving was to ensure the FBI was accountable and effective, California Sen. Dianne Feinstein remained harsher on Comey. Feinstein asked Comey to explain why he took a "dramatically different" route with Clinton's emails investigation.
Although Comey faced tough questions concerning his decision to inform the Congress about Clinton's emails less than two weeks before the Election Day, he defended his decision by saying, "Anybody who disagrees with me with me has to come back to October 28 with me and stare at this and tell me what you would do. Would you speak or would you conceal?"
Comey claimed that the emails from Clinton's account were "somehow" forwarded by Clinton's top assistant, Huma Abedin, to her husband and previous congressman Anthony Weiner.
Clinton's supporters believe that the revelation from the FBI — which ultimately amounted to nothing particularly new — had negatively impacted Clinton's potential to win the election. Feinstein told Comey, "We need to hear how the FBI will regain that faith and trust."
Only two days before the election, Clinton was cleared by the FBI.
"We need straightforward answers to our questions and we want to hear how you're going to lead the FBI going forward. We never, ever want anything like this to happen again," Feinstein told Comey.
Comey said that he would take the same action if he was faced with the situation once more. "I could be wrong, but we honestly made the decision between those two choices and even in hindsight, and this has been one of the most painful decisions, I would make the same decision. I would not conceal that to Congress," he said.