James Comey Will Testify In An Open Session Before The Senate — REPORT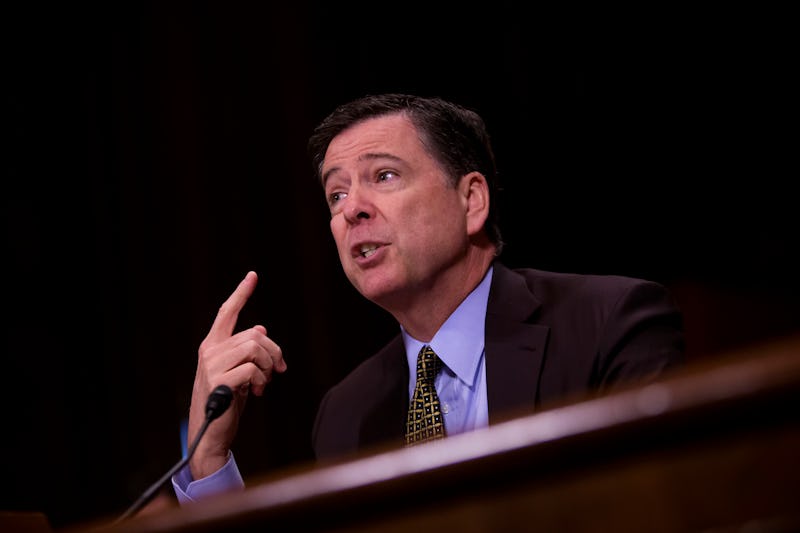 Eric Thayer/Getty Images News/Getty Images
Senators announced Friday that former FBI Director James Comey will testify in an open session before the Senate Select Committee On Intelligence regarding Russian interference in the 2016 presidential election. Sens. Richard Burr and Mark Warner, the chair and vice chair of the committee, made the announcement on Friday, and said that the testimony will be scheduled sometime after memorial day.
"The Committee looks forward to receiving testimony from the former Director on his role int he development of the Intelligence Community Assessment on Russian interference in the 2016 election," Burr said, "and I am hopeful that he will clarify for the American people recent events that have been broadly reported in the media."
Comey was leading the FBI's investigation into possible ties between the Donald Trump's presidential campaign and the Russian government until Trump fired him in May.
"I hope that former director Comey's testimony will help answer some of the questions that have arisen since Director Comey was so suddenly dismissed by the President," Warner said in his remarks. "I also expect that Director Comey will be able to shed light on issues critical to this Committee's investigation on Russian interference in the 2016 election. Director Comey served his country with honor for many years, and he deserves an opportunity to tell his story. Moreover, the American people deserve an opportunity to hear it."
Although Comey has testified to Congress before, this will be the first time he does so as a private citizen. There have been many Comey-related developments since Trump took office, and he'll likely face questioning on most or all of them during the upcoming hearing.
The New York Times reported that according to a memo that Comey had written prior to his firing, the president asked the FBI Director to shut down the federal investigation into Trump's former National Security Advisor, Michael Flynn. Trump denies having made this request. The Times also reported that Trump asked Comey for "loyalty" before firing him, and that Comey refused. According to one of his close friends, Comey was "disgusted" by what he saw as Trump's attempts to compromise him, as the FBI Director has traditionally enjoyed a wide degree of autonomy from the White House.
On Friday, the Times published yet another report on the Trump-Comey relationship, alleging that Trump called Comey a "nut job" during a recent meeting with Russian diplomats, and said that firing Comey relieved "great pressure" that he was feeling with regard to the Russia investigation. In all likelihood, Comey will be asked about all of this and more during his Senate testimony.