James Corden's Grammys Rap Was A+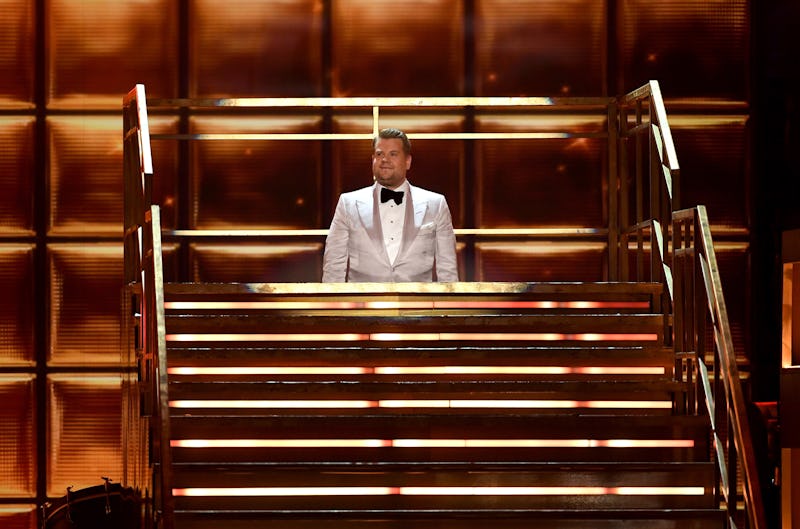 Kevin Winter/Getty Images Entertainment/Getty Images
James Corden is a jack (OK, a James) of all trades, and I knew when it was announced that he was hosting the Grammys that he would have one hell of an opening. In fact, James Corden's 2017 Grammys opening rap showed that he has the chops to take home one of the coveted trophies himself. Corden has shown off his singing, acting, and writing chops on his Late Show on CBS, creating skits like the uber-famous "Carpool Karaoke" (the one he did with Adele has nearly 150 million views on YouTube, so it's safe to say it's a hit), and he took all of those talents and brought them to the Grammys opening with a rap detailing the night's events and all of the famed performers in the Staples Center in Los Angeles.
The whole bit started off with Corden falling down the stairs on stage (I got scared that that part wasn't a bit, but it's OK), and he called it out in his rap.
"Look around you tonight and realize your fate
Was destined for Grammys no time for mistakes
I came in real late
This was my big break
It's just the first segment
It still can be great
Adele kicked it off
Sang a big song
I fell down the stairs
And I knew all along
I'm in over my head
I'm just not that strong
I'm more 12:30
Primetime is just wrong
A hiccup a cough
Perfection is lost
A really big night
Let's save at all costs."
Then, Corden paid homage to all of the important artists in the room.
"This room is insane
It's filled with old guards
Some of the faces
Like Madame Tussauds
Beyonce performing
The queen is here, dummy
Slay the whole stage
With twins in her tummy
Sturgill Stimpson is here
And Google just crashed
From everyone typing
Who the hell is that
Rihanna and Drake
Each can win eight
They sound good together
I think they should date."
A little awkward there, Corden, seeing as Drake may be with Jennifer Lopez now, but hey, it's a little bit of comic relief. Corden continued shouting out the performers at the 2017 Grammys and also those who could no longer attend.
"Gaga is here to rock with her band
Where else could you see all the things that we planned?
All of these singers and rappers with bars
Chance from Chicago, Bruno from Mars
You bump them with ear buds and blast from your cars
But only one night can hold all these stars
Sheeran, Lukas, Maren, and Demi
Twenty-One Pilots, I think that you're ready.
But first tonight, there's people we missed
The music they made was clearly a gift
Leonard Cohen and Prince were legends in life
George Michael, Sharon, Merle, Phife
Be honest with me when you were a kid
Did you ever have dreamed you're invited to this?
Wishes came true, we celebrate you
You gotta be thankful that this what you do
Live it all up because this is the best
And with President Trump, we don't know what comes next."
Bit of political humor, there – it's no surprise, seeing as most of the award shows this season have had political speeches, and Corden is entitled to it, too. Then, he jumped into the big finish.
"We sit here tonight no matter our race
Or where we were born or color of face
We using this art remembered forever
We can survive by sticking together
The passion, fashion, the voice, and the soul
Talent and Khaled, the drums on a roll
Glam and the fans, all part of the scene
Grammys 2017!"
I'd say that Corden's Grammy-hosting gig is already off to a great start.