Three New Women Have Accused James Franco Of Sexual Misconduct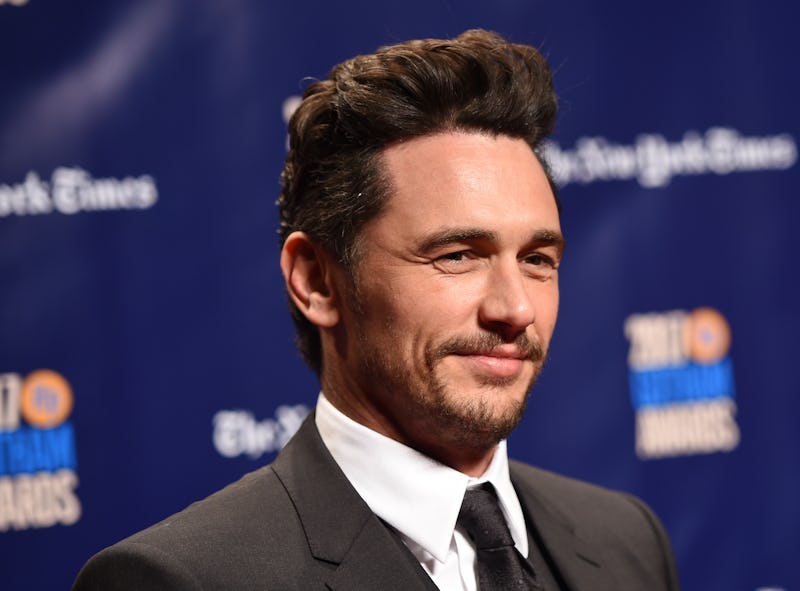 Dimitrios Kambouris/Getty Images Entertainment/Getty Images
In a piece published Thursday by the Los Angeles Times, James Franco was accused of sexual misconduct and exploitative behavior by three new women, bringing the total number of women who have made allegations to five. All five women spoke with the LA Times. Four of the women were Franco's students at the film school, Studio 4, he founded in 2014 (it closed in the fall of 2017), with the final accuser labeling 39-year-old Franco as her mentor. Franco's attorney, Michael Plonsker, disputed all of the women's allegations to the Los Angeles Times and directed the publication to Franco's statement he made to Stephen Colbert on Tuesday's The Late Show in which he called the allegations that had been made by two women on Twitter "not accurate." Bustle has reached out to Franco's rep and lawyer for additional comment, but did not receive an immediate response.
These five accusers told the Times that they hesitantly accepted Franco's alleged behavior, even though they were uncomfortable, because they felt he could help with their careers. Franco's former acting student Sarah Tither-Kaplan said she found Franco wearing a Time's Up pin at Sunday's Golden Globes to be "a slap in the face." She continued, "I feel there was an abuse of power, and there was a culture of exploiting non-celebrity women, and a culture of women being replaceable."
Tither-Kaplan, who also appeared in some of Franco's productions, alleged that three years ago while filming a nude orgy scene with the actor and several other women he removed "protective plastic guards covering other actresses' vaginas while simulating oral sex on them." Two other actors, Hilary Dusome and Natalie Chmiel (Franco taught them at Playhouse West in North Hollywood in 2012), alleged Franco got angry during a shoot at a strip club when they and other women wouldn't go topless.
"I felt like I was selected for something based on my hard work and my merit, and when I realized it was because I have nice [breasts], it was pretty clear that was not the case," Dusome claimed. "I don't think he started teaching with bad intentions, but he went down a bad path and damaged a lot of people in the process."
Chmiel claimed, "He just took advantage of our eagerness to work and be a part of something bigger. We were all these up-and-coming actors who were so hopeful." Regarding Dusome and Chmiel's allegations, Franco's attorney said his client didn't make the request the women allege.
While speaking to Colbert Tuesday, Franco responded to the allegations made against him by two women prior to the Times' report. "There were some things on Twitter," he said. "I haven't read them. I've heard about them." Tither-Kaplan and Violet Paley (who also spoke with the Times) both took to Twitter in response to Franco's support of the Time's Up initiative, which was started by women in the entertainment industry to stop sexual assault, harassment, and inequality in the workplace.
"First, I wanna say I wore [the pin] 'cause I do support it," Franco told Colbert. He added, "Look, I was so excited to win, but being in that room that night was incredible. It was powerful." His statement to the late-night talk show host continued:
"In my life, I pride myself on taking responsibility for things that I've done. I have to do that to maintain my well-being. I do it whenever I know that there's something wrong or needs to be changed, I make it a point to do it. The things that I heard that were on Twitter are not accurate, but I completely support people coming out and being able to have a voice because they didn't have a voice for so long. So I don't want to shut them down in any way. I think it's a good thing and I support it."
Katie Ryan, who first met Franco at Playhouse West and was taught by him at Studio 4, alleged he "would always make everybody think there were possible roles on the table if we were to perform sexual acts or take off our shirts." She also alleged Franco emailed her multiple times asking her to audition for roles of a "a prostitute or a hooker." Plonsker told the Times that Franco is "not aware that any of the actions alleged by Ms. Ryan ever occurred."
Vince Jolivette, the co-owner of Franco's production company, Rabbit Bandini Productions, which ran Studio 4, said in a statement given to the Times by Franco's attorney that "the school was always run professionally." Jolivette continued, "Our instructors were excellent, student feedback was positive." He also said they were investigating complaints about Studio 4 that are "very inconsistent with the mission."
As for Paley, she alleges Franco pressured her to perform oral sex on him while they were in a romantic relationship. Plonsker denied her allegations and said they were "not accurate." After the multiple allegations against Harvey Weinstein (his rep has repeatedly denied "any allegations of non-consensual sex") became public in October 2017, Paley said she emailed Franco about his alleged treatment of her. She said he didn't respond to the email, but Paley claims they talked on the phone and he allegedly tried to make amends. According to Paley, Franco allegedly said he hadn't done "anything illegal" and said, "I'm a changed man."
Regarding Tither-Kaplan's allegations about the nude orgy scene filmed, she said, "I got it in my head pretty quickly that, OK, you don't say 'no' to this guy." Plonsker responded to her claims and said "the allegations about the protective guards are not accurate." Tither-Kaplan claims Franco did apologize to her after Weinstein made headlines. "I want to give him credit for at least being open to communicating with me," Tither-Kaplan said. "I felt that he was still not really taking accountability for the environment on the sets."
Franco's attorney also released a statement from a casting director, Cynthia Huffman, who claims she never received any complaints and that she "personally checked on all the actresses constantly to make sure they were ok and comfortable." Huffman continued, "James is all about giving up and comers, actors and actresses and young filmmakers a break in this business. I feel horrible that anyone was made to feel uncomfortable but we went to great lengths to make sure all the actresses in the nude scenes felt comfortable and safe."
While appearing on Late Night With Seth Meyers Wednesday night (before the Times piece was published), Franco was questioned by Seth Meyers about the allegations. He said,
"I think what I really learned, like I said, there are stories that need to get out, people that need to be heard. I have my own side of this story but I believe in these people that have been underrepresented getting their stories out enough that I will hold back things that I could say just because I believe in it that much. If I have to take a knock because I am not going to try and actively refute things then I will, because I believe in it that much."
As for the accusations on Twitter, Franco said, "I think the ones I read were not accurate, but one of the things that I've learned is that this is a conversation that needs to be had." Regarding the tweets posted by Ally Sheedy (he directed her in the 2014 Off-Broadway play The Long Shrift) during last Sunday's Golden Globes, where she seemingly called out Franco and used the #MeToo hashtag (her tweets have since been deleted), Meyers wanted to know if Franco would reach out to her. He answered, "It was just so shocking, I don't know. I guess I'm just letting it be."
If you or someone you know has been sexually assaulted, call the National Sexual Assault Telephone Hotline at 800-656-HOPE (4673) or visit online.rainn.org.