Janelle Monae's Epic Rule Breakers Performance Left The Crowd Feeling Electric & Inspired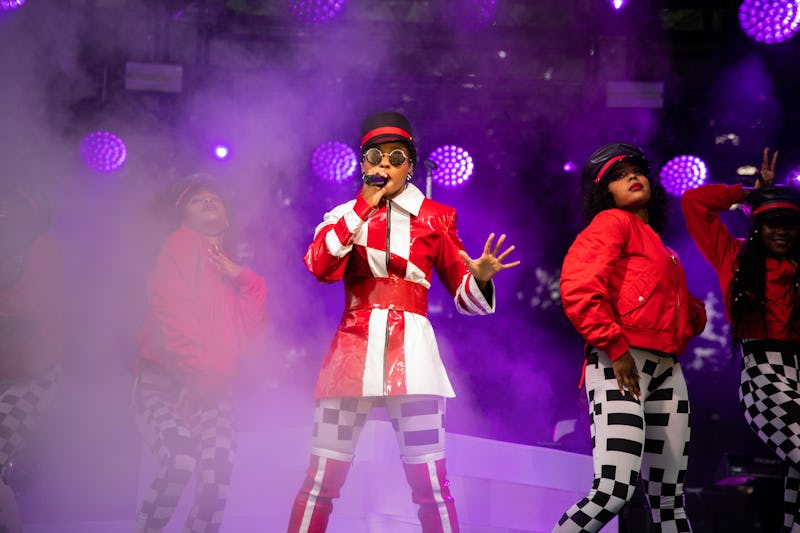 David Everly/Bustle
It is official: Janelle Monáe's Rule Breakers set was nothing short of epic (to no one's surprise, really). It had everything you could want and more from the music icon. The Grammy-nominated singer even sang all of her popular hits such as "Screwed" and "Pynk" (in the same outfits as the music video, no less). But if you weren't able to see the performance, fret not — keep reading to find out what Monáe did and said at Rule Breakers to relive some of the magic.
To the girls, to the future, to the breakers... we make the rules.
One could say that the theme of Monáe's performance was love. During her set, the artist told the crowd, "This entire experience has been rooted in love. I've felt so much f*cking love out here tonight." She also wished the crowd a happy Pride and said, in a kind message of support for the LGBTQ+ community, "No matter who you love or how you love, you are welcome at my show." The crowd was as electric as she was. And speaking of electric, the talented performer also sang a rendition of "Electric Lady," dedicating it to the crowd, saying, "To the girls, to the future, to the breakers... we make the rules." Simply iconic.
In addition to her inspirational messages, Monáe also focused on spreading the love among the crowd, asking everyone to form a heart symbol with their hands, "but only if you believe in the power of love." But perhaps the most surprising and incredible part of the evening? Monáe stage dove — not once, but twice!
Monáe wasn't the only one who had a show-stopping performance on the Rule Breakers stage. Guests also got down to DJ Samantha Ronson, who played all of our favorite hits like Cardi B and Bruno Mars' "Finesse" and Missy Elliott's "Work It." Then, fellow Grammy-nominated act Sofi Tukker took the stage, performing fan-favorite "Baby I'm A Queen."
Overall, the 2018 Rule Breakers event was filled with non-stop excitement, with endless fun activities, from roller skating to Instagrammable activations. Some of the more popular moments at the event included crafting your own tassel earrings and getting your nails done, just in case you wanted to look festival-ready for Monáe, Ronson, and Sofi Tukker. (Who wouldn't want that?)
If you couldn't make the event in person, you can still get in on the Ruler Breakers fun. Rule Breakers is a month-long celebration on various platforms, including Bustle's September digital issue, of rule breakers across fields, highlighting their courage and incredible accomplishments. As Kate Ward, the editor-in-chief of Bustle Digital Group, wrote in Bustle's digital Rule Breaker's issue:
"Along with the rule breakers who roam Bustle Digital Group's hallways every day, this month, we're celebrating those who refuse to yield in their quest to make the world better for women and anyone who is marginalized."
We always knew that Monáe was a trailblazer who dedicates her life to blazing a trail for us all to be ourselves. But her powerful performance at Rule Breakers on Saturday was an awe-inspiring reminder.