Nick Viall Is Reportedly Dating January Jones & This Is How It All Started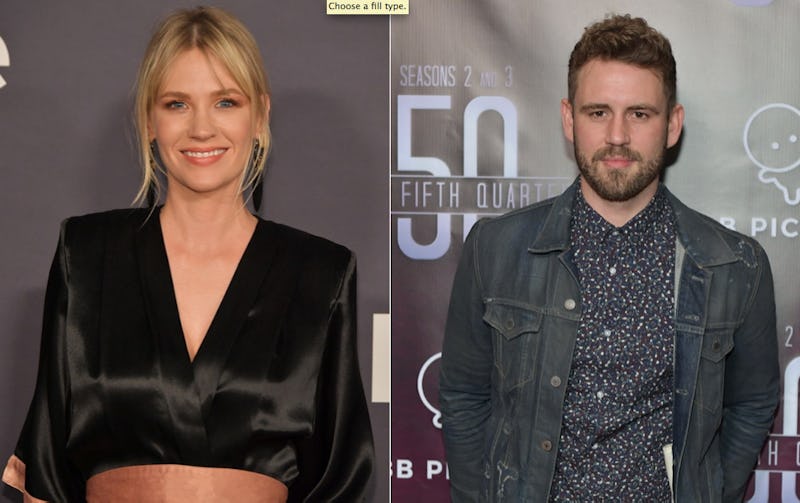 Neilson Barnard/Getty Images Entertainment/Getty Images (2)
Since Nick Viall and Vanessa Grimaldi broke up last year, fans have been wondering who the Bachelor star would date next. And now, they may finally have their answer. Viall is reportedly dating January Jones, and as shocking as this news has been for fans, it might not be quite as out of left field as it seems at first.
According to what a source close to the new couple told Page Six, Jones and Viall first connected when he heard that she's a big fan of The Bachelor and invited her to lip sync battle him. Although she declined, that's when Viall made his next move. He reportedly invited her for a drink, they hit it off, and the rest is history. The anonymous insider claimed that they've been together for two months, despite the fact that there hasn't been any other evidence of them dating.
The source told the site:
"They've been dating for about two months. She went on The Late Show [sic] in ­mid-November and said Nick had reached out to her and tried to get her to lip-sync battle with him. She declined, but then he asked her out to a drink and she accepted. They've been seeing each other since."
So far, neither Jones nor Viall has commented on these reports, but hopefully, that's coming soon. Bustle reached out to reps for the actor and reality star for comment, but did not receive a response at the time of publication.
Of course, as soon as reports broke on Monday night, fans immediately turned to Twitter to react — and most people were incredibly surprised at this pairing. A Bachelor star and a Mad Man star do make a pretty unlikely couple, and fans on all sides are pretty confused.
But even though this news came seemingly out of nowhere, it's not really that shocking. Jones openly professed her love for The Bachelor — and for Viall himself — on The Late Late Show last year. During a March appearance, she told host James Corden that she wants to be the next Bachelorette. She also named Nick as her favorite guy from the franchise and called him "pretty cute."
That conversation is what led to Viall getting in touch with her people and asking her to go on Lip Sync Battle with him, which seems to have been the jumping off point for them to start dating. It's hard to blame Viall for that move, because who wouldn't try to contact Jones after hearing about her crush?
"You don't know if you like him or if he's a scumbag, and I think that's why I'm attracted to him, maybe?" Jones said when she returned to The Late Late Show in November. "He asked me to battle him on Lip Sync Battle. Is that, like, his way of asking me out, or does he have a problem with me? I don't know what that was. But I declined, because I don't need to be humiliated."
Ironically enough, Corden asked if he followed up by asking her for a drink. Jones said he didn't, adding, "that says a lot." Apparently, things must have changed after that, considering these new reports.
This whole process started last March with Jones announcing her love for the show on The Late Late Show, and months later in November, she revealed that Viall asked her to lip sync with him. This reported relationship has been almost an entire year in the making. It's time Jones go back on The Late Late Show once again to clear everything up.
Whatever's happening between them, they need to offer up an update ASAP. After seeing Viall searching for love on two seasons of The Bachelorette, followed by Bachelor in Paradise and The Bachelor, it seems crazy to think of him dating off-screen, sans rose ceremonies. Chris Harrison may not have orchestrated this relationship, but fans are still dying for details