Japan's Princess Is Stepping Down To Marry A Commoner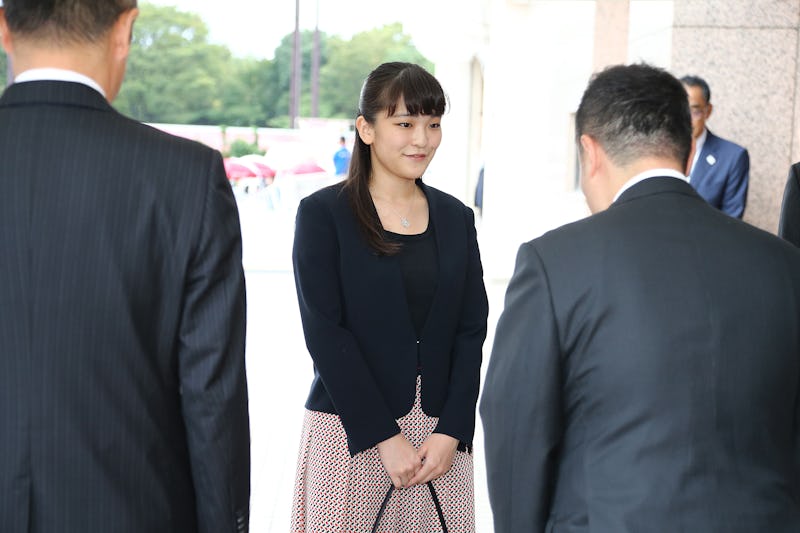 Koji Watanabe/Getty Images Sport/Getty Images
In a story that has all of our hearts bursting with love, Japan's Princess Mako is stepping down from her royal title to marry a commoner named Kei Komuro. Twenty-five-year-old Princess Mako of Akishino and Komuro met five years ago in Tokyo while attending the International Christian University, and saying "I do" means that the princess gives up her royal standing. If that's not true love...
This rule is nothing new. The centuries-old imperial law says that if a princess wants to marry a commoner, she has to leave the imperial family. Once the marriage is official, Princess Mako will no longer have her title. The Imperial Household itself confirmed to CNN that an engagement is in the works for the two lovebirds. At this time, Komuro, also 25 and a graduate student who works at a law firm, has simply said, "When the right time comes, I'd like to talk about it." Yes, we'd like this too. Komuro sounds like a normal dude: Japanese media reports say he likes being by the ocean, skiing, playing the violin, and cooking. Cooking? That's all I need to know. He's a keeper.
Princess Mako isn't the first member of the imperial family to choose love over royalty.
Her aunt, Sayako, did the same thing when she married a town planner by the name of Yoshiki Kuroda back in 2005. These women really know how to put every other love story to shame. (Kidding! Not really.)
The Japanese imperial family members aren't alone, either. If the whole royal-marrying-a-commoner thing sounds familiar, that's because it is, although the laws vary — meaning sometimes the opposite happens and a commoner becomes royalty (um, yes please). Grace Kelly officially became the Princess of Monaco when she married Prince Rainier. Kate Middleton married William and became the Duchess of Cambridge. And in perhaps one of the most widely publicized marriages of all, Lady Diana Spencer became the Princess of Wales after dating and marrying Prince Charles, although they later divorced.
Still, these people really redefine the whole concept of "relationship goals." I mean, I think the story about how I met my fiancé on Tinder is pretty epic, but this just takes things to a whole new level. It also really makes me want to watch The Princess Diaries. This is the stuff fairytales are made of.
Imperial law says that the throne can only be passed down to male heirs, but Princess Mako has undoubtedly played a special role in the family regardless — which makes it even sweeter that she's willing to give it all up for love. Heart. Melting. Send. Help.