Jared Fogle Is Convinced His Sentence Is Unfair Because The Judge Is A Mom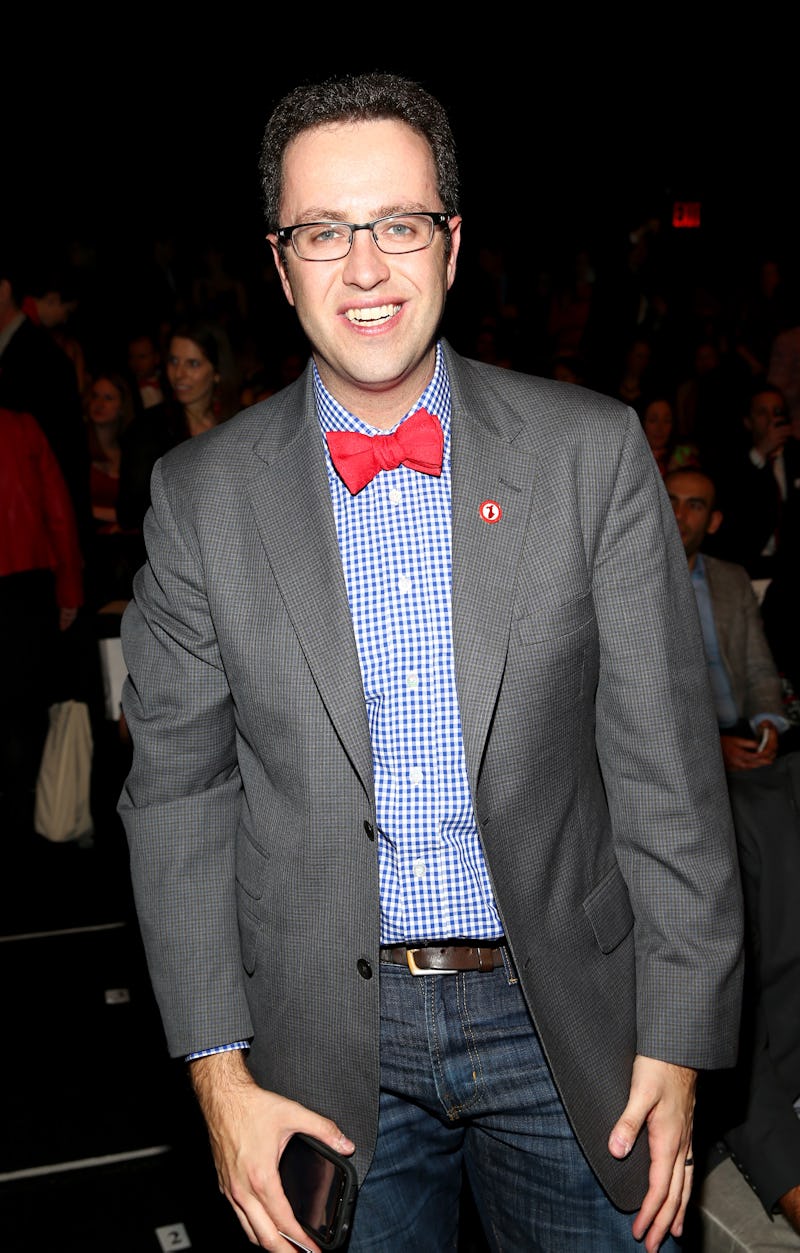 Astrid Stawiarz/Getty Images Entertainment/Getty Images
In 2015, former Subway spokesman Jared Fogle was sentenced to almost 16 years in prison, and while a federal appeals court upheld this prison sentence in 2016, he is still trying to fight it. In his latest attempt, Fogle claimed the judge was biased against him because she has two teenage daughters. However, the judge — Tanya Walton Pratt — only has one daughter, who was in her early 20s at the time of Fogle's sentencing.
Fogle pleaded guilty to child pornography charges and charges of traveling across state lines to have commercial sex with minors. However, his sentence was more than what even the prosecutors had sought. In a court filing that he submitted on Tuesday, Fogle argued that Pratt demonstrated "objective bias, and subjective bias." He said that because Pratt has two teenage daughters (again, she does not) and because his case involves teenage girls being illegally photographed, she should not have been able to take on his sentencing.
In his new filing, Fogle also reiterated a claim he made when he last appealed his sentence in 2016, and argued that Pratt permitted prosecutors to incorrectly charge him with conspiracy. Fogle wrote in his latest appeal:
It is the opinion of a "reasonable party" that Judge Tanya Walton Pratt has demonstrated she is prejudicially biased to the Defendant Jared S. Fogle, and should in facts and law, recuse herself from these proceedings.
When Fogle appealed his sentence back in 2016, he described the length of the sentence as "unreasonable." In his plea deal, prosecutors on the case agreed not to pursue a sentence longer than 12.5 years. When Pratt passed down a sentence of 15 years and eight months, Fogle's attorney argued that Pratt had abused her authority as a judge by giving Fogle a longer sentence.
But although Fogle has been consistently seeking an early release, Pratt denied his motion for early release as recently as last month. The sentence that Pratt passed down in 2015 requires that Fogle serve at least 85 percent of his nearly 16-year sentence before being able to qualify for an early release. According to The Indianapolis Star, this means that Fogle will be at least 51 years old by the time he gets out of prison. NBC News reported at the time of his sentencing that Fogle was also required to pay a $175,000 fine, and will be obligated to register as a sex offender once he is released.
Fogle isn't the only facing consequences, either. In his plea deal, Fogle said that he had received child pornography from Russell Taylor, the former executive director of the a nonprofit Fogle launched to combat childhood obesity. Taylor is currently serving in a 27-year prison sentence for the production and distribution of child pornography, The Indianapolis Star reported. According to ABC News, it was Taylor's arrest in April 2015 that led to an investigation into Fogle — and ultimately, his own arrest.
Before coming under investigation, Fogle was a pitchman for Subway from 2000 to 2015. While an undergraduate at Indiana University, Fogle lost over 200 pounds, which he attributed to eating at Subway. He subsequently became the face of the sandwich company, and featured in many of their advertising campaigns. However, the company severed ties with Fogle after investigators uncovered more than 47,000 child pornography images on his computer.
Fogle has served roughly two years of his sentence so far, which means that he has about 11 years to go until he is eligible to be released on parole.
More to come...