Jared Kushner Demanded CNN Fire Its Staff Because Of How It Covered The 2016 Election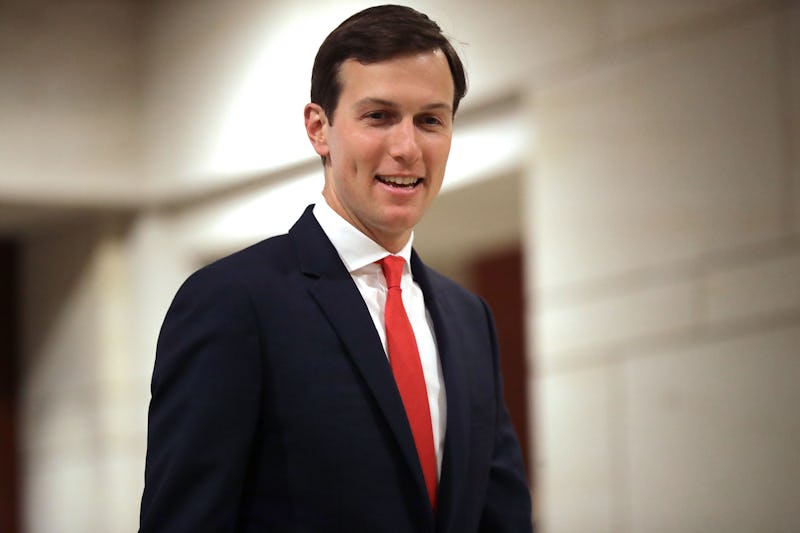 Chip Somodevilla/Getty Images News/Getty Images
After Time Warner made headlines earlier this week for an upcoming $85 billion merger with AT&T, a spat has emerged on Friday between President Trump's son-in-law Jared Kushner and Time Warner executive Gary Ginsberg. According to reports, Kushner demanded CNN fire 20 percent of its staff because of how the network covered the presidential election. Bustle has reached out to Time Warner for comment.
According to The Wall Street Journal, Kushner told Ginsberg that CNN should fire its staff because of how it covered Trump's campaign during the 2016 election. A White House official clarified to WSJ that Kushner didn't mean for his comments to be taken seriously and was only trying to make a point. Kushner's comments weren't "taken lightly" by Time Warner, according to the newspaper. Time Warner is the media and entertainment company that owns CNN.
The news comes after several outlets reported on Wednesday that the Justice Department told AT&T that the company would need to sell off CNN or its parent company Turner Broadcasting in order to get approval for a $85 billion merger with Time Warner.
Critics believe that the stipulation by the Justice Department was a way for the White House to retaliate against CNN over its coverage of President Trump. Sen. Amy Klobuchar and other Senate Democrats sent letters to the White House and Justice Department on Friday, expressing their concern about Trump's involvement in the Justice Department's negotiations
"Should the Antitrust Division determine that AT&T's acquisition of CNN — as well as other Time Warner properties — raises antitrust concerns, Department enforcement action may be warranted," the senators wrote. "But political considerations based on the content of CNN's news coverage should never impact the Department's decision-making," they wrote.
AT&T CEO Randall Stephenson has also denied the reports on Thursday, saying that he's refusing to sell CNN because he believes the news network is crucial for advertising revenue.
"First and foremost, irrespective of what you read yesterday, I have never been told that the price of getting the deal done was selling CNN," Stephenson said. "Period. And likewise, I have never offered to sell CNN. So take those two off the table."
The Trump administration has a long-standing feud with CNN since the early days of campaign. Trump vowed to block the merger between Time Warner and AT&T on the campaign trail, calling it "too much concentration of power in the hands of too few." Trump has also repeatedly criticized the mainstream news media, and specifically CNN, for peddling "fake news."
Kushner reportedly met with CNN executives in order to establish ties with the campaign and report on the election, according to WSJ. Kushner criticized CNN executives for their coverage of Trump and was particularly upset after CNN fact-checked a speech by Trump on June 22. Kushner then reportedly threatened to keep Trump campaign members from appearing on CNN.
Since Trump took office, his animus towards CNN has only grown. He famously shared a doctored video of himself on Twitter wrestling with a CNN avatar, captioning the tweet, "#FakeNewsCNN". Back in August, Trump retweeted a cartoon photo of a "Trump Train" running over a person with a CNN logo. Trump later deleted the photo.
In June, Trump threatened to sue CNN after the network retracted a story linking former White House Communications Director Anthony Scaramucci to a Russian investment fund because the network determined it couldn't stand behind the reporting. Three CNN journalists later resigned.
"It's a shame what they've done to the name CNN, that I can tell you," Trump told his supporters at a fundraiser days after the CNN reporters resigned, according to a transcript obtained by The Intercept. "But as far as I'm concerned, I love it. If anybody's a lawyer in the house and thinks I have a good lawsuit— I feel like we do. Wouldn't that be fun?"