This Detail About The Oppenheim Brothers Could Mean A Lot More 'Selling Sunset'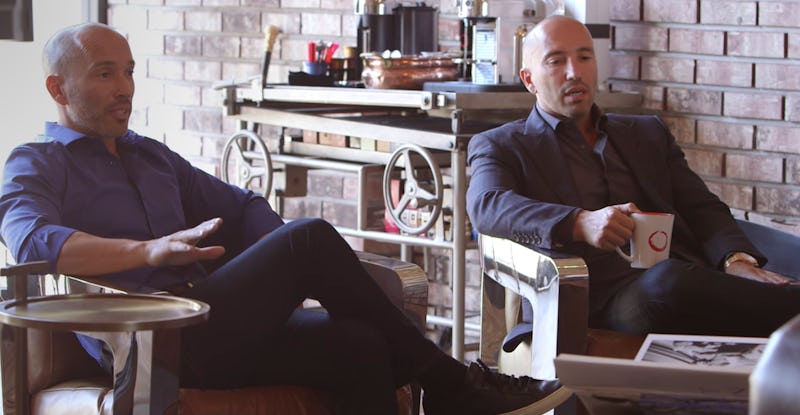 Netflix
There's a good reason that Netflix's Selling Sunset doesn't focus much on Jason and Brett Oppenheim, the two brothers in charge of the Oppenheim Group. Compared to the six female realtors featured on the show, they're a lot more reserved. The few times the two are caught on camera, they're hunched over their laptops or pacing on the phone, potentially closing a deal with one of their many celebrity clients. And when they're not negotiating or brunching with the team, they tend to lay low and enjoy the fruits of their labor.
Since leaving their law careers behind to lead their family's Los Angeles-based brokerage, the brothers haven't looked back. Jason is the president and founder of The Oppenheim Group and Brett is the senior vice president. According to the brokerage's website, they both attended undergrad school at UC Berkley. Jason also earned his law degree there, whereas Brett went to law school at UCLA.
Before becoming one of the nation's leading realtors, Jason joined O'Melveny & Myers law firm "where he represented a broad range of corporate clients including the former CEO of Enron Corporation in a multi-billion dollar civil class action," per the brokerage's site, "as well as the widely publicized Enron criminal trial."
Brett practiced as a securities litigation attorney at two leading firms, Skadden, Arps, Slate, Meagher & Flom LLP and Latham & Watkins LLP, where he defended investment banks in liability cases. Now, along with his title as SVP, he actively develops or "flips" properties in Hollywood Hills for his real estate portfolio. According to the group's site, he's currently working on "a $15 million development in Santa Monica and a $30 million residence in the coveted 'Bird Streets' of the Hollywood Hills," to be listed in 2019.
In an interview with The Los Angeles Times, Jason shared a bit more about himself and his brother — but not that much. His answers to the questions asked were quite brief, which justifies their choice of giving the stage to the leading ladies.
"I'm a very alpha, kind of controlling and aggressive real estate agent," he said. "I think the women counterbalance my tendencies. I'm very, very honest and very direct. I push back a lot with clients. I bring in a zealous advocacy that I learned as an attorney. I think my clients really appreciate that." One of those appreciative clients is Orlando Bloom, who wasn't sure about investing half a million dollars in a zero-edge pool in order to sell his home. But Jason was confident it would seal the deal.
As far as working with his brother goes, Jason told The Real Deal in 2016 that, because they're so much alike, they argue all the time. "We're best friends, but we're both stubborn and neither of us is shy about expressing our opinion," he said. "We're both intelligent and that leads to a lot of arguments. We're both very expressive. It's good because I respect his opinion, so when we agree about something, it makes me very comfortable and confident with that decision."
The pair recently celebrated their 42nd birthdays on April 12, and according to his interview with The Real Deal, they have no foreseeable plans for retirement. "I think it would be when I find that I am no longer am happy," he said. "But I can't imagine that."
Hopefully, the brothers' plans to keep hustling increases the chances for a Selling Sunset Season 2 and many, many more after that.