Jason Momoa Applauded 'GoT' Costar Emilia Clarke's Bravery After Surviving Brain Aneurysms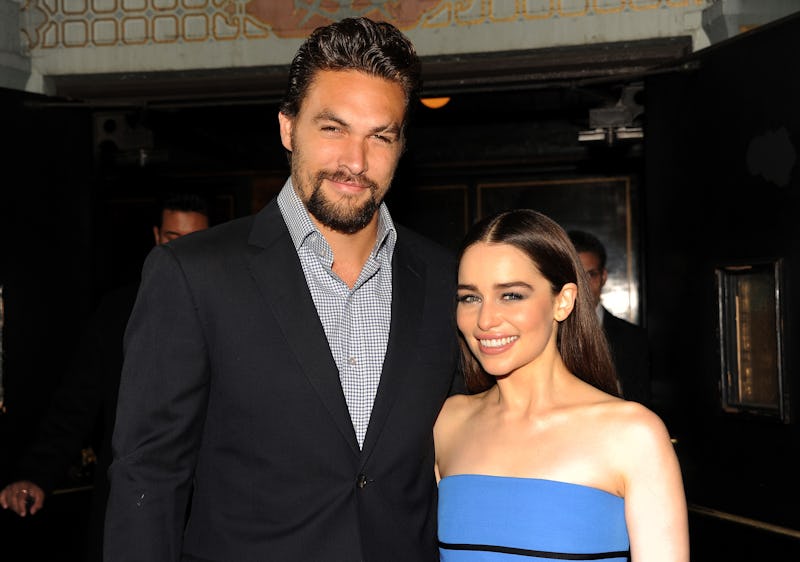 Kevin Winter/Getty Images Entertainment/Getty Images
It's been two weeks since Emilia Clarke revealed she survived two brain aneurysms that could have killed her, and now, another Game of Thrones cast member is speaking out in support of his costar. While talking to Entertainment Tonight on Wednesday, Jason Momoa opened up about Clarke's aneurysms and what that experience was like as someone close to her. And although it sounds like it was scary for him to see her go through something like that, he seems to be supporting her every step of the way.
Clarke spoke out about her aneurysms for the first time in a powerful essay she wrote for The New Yorker in March, sharing that she'd suffered one right after filming the first season of the show and another two years later. And according to what Momoa told ET at the GOT Season 8 premiere in New York, it was a terrifying time for everyone in the cast, but he admires Clarke for the way she's handled a horrifying situation.
He said:
"I've kind of been a part of that whole situation for a very long time, so we've had so many scares and trying to find the right way to come out and help. I just think it's beautiful that... she's so brave in helping the world and trying to raise awareness."
"I'm very sad, because we almost lost her the first time," Momoa added. "So, I love her to bits and she's here and she's going to do great things with it and teach the world."
In her New Yorker essay, Clarke wrote about how difficult her health battle was at times, and how after her first surgery, she spent a month in the hospital and suffered from aphasia, which made her unable to communicate. Then, after filming the third season of Game of Thrones, a brain scan showed that her second aneurysm had grown, and that landed her back in the hospital to have another operation.
She wrote:
"I emerged from the operation with a drain coming out of my head. Bits of my skull had been replaced by titanium. These days, you can't see the scar that curves from my scalp to my ear, but I didn't know at first that it wouldn't be visible. And there was, above all, the constant worry about cognitive or sensory losses. Would it be concentration? Memory? Peripheral vision? Now I tell people that what it robbed me of is good taste in men. But, of course, none of this seemed remotely funny at the time."
But now, she said she has "healed beyond my most unreasonable hopes," and she's looking forward to life after GOT.
Clarke also said that she started an organization called SameYou, which helps provide treatment and rehabilitation to people who suffer from brain injuries and strokes, as well as funding new research.
It's good to hear that Clarke is doing better now and that she has the support of her GOT cast members, like Momoa. He's totally right — she's already making such a difference with SameYou and by talking about her own experience, so who knows what else she can accomplish in the future.