Jason Brought A Sweet Gift For Becca Post-Breakup & I'm Weeping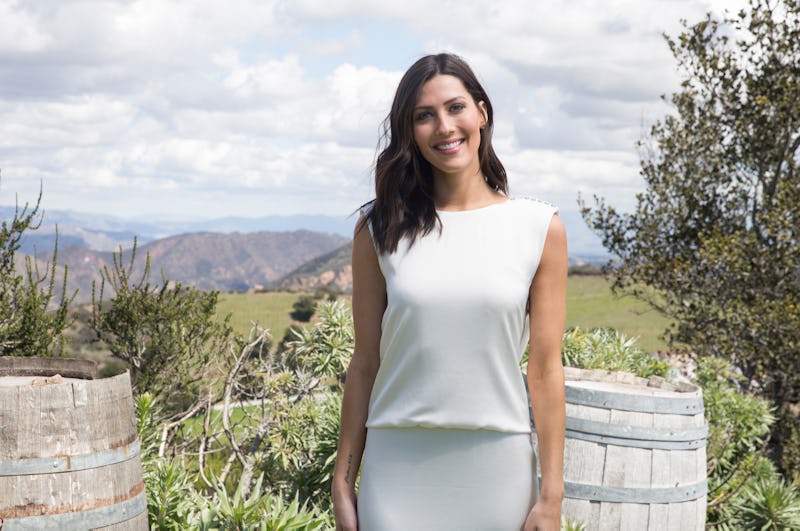 Paul Herbert/ABC
Bachelorette breakups have to be really hard, but what if you're a contestant who believes it truly should never have happened? On Monday night's episode, that's pretty much what went down. Jason came back on The Bachelorette, attempting to change Becca's mind about her decision to send him, but did it actually make her want to bring him back into her final three?
After Becca's fantasy suite date with Garrett, Jason showed up at her hotel door, to which she responded, "oh, my god," and not necessarily in a good way. According to Jason, he didn't get the closure that he needed and didn't feel like he knew why Becca sent him home, and he didn't want to leave Thailand without talking things out with her and getting the answers he needed.
"I want you to know that the love I had for you is as genuine as it's ever been in my life and the care I have for you is the realest I've ever had with anyone and there's a lot to be said for that," he told her.
But unfortunately, the way that Jason feels about Becca still wasn't enough to change her mind, and she let him know that while she felt terrible (and even a little like Arie, ending things with her on camera), but that she did end things because she needed to.
And although Jason coming back to talk to Becca was certainly a bold move, he was respectful when she explained that there wasn't exactly a reason she could pinpoint that she knew things wouldn't work out between them, just that she knew things had to end there. They managed to part ways amicably, which isn't always the case on this show, and it was actually really sweet to see them saying goodbye to each other, especially after Jason gave her a gift of a book he made for her of all of the adventures they'd shared together since night one. I mean, a breakup photo album? I can't with this guy. Jason said:
I never expected to come into this and develop the feelings that I felt but I did. I know I may not see that smile that I fell in love with, all those special things again. It's tough. I'm not regretful of anything. I'm not regretful of how I communicate my feelings and I can leave this journey knowing I put it all on the table. I'll always be rooting for her happiness.
And as for Becca's side of things? She said in a voice-over, "The world needs more Jasons. I've never seen any guy be like that especially after being blindsided. I knew he loved me because he told me that but I didn't realize the extent of it."
Becca added, "I guess I really hope he finds somebody and I really think that he will. And she's going to have to treat him like a king. He deserves only, only, only the best."
And hopefully, that's exactly what he finds. Fans will definitely miss Jason, but he can't say he didn't give this his all. The man put a breakup scrapbook together, you know?