Fine, I'll Say It: Jason Knows What He Needs To Do To Become The Next Bachelor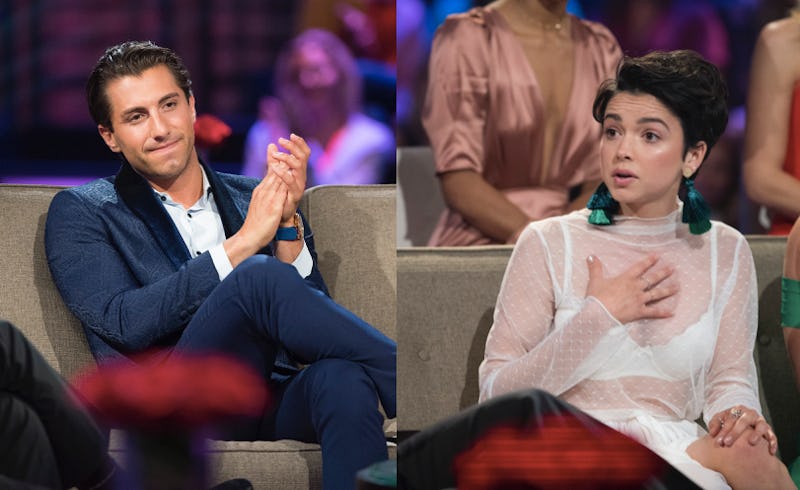 Paul Hebert/ABC
After competing on Arie Luyendyk Jr.'s Bachelor season, Bekah Martinez has plenty of opinions about the franchise, and she's dishing all to Bustle. Read what Bekah has to say about Becca's "Men Tell All" episode in this week's recap.
The men told all this week! I'm still holding my breath waiting for next week's results, but this was a fun diversion and a nice sneak peek of the shenanigans to come in Paradise.
The reunion episode quickly moved into a discussion about Chris' antics throughout the season. Leo didn't seem to have room to talk about Chris losing his mind on the show considering we just saw Leo in the Bachelor in Paradise preview completely derailed, throwing punches and calling Joe a "Grocery Store B*tch." Same goes for Connor, who so quickly judged Chris for flying off the handle — uhhh, does anyone else remember that this was the dude who freaked out and threw a picture frame in the pool? Not that I'm defending Chris, I'm just saying half of the dudes onstage seemed to have a screw loose.
But yeah, I still can't stand Chris.
You know who I can stand? Jordan. But that's not new news. None of the other guys could resist cracking up at his antics. The man is amazing. He's actually got really snappy, hilarious comebacks, and, despite his ridiculousness, somehow has the ability to make his enemies look like the stupid ones. One of my favorite things about Jordan is that he is real. No, I'm serious. Anyone who has spent time around Jordan agrees that the personality you see on TV is truly the way he conducts his life. He is self-obsessed, opinionated, and living in his own little model world, and I wouldn't have it any other way. He's unapologetically himself, and his confidence is unprecedented. We could all learn a little about loving ourselves from Jordan.
One of the things I noticed was how many night-oners were present. Grocery Store Joe was the only recognizable one in the last row, and I think I speak for America when I say I'm ready to see even more of him on my screen in the future. He actually made history last night as the first person to get eliminated on night one and get a hot seat with Chris. I giggled my way through his whole interview. I love me a man of few words, and simple Joe has got it going on. I'll be rooting for him in Paradise for sure!
Why on earth did Jason have his legs crossed and fingers pressed together half the time like some character from the Godfather? I still cannot for the life of me understand the Jason infatuation. He is so obviously putting on a show. I trust my gut, and my gut tells me there's something a bit slimy about him. OK, it may be that I still can't get Patrick Bateman out of my head whenever Jason comes onscreen. He's just so clearly vying for the next Bachelor. He's a corporate banker — the man knows what he needs to say and what he needs to look like to get ahead, and America is eating. It. Up. I'd rather be proven wrong than right on this one, but there's a gnawing feeling about him I can't shake. But, who knows, I might change my mind if he is, in fact, the next Bachelor. Only time will tell!
Although the men told all, there was one thing that was not told (or even addressed): Lincoln Adim. Chris Harrison said leading into "Men Tell All" that addressing Lincoln's legal woes "wasn't the time or place," but I'm still waiting to find out how a man charged with assault made it onto the show. Come on, Bach world. We can do better.
With that, I'm out. See ya next week... can't wait for the big fiancé reveal!