Get Your Tissues, Bachelor Nation — Jason Got Real During His 'Men Tell All' Chat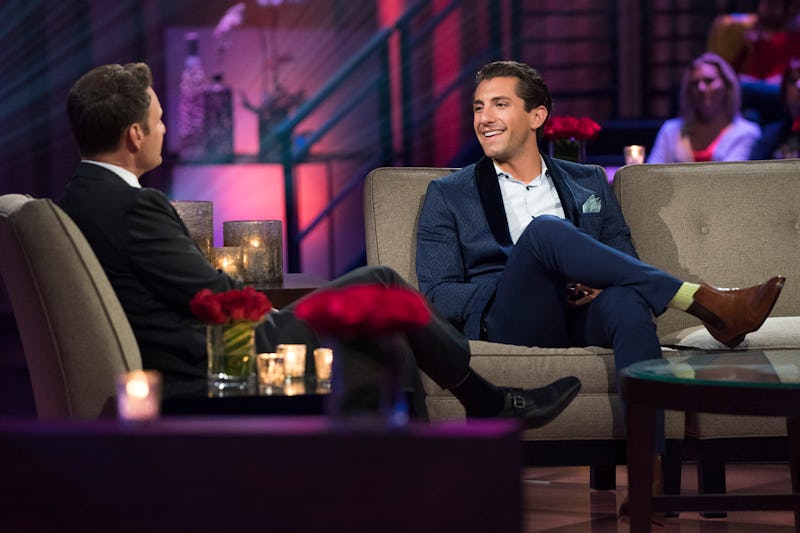 Paul Hebert/ABC
Obviously, one of Becca Kufrin's remaining three men on The Bachelorette had to leave last week after fantasy suite dates, but this time, she sent one home early. Unfortunately, Becca chose to send Jason home before it even came time to pull out the invite from Chris Harrison to share a room together, and he definitely did not see it coming. Considering his heartbreak, it was all but guaranteed he'd have a lot to say when they reunited, and that's exactly what happened. Jason's talk on Men Tell All was emotional, but it feels like they might have worked some things out.
Knowing how they left things last week, it had to be hard for Jason to face Becca again — but if that's truly how he felt, he did a good job at hiding it. Chris asked him about what it was like for Becca to send him home so unexpectedly, and Jason had an answer prepared. For the record, he was just as shocked as the rest of us were.
"I like to self-reflect and be self-aware and there wasn't one bump in the road until we sat down for dinner, at least from my perspective," he said. "So, it was tough to comprehend."
Then, it was time for Becca to come out and sit with Jason so they could talk things out, and their talk was incredibly chill for two people who were just almost engaged a few weeks ago. They managed to be totally kind to each other, which proves that there's no ill will between them, and they each had such sweet things to say about the other.
Jason took the opportunity to ask Becca if there was anything he should change about himself to be successful in future relationships, and her answer? No way.
"Honestly, you're so amazing and I would never tell you to change anything," she told him. "Everything you were giving me was everything I want and it was just down to my heart."
And of course, Jason had the sweetest response. He said:
I appreciate that. I'm rooting for your happiness, and there's something so special about our relationship that I so hope we can find friendship after this because you're an amazing person and you're going make a huge impact on this world. I have confidence that I'm going to do the same and I hope that we can get to that point. That would be awesome.
Becca and Jason ended things on a really cute note, sharing one last hug with Jason complimenting her on how beautiful she looked. They may not have ended up together, but they definitely seemed to enjoy spending time with each other while it lasted — and if they each gained a friend out of the deal, that's not a bad trade off at all.
Jason is so sweet that he's bound to find the right person at the right time, and for now? He has America rooting for him the whole way.