Jay-Z's Reference To Kanye West Isn't The Most Important Message In Meek Mill's "What's Free"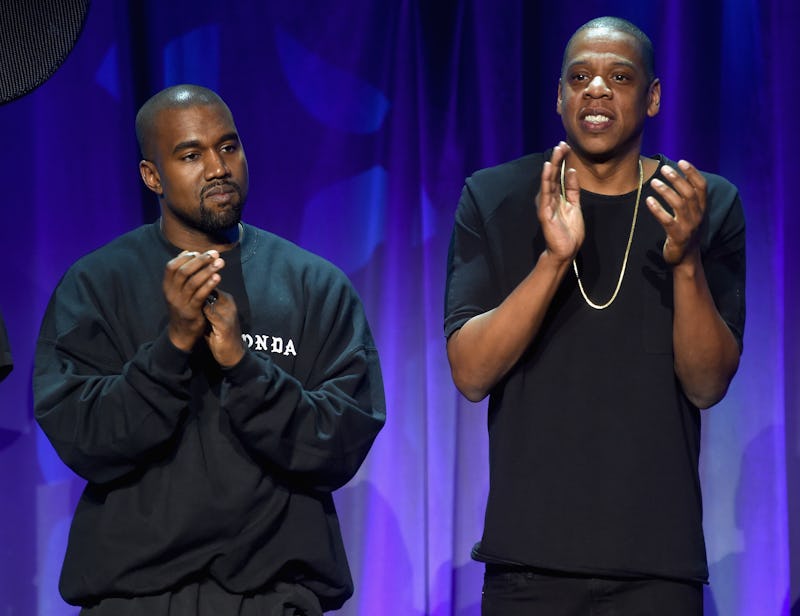 Jamie McCarthy/Getty Images Entertainment/Getty Images
On Nov. 30, Meek Mill dropped his highly-anticipated fourth studio album, Championships to huge fan acclaim. And while there are many undeniable hits and messages to be taken away from the project, one of the album's most poignant moments came when Jay-Z addressed his relationship with Kanye West on the politically and socially charged track, "What's Free."
It's no secret that the friendship between the rappers has been strained for some time now, making it a huge topic of conversation for many over the past few years. Although both have publicly commented on their differences in the time since their initial falling out, Jay's lyrics on "What's Free" appear to suggest that his stance with West is more about brotherhood within the black community than anything else.
While Jay is clear to distance himself from West's support of Donald Trump in the song, he also made it a point to deter people from pitting him against his Late Registration entertainer. Likening their situation to the alleged rivalry between legendary artists Michael Jackson and Prince, Jay rapped:
"No red hat, don't Michael and Prince me and Ye / They separate you when you got Michael and Prince's DNA"
Jay then followed with lyrics that left some scratching their heads about his intended target on the song. While some assumed that he was delivering a message to West, there were others who felt the comments were directed at either the POTUS or perhaps, just leaders of the oppressive system on a whole. He continued,
"I ain't one of these house n***** you bought / My house like a resort, my house bigger than yours / My spo— (C'mon, man) / My route better of course"
Jay's mention of his relationship with West was most certainly a tidbit that quickly captured the attention of listeners. So much so that the rapper himself took to Twitter to clarify his intentions on "What's Free," writing in part, "The line clearly meant don't pit me against my brothers no matter what our differences are (red hat)."
Of course, Jay-Z didn't only address West in his verse on the new track. His message went much deeper than that as he attempted to convey ideals that promote the support of black enterprise and cultural awareness while shedding light on the issue of methodical oppression going back to the Three-Fifths Compromise. He delivered,
"In the land of the free, where the blacks enslaved / Three-fifth's of a man I believe's the phrase / I'm 50% of D'usse and it's debt free (Yeah) / 100% of Ace of Spades, worth half a B (Uh) / Roc Nation, half of that, that's my piece/ Hunnid percent of Tidal to bust it up with my G's"
Leaning further into the discussion of slavery and how it continues to exist systematically within the black community, he goes on to rap:
"They gave us pork and pig intestines / Sh*t you discarded that we ingested, we made the project a wave / You came back, reinvested and gentrified it / Took n****'s sense of pride / Now how that's free?"
The song, which is notably a riff off Notorious B.I.G.'s 1997 classic "What's Beef?," also features Rick Ross who partners with Mill and Jay on their crusade for social equality and criminal justice reform. (Though Rick Ross' verse on "What's Free" has been less well-received by fans due to his use of the homophobic f-word.)
Mill, of course, also had a lot to say. Speaking on his work in the community and his newfound position as a social activist, he addressed the issues with the judicial system, rapping:
"When you bring my name up to the judge just tell em' facts / Tell em how we fundin' all these kids to go to college / Tell him how we ceasin' all these wars, stoppin' violence / Tryna fix the system and the way they designed it"
The 18-track album, Mill's first album release since his highly-publicized release from jail earlier this year, is certainly signal a major moment of growth for the rapper, who not only enlisted the help of Jay-Z, Rick Ross, Cardi B., Kodak Black, Ella Mai and more, but also squashed his longstanding beef with Drake, who also appeared on Championships. During a recent interview with Ebro Darden at Beats, Billboard noted that Mill explained that the Championships is about "beating poverty, beating racism, beating the system, beating gun violence and beating the streets."
Although his relationship with Kanye West may still be a bit strained, Jay-Z's collaboration with Mill shows that he remains determined to prove his love for the black community no matter what.