JChosen Surprised In His Battle On 'The Voice'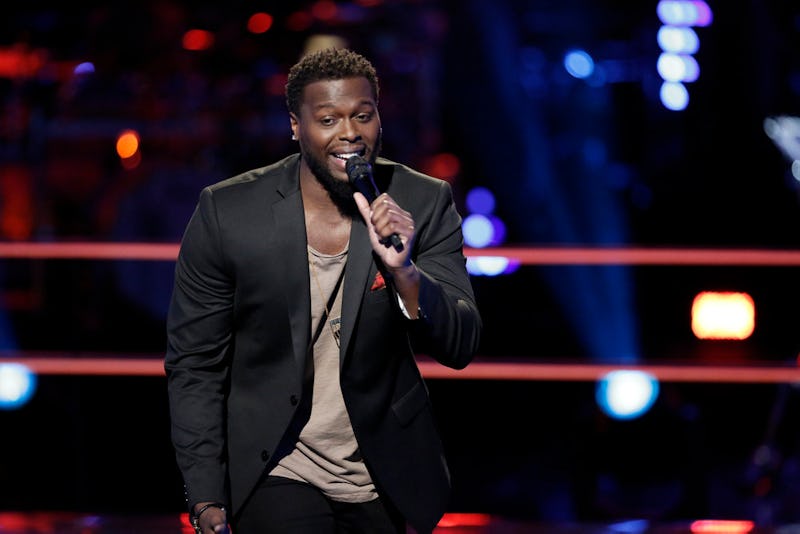 Tyler Golden/NBC
Monday night's episode of The Voice saw lots of battles fought and only a handful of winners go safely through to the next round. One of those lucky winners was JChosen, whose battle song on The Voice proved to be his golden ticket to the next week of competition. To be fair, JChosen's win was a surprise. In rehearsals, it appeared that his competition has the clear advantage. His competitor was Kenny P., the mustachioed powerhouse singer who made a serious impression on Team Gwen advisor Celine Dion.
Kenny P. and JChosen were assigned the song "I Was Made To Love Her" by Stevie Wonder for their battle round on The Voice. It became clear during rehearsals that while Kenny P. had the power in his voice, JChosen had the depth and emotional clarity. The only problem was that he was getting in his own way by holding back, a thing coach Gwen Stefani wanted to break through before he took the stage.
JChosen made big improvements during rehearsal, shaking off the nerves that came with performing for and taking notes from Stefani and Dion. Going into the battle, it was still a toss-up. Kenny P. and JChosen were almost pushing each other to be their best, get out of their own heads, and really throw their bodies and souls into the battle. This led to a truly amazing battle duet.
When the big moment came, it slowly became evident that JChosen was going to pull out the win. Kenny P. gave him a run for his money but JChosen defnitely gave as good as he got. By the time the song finished, he was standing before Stefani, breathless and seemingly happy with his performance.
In the end, Stefani chose to keep JChosen on the team, sending Kenny P. home in the process. Both his blind audition and his first battle performance have shown that JChosen is a formidable opponent. Who will he prevail over next week?