This 'Voice' Contestant Got Major Attention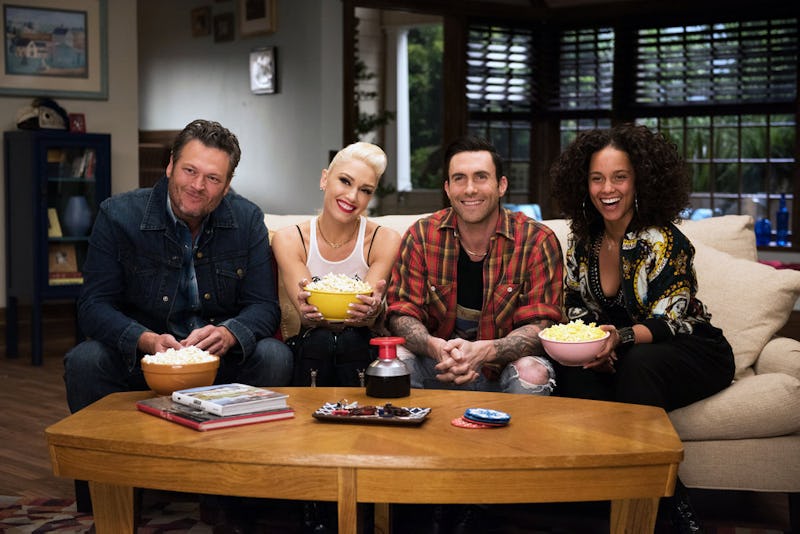 Colleen Hayes/NBC
The 12th season of The Voice kicked off with a omen of good things to come: the first person to audition got all four judges to turn around almost instantaneously. Josh Hunter, better known as JChosen, became a clear frontrunner on The Voice when he sang Marvin Gaye's "Sexual Healing" for the first round of blind auditions. His voice? Golden. His level of talent and charm? Off the charts. I think it's safe to say that The Voice found one of its first big stars of its 12th season in the first few minutes.
If the effect that JChosen had on the four judges continues for the rest of this season on The Voice, I'm actually afraid that judge Alicia Keys will dissolve into a puddle of goo. I mean, that's a good thing, because JChosen's voice is above and beyond, but we cannot lose Keys to the power of the music. That said, JChosen took to the stage and absolutely knocked his faithful rendition of "Sexual Healing" right out the park on the first try. He made Adam Levine turn around only a few notes in. As the song progressed, he got Keys, Blake Shelton, and Gwen Stefani to turn around to see what all of the fuss was about.
His smooth stylings got Keys to stand up and hide behind Stefani's chair because the magic was too real. He made each of the judges fight over him because he was just that good. In the end, JChosen shocked them all and went with Stefani.
JChosen is the stage name for Hunter, a resident of Atlanta, Georgia who teaches special needs children while caring for his young song. A former basketball star, Hunter suffered a injury the put an end to his sporting dreams and helped bring him back to music. His mother stated in an interview that she encouraged his musical dreams from a young age. Now, Hunter is attempting to not only pursue those dreams instilled in him in his formative years but also show his son what can be achieved when you chase your dreams.
That injury may have been a blessing in disguise because JChosen is well and truly on his way to total Voice glory.