Can You Guess What 'The Bachelorette' Colognoisseur's Real Job Is?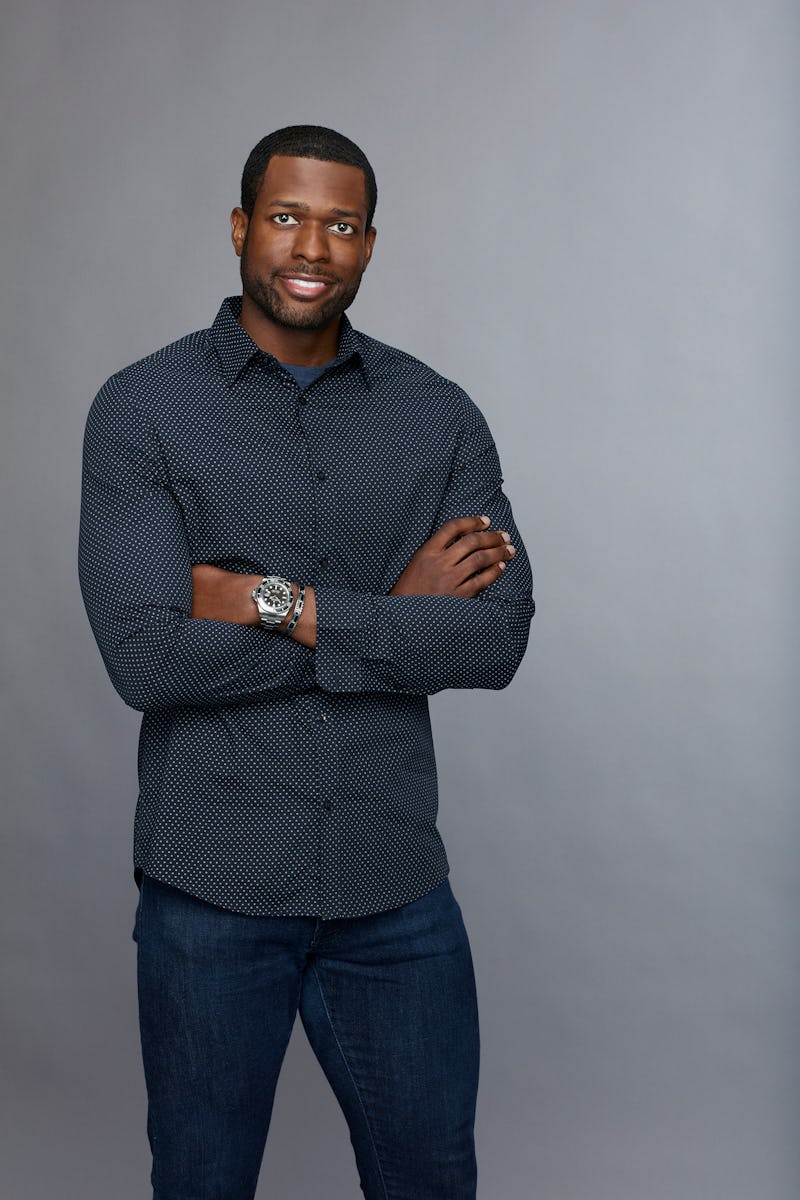 ABC/Craig Sjodin
There are always some questionable careers listed among Bachelor and Bachelorette contestants' biographies, but one in particular stands out this year. One contestant, Jean Blanc, lists his occupation as a "colognoisseur." Alright, questions need to be asked. What exactly does that mean? And does Jean Blanc from The Bachelorette have a real job?
It would appear that yes, he definitely does — this guy is definitely not just a dude who loves his cologne. His bio goes on to say that he has a masters degree in finance and also worked in Memphis as an engineer. According to Jean Blanc's LinkedIn page, he is currently a purchasing manager at International Paper in Florida — which is definitely a more solid career path than simply identifying yourself as a colognoisseur. And, oh yeah, the schools he attended were Duke and Harvard.
His official website is pretty darn snazzy, and is definitely the site of someone who is advertising his time on The Bachelorette. Aside from a notice at the top of the homepage announcing his time on the cast, there are also roses all over the page. The man might be campaigning for a win, or at least a few sweet sponsorship deals.
His website also notes that Jean Blanc is a Haitian immigrant, who came to the U.S. when he was a baby, and who later started a construction and renovation company with his father. The affection for cologne also comes into play on the site — he says that his next business venture is "Jean Blanc Boutique, an innovative company that will disrupt the luxury fragrance industry."
The guy has a lot on his plate, and he's obviously a hard worker, if all his accolades are taken into account. It's great that he's so invested in his career, because Becca is definitely the same way. "At the end of the day too, I love my career and I love having the drive to wake up and go to work every day. So I still always want that," she told Us Weekly. "I still want to try to get back to my life as normal as possible and eventually start a family, have children and have a career, have my partner have his own career, everything. I don't want this to change me too much. I still want to be the same old Becca that I was at the beginning."
From the looks of Jean Blanc's Instagram page, he's got a good mix of work and play going on, which would fit in great with Becca's fun personality. Perhaps they'll start a cologne line — Becca can be the publicist, and Jean Blanc can really live up to his role of colognoisseur. It'd be the perfect romance and business partnership. That is, of course, if they actually hit it off during the course of the show.
The newest season of The Bachelorette premieres May 28, and lord knows Becca needs some good men in her life. After she was proposed to and subsequently dumped by last season's Bachelor, Arie — with all of it being caught on camera, I might add — none of these men better harm a hair on Becca's head.
Not only did Arie dump her with cameras rolling, but he also refused to leave her alone afterward, and kept asking for forgiveness immediately after turning her world upside down with America watching. Especially now that Arie's engaged to his original runner-up, Lauren, everyone is itching for Becca to land some poetic justice. She's already been through a lot as far as dating on national television goes. Hopefully fellas like Jean Blanc are about to change that.