Jean Wehner's Husband Mike Always Supported Her, 'The Keepers' Shows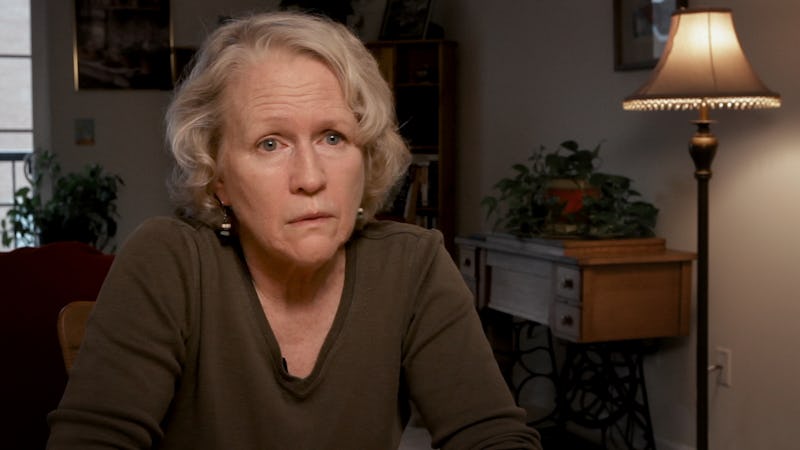 Courtesy of Netflix
In the late 1960s and 1970s, a Catholic priest allegedly sexually abused several students at Keough High School. Some of these women who accused the priest are now telling their stories via Netflix's The Keepers — opening up their lives to recount their claims of horrific abuse. One woman, a Jane Doe who later made her identity public as Jean Wehner, fought for years to have her accusations taken seriously. But, as seen in the series, one person who never doubted Jean Wehner was her husband, Mike. Sadly, Mike Wehner died in 2007, and his obituary in The Baltimore Sun calls him the "beloved" husband of Jean and father of their three children, Gregory, Matthew, and Sarah.
One of the main ways Mike supported his wife during their marriage was by standing by her through a period of intense scrutiny. When Jean decided to come forward in 1992 to accuse Father Joseph Maskell of abuse, she told the Huffington Post that it was a difficult process. "Wehner said that for decades, she had buried most of her memories of what went on at Keough. She started to remember the [alleged] sexual abuse in bits and pieces, beginning in 1992," Laura Bassett wrote in the Huffington Post article. It must have been a major comfort to have a husband and family that was supportive during that time. (Maskell was never charged with a crime and denied the allegations until his death in 2001, and told The Baltimore Sun in 1994 that "I never had sex with a kid ... It is absolutely untrue.")
Initially, Wehner's allegations didn't result in a permanent end to Maskell's ministry career. According to the Archdiocese of Baltimore's website, "Maskell was removed from ministry and referred for evaluation and treatment. He denied the allegation, underwent months of evaluation and treatment, and was returned to ministry in 1993 after the Archdiocese was unable to corroborate the allegation of sexual abuse."
Wehner told Baltimore reporter Ted Nugent for his blog Inside Baltimore that the church frustrated her during this time. "Their refusal to acknowledge — or act on — the information I gave them was very painful at the time and traumatized me all over again."
According to the Archdiocese's website, about a year passed before Maskell was fired. "The Archdiocese continued to seek information about Maskell and when additional individuals came forward in 1994 to accuse Maskell he was permanently prohibited from public ministry," their website reads.
According to Inside Baltimore, Wehner continued to speak up about her allegations and was awarded a $50,000 settlement from the Archdiocese of Baltimore in 2017 — though her attempt to prosecute her alleged abuser in the '90s was unsuccessful due to the statute of limitations expiring.
In a statement to Bustle, the Archdiocese now acknowledges the allegations against Maskell:
"Since the 1990s, when the Archdiocese of Baltimore first learned of an allegation of child sexual abuse against Maskell, and on numerous occasions since, the Archdiocese has publicly acknowledged and apologized for the horrific abuse committed by him. The Archdiocese reported the allegations to civil authorities in the 1990s and cooperated fully in any investigation, removed Father Maskell's faculties to function as a priest, apologized to victims and offered them counseling assistance, sought additional victims, and provided direct financial assistance to 16 individuals abused by Maskell.
Though it was unaware of the abuse at the time it occurred approximately 50 years ago, the Archdiocese deeply regrets the damage that was caused to those who were so badly harmed and has worked diligently since becoming aware of their abuse to bring some measure of healing to them. The Archdiocese is wholly committed to protecting children, holding abusers accountable — clergy and laity alike, and promoting healing for victims. These are hallmarks of the Archdiocese's child protection efforts, which we strive to constantly strengthen.
There is no room in the Archdiocese for anyone who would harm a child and every effort must be made to ensure what happened before never happens again. It is our hope that The Keepers advances this pursuit, just as we hope the series helps those who have kept alive the memory of Sr. Cathy and our collective hope that justice will be won for her."
Now, Jean Wehner is a life coach according to her personal website and gains strength and motivation from the other women who have come forward. Wehner told the Huffington Post, "I now have this communal sense of, 'We believe you. We trust you.' I didn't have that 40 years ago or 20-something years ago. Every step of the way is a tremendous struggle, but I get healthier and healthier."
Her husband may have passed on, but Wehner has a community standing behind her — and that has to feel good.