Jeff Flake Responded To The Kavanaugh Investigation With A Clear Hint About His Vote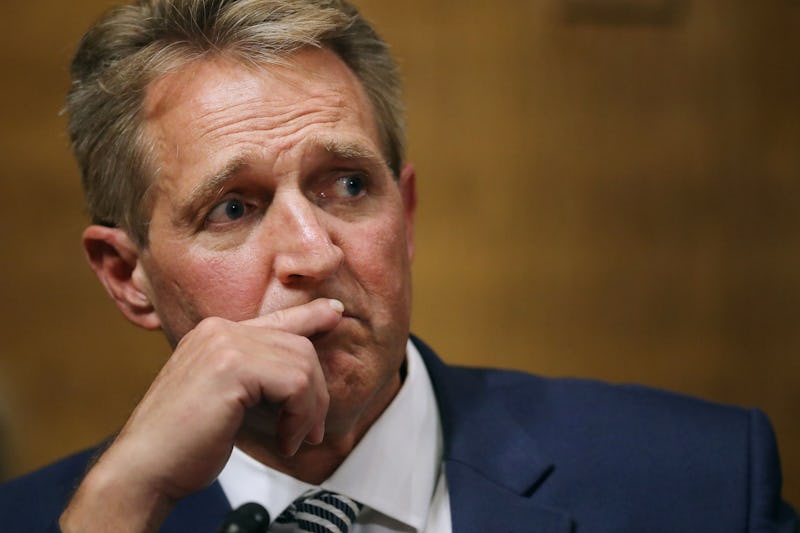 Chip Somodevilla/Getty Images News/Getty Images
The Arizona Republican played an integral role in reopening the probe into Brett Kavanaugh's background last week when he told GOP leaders he wouldn't cast a final vote to confirm the judge without an investigation into the sexual assault allegations made against him. Sen. Jeff Flake responded to the FBI's Kavanaugh investigation on Thursday, and he seemed pretty content with the extent of the investigation.
"Thus far, we've seen no new credible corroboration — no new corroboration at all," Flake said, according to The Hill's Alex Bolton. This response came after Flake got an initial briefing on the investigation's findings, according to ABC News' Mary Bruce. Per Bolton, Flake said he agrees with fellow Republican Sen. Susan Collins, who told CNN that the FBI's report "appears to be a very thorough investigation." She added that she would be more carefully reviewing it.
Flake told The Atlantic on Friday that he would vote to confirm Kavanaugh to a lifetime appointment on the Supreme Court "unless they turn up something," referencing the FBI agents conducting the investigation. He said he was "unsettled" by the partisan fight over Kavanaugh and Christine Blasey Ford's testimonies before the Senate Judiciary committee last Thursday and was convinced by Democratic Sen. Chris Coons to call for a one-week delay to give the FBI time to look into Ford's allegation.
Ford alleged Kavanaugh sexually assaulted her in the 1980s, which the judge has repeatedly denied. When the White House handed over the FBI's investigation summary to the Senate early Thursday morning, White House spokesman Raj Shah said the president "is fully confident the Senate will vote to confirm Judge Kavanaugh to the Supreme Court."
Although Flake hasn't indicated that his request for an investigation was influenced by the sexual assault survivors who cornered him in an elevator last week, the timing would suggest that the activists at least played a minor role.
"You're telling me that my assault doesn't matter — that what happened to me doesn't matter — and that you're going to let people who do these things into power. That's what you're telling me when you vote for him," one woman told Flake on Friday.
Flake also criticized President Donald Trump for mocking Ford at a rally this week for not remembering some details about the alleged assault, telling CNN that Trump's comments were "obviously insensitive and appalling."
During her Senate testimony, Ford asserted that more collaboration would have helped clear up some of those details, such as the exact date of the alleged assault. At the time, the FBI hadn't yet reopened its investigation into her claim.
"I wish that I could be more helpful and that others could be more helpful and that we could collaborate in a way that would get at more information," Ford said.
Although it's unclear if the type of collaboration Ford called for was achieved, as the investigation's details are still under wraps, Flake's response to the FBI's investigation implies that he'll vote to confirm Kavanaugh. The full Senate could hold a vote as soon as Saturday.
If you or someone you know has been sexually assaulted, call the National Sexual Assault Telephone Hotline at 800-656-HOPE (4673) or visit online.rainn.org.