Trump Just Outright Mocked Christine Blasey Ford In Front Of Thousands Of People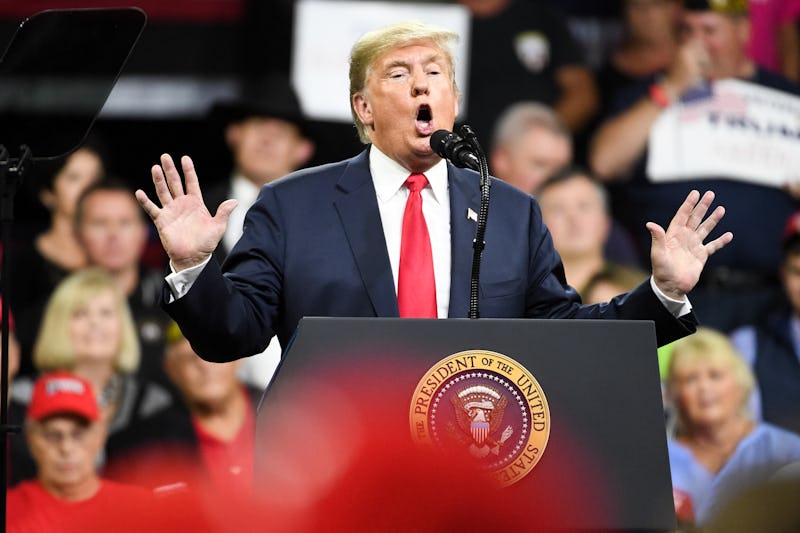 Sean Rayford/Getty Images News/Getty Images
During a Mississippi rally on Tuesday night, Donald Trump mocked Christine Ford by imitating her testimony and challenging the veracity of her claims against Brett Kavanaugh before a cheering crowd. Trump then went on to decry the "false allegations" that often ruin lives, citing the sexual misconduct claims against him as an example. "Think of your son, think of your husband," Trump implored the crowd.
This isn't the first time that Trump has sided with Kavanaugh over the claims made by Ford, who alleged that Kavanaugh attempted to rape her during high school. But Tuesday's rally took Trump's criticism of the allegations to a whole new level. Kavanaugh, who has categorically denied that he has ever sexually assaulted anyone in his life, has received the full support of Trump from the beginning. In recent days, Trump has amped up his support of Kavanaugh, claiming that Kavanaugh is the real victim in this situation and that he is a "good man."
But on Tuesday night, Trump went so far as to imitate the dialogue between senators and Ford. He said, "How did you get home? I don't remember. How did you get there? I don't remember. Where is the place? I don't remember. How many years ago was it? I don't know." To applause, Trump continued imitating Ford, saying, "I don't know. I don't know."
Trump continued, "Upstairs, downstairs, where was it? 'I don't know. But I only had one beer. That's the only thing I remember.' And a man's life is in tatters. A man's life is shattered. His wife is shattered. His daughters, who are beautiful, incredible, young kids– they destroy people. They want to destroy people. These are really evil people."
Trump later mocked the severity of sexual assault allegations again, in an interaction with a man who called out to him at the rally. When the man said, "I love you," Trump replied, "I love you too. You're not my type, but I love you." He then went on to joke that he could get in trouble if it was a woman he was speaking to, and added, "I hope you're a guy." The crowd cheered and laughed.
At another point, Trump went through a hypothetical situation in which a young man (who, for some reason, received a hypothetical job at IBM or General Motors) was falsely accused of sexual assault. Trump imitated the hypothetical young man, saying, "What do I do, mom? What do I do?"
These comments were a far cry from the perspective Trump gave less than a week ago, in which he called Ford a "credible witness" and then said to reporters on Friday afternoon, "I thought her testimony was very compelling, and she looks like a very fine woman to me."
Ford was not the only target of Trump's insults during the rally. He also called Democrats at large "evil people," and even implied that Sen. Patrick Leahy had a drinking problem.
Just a day earlier, Trump told reporters that he had been nothing but respectful to Ford throughout the entire process. "With all of that you cannot say that we've done anything but be respectful, and I do," he said. "I respect her position very much. I respect her position very much."