Jen Howell From 'Below Deck' May Love Yachts Even More Than The Guests On Board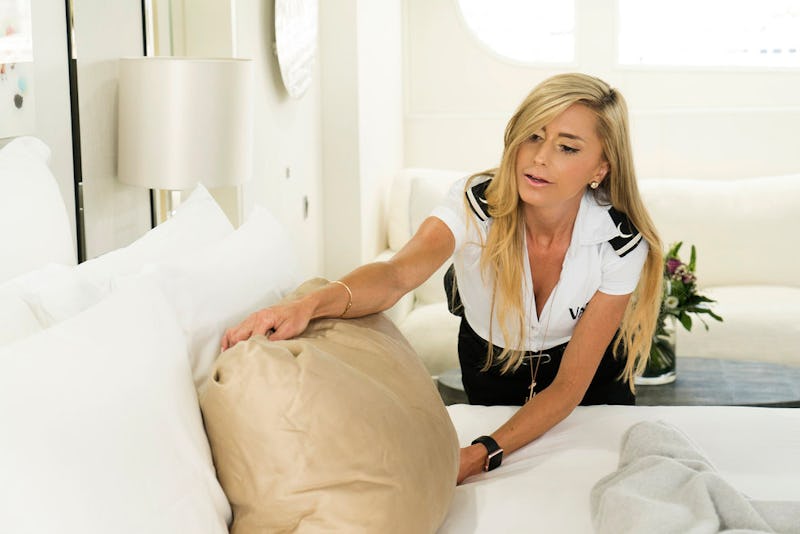 Virginia Sherwood/Bravo
Meeting the new crew members on Below Deck is always an exciting part of each seafaring season. Will they be consummate professionals at the top of their game, or pranksters more interested in bellyaching and hanging out than pulling late nights and impressing the guests? Most of the time, the crewmembers fall on the professional side of the spectrum, and when new cast member Jen on Below Deck steps on board, it certainly seems like she'll be an especially competent, smart one to watch. But according to the Below Deck Season 5 first look trailer, Jen has a few meltdown moments (as do the best of us).
Now, maybe the show is putting those in the trailer because she's just an expressive person, and in reality she's easy and fun to work with. But for the purposes of showcasing what will make viewers' mouths drop this season, Bravo is teasing some real tension between chief stew, Below Deck veteran, and all-around tough lady Kate Chastain and Jen Howell, TV show newbie and, potentially, someone destined to join the list of the many crewmembers delivered a one-way plane ticket by Captain Lee. But honestly, everything else there is to know about Jen before Below Deck Season 5 premieres suggests that she's capable enough to work out any issues that might arise.
She's A Single Mom
It must be tough to have a family and be a yachtie, considering the long trips away from home and the unreliable communication while out on the seas, let alone being a single parent. According to her Bravo bio, Jen is a single mom, of a nine-year-old daughter, Isabella — so she'll be navigating those waters this season.
She Has Multiple Careers
In addition to her experience as a stew, Jen is also a realtor, according to her LinkedIn page. So when she's on charter, she gives guests a luxurious experience, and when they return to land, she can sell them a house in her native Florida.
Her Wedding Was On A Yacht
Hey, think your favorite Below Deck cast member is dedicated to the yachting lifestyle? Well, did they have their wedding on a boat? According to her Bravo bio, Jen did, which proves that she doesn't just work on a yacht, but really, really cares about them.
She Can Adapt To Living Anywhere
According to her real estate website, Jen wrote that she "lived and studied business in France for six months" and after she graduated college she moved to Hawaii until her until her daughter was born. She's quite the global traveler.
She's Not Really Into Social Media
While you can find Jen on LinkedIn and her real estate page, she's not really interested in sharing evey little detail of her life publicly — she doesn't seem to have a public Twitter or Instagram account, and if she does, she's not interested in promoting herself on it.
There's A Reason She's Single
In a video Bravo released, Jen revealed her relationship status, and like most of the crew, she says she's currently single (and ready to mingle). But while most of the crew seem cool with their choice, Jen revealed that she worries that she'll "be single for the rest of [her] life" because her standards are so high. Maybe she'll luck out and meet a millionaire charter guest on board.
While the Season 5 Below Deck teasers suggest that Jen might be the source of some drama, her professional background suggests that she'll be more of a seasoned pro. But, the only way to find out what happens is to watch the new season starting Tuesday, Sept. 5.