Jennifer Garner's Stunt Double (And Friend) Shauna Duggins Is A Total Boss In Her Own Right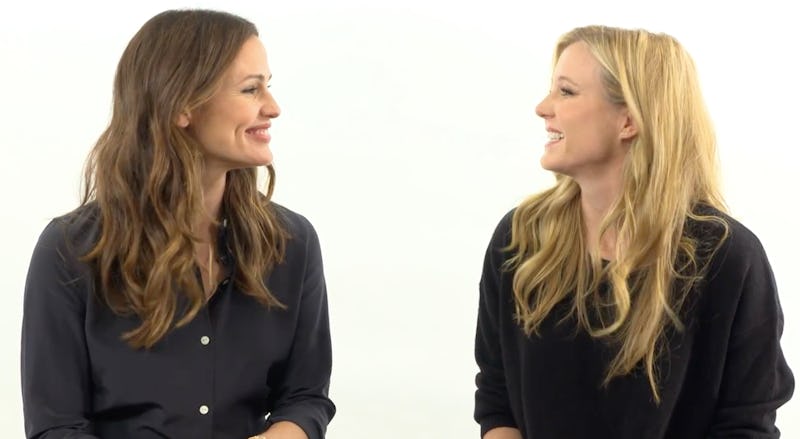 Bustle
While her last few years as an actor have been decidedly less action-heavy, Jennifer Garner is a known badass on the big and small screens. She became famous for playing the indomitable Sydney Bristowe on Alias, where she kicked and punched her way through just about every bad guy (and gal) imaginable from 2001 to 2006. After that, she brought justice (with them help of her two signature daggers) to the comic book movie world in Daredevil and, later, Elektra. In 2007's The Kingdom, she got her hands (and elbows, and shoulders, and just about everything else) dirty with a few downright brutal fight scenes. Now, she's getting straight up ruthless in the Taken-style revenge fantasy movie Peppermint (out Sept. 7). But she hasn't accomplished any of it alone: Garner's stunt double & coordinator Shauna Duggins has been with her every (occasionally grueling) step of the way.
"We have such an amazing relationship. It's like coming home. I know I'm gonna have a great time, I know no one has my back more than Jennifer on any show on any set on anywhere. If I need something, she's there and vice versa," says the Emmy-nominated stunt coordinator (she's up for a big award this September for her work on Netflix's GLOW and has doubled for Charlize Theron, Cameron Diaz, and Anne Hathaway, to name a few). "She is so talented that you know you can teach her and get her all the way to here (gestures above her head). And part of the fun is to get to watch her do these amazing things with her body. I don't settle for [the minimum] with her because I know she wants to be amazing, so you can go and push her and get it out of her."
We're speaking at a ritzy hotel in Los Angeles, just before the release of Peppermint, and she's just finished gabbing with Garner about Garner's daughter Violet. As this dynamic duo sits down to talk about their storied history — which started when they met on the second episode of Alias back in 2001 — there's a palpable, almost sisterly bond between the two. At one point, they playfully argue over who left the biggest dent in the wall when filming a fight scene back in 2007 (this one, to be exact). Later, Garner grabs a ring she doesn't recognize off of Duggins' hand, flabbergasted that she's never seen it before in their years of working together. "She doubled me, and we've been together ever since," says Garner matter of factly, flashing an adoring look at her longtime collaborator and friend. And when I suggest that Duggins is a kind of a big deal, Garner practically beams as she nods her head. "She is," she boasts.
And that sense of pride isn't one-sided. Not even a bit. Duggins is a leader in the stunt world, and yet, her instinct isn't to talk about her own successes (in fact, she seems downright uncomfortable when they're brought up). Instead, she's most comfortable talking about how strong and talented her pal Garner is — especially in light of the fact that Peppermint is a film in which Garner does the majority of the action herself.
"The thing I think people don't realize is that in Peppermint, it's me fighting. You definitely know when you're watching it, it's me. But I couldn't have done it if Shauna wasn't there directing me through every single step of it," specifies Garner, whose character spends most of the film taking down dozens of criminal henchmen like some sort of scrappy, brutal video game hero who knows how to wield every weapon ever and counter every attack ever.
"That makes me proud. I'm excited to see her do those things, it's like a coach when you've been training someone, whatever sport it is, and they do really well. It's like the proud mom comes out," Duggins says with so much joy it's impossible not to believe her.
But it wasn't always so easy to get filmmakers to trust Garner to do her own stunts. Duggins recalls working on Daredevil in 2002 and having to convince the director and producers that Garner was skilled enough to film both the close-ups and wide shots after putting in countless training hours on Alias (generally, the wide shots are the part when a stunt double comes in and movie magic takes over). Spoiler: Duggins knew what she was talking about.
"We switched the choreography to stuff that she already knew and sure enough they shoot the wide [shots] and the director and every producer's mouth goes like (mimics a jaw drop)," she says with a knowing chuckle. "They're like, 'We didn't know she could do that. We could shoot all that with her.' And it was this moment of like, 'Yep toldja."
Now, Duggins is trusted by directors all over the entertainment world — not just to double for beloved actors, but to actively craft and shape the way action helps tell their stories. The creators behind Ray Donovan, Crazy Ex-Girlfriend, Camping, and GLOW have all entrusted their series to her expertise. It's something that, naturally, makes Garner really proud to be her friend and colleague.
"She's a leader, as a woman, as a coordinator. She goes in and takes over a meeting and effortlessly helps the director find their vision. She is a storyteller and a leader in the way that she brings it and makes it happen on set," says Garner, beaming once again.
And while Duggins isn't always in the spotlight (she seems to like it that way), it's clear that none of these worlds — Garner's included — would be the same without her.