Jennifer Lawrence & Cooke Maroney's Relationship Timeline Is Short, But Sweet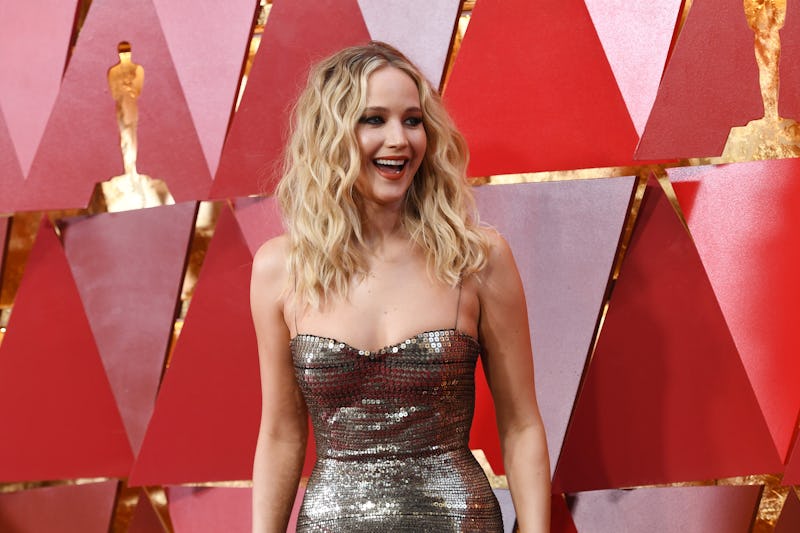 Kevork Djansezian/Getty Images Entertainment/Getty Images
In this week's edition of "swift celebrity engagements," an actor and an art dealer have decided to make things official after nine months of dating. Yep, that's right. Jennifer Lawrence and Cooke Maroney's relationship timeline may only go back about nine or 10 months max, but hey — when you know, you know. Good for them.
Lawrence and Maroney have been super private about their relationship ever since they reportedly started dating last June. Neither one of them has publicly spoken about the other to the press, and paparazzi photos of the pair are few and far between.
Of those few and far between photos, though, it's abundantly clear in almost every single one that Lawrence and Maroney are totally smitten. If they're not holding hands, they're both beaming from ear-to-ear. Actually, in most pics they're holding hands *and* beaming from ear-to-ear. Or laughing. Or looking deeply into each other's eyes. Or acting like they're the only two people on earth. Ahh, romance.
Some people might say that they appear so happy because they're still in the "honeymoon phase" of their relationship. While that may be the case, now that they're engaged, they might as well ride the honeymoon phase straight on out through their actual post-wedding honeymoon. Until then, here are some of the couple's most memorable moments.