J. Lo & Alex Rodriguez's Daughters Bond In A Cute Pic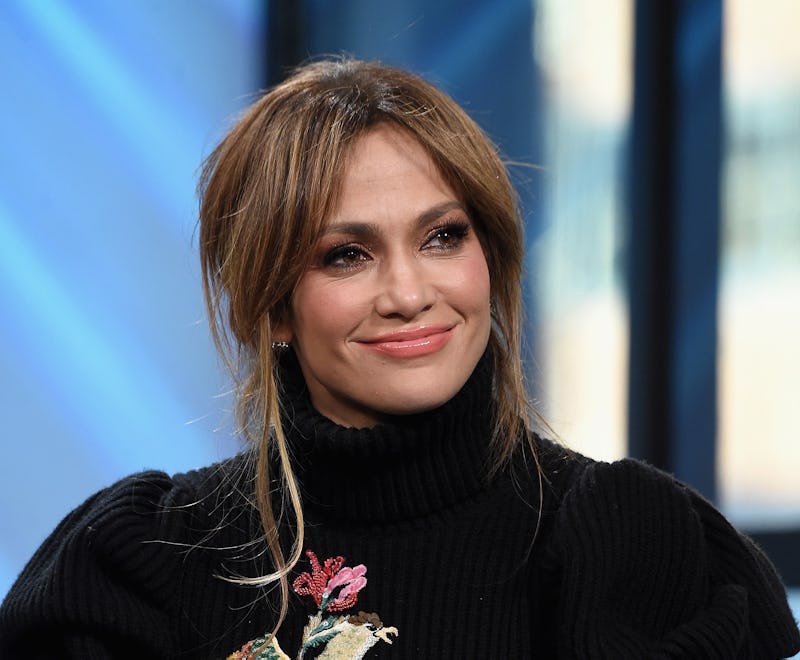 Jamie McCarthy/Getty Images Entertainment/Getty Images
It definitely seems like things are getting quite serious between singer and actor Jennifer Lopez and her MLB star boyfriend Alex Rodriguez. On Tuesday, Lopez posted a photo to Instagram of Rodriguez's daughter giving her daughter a piggyback ride, and, you guys, the picture is almost too cute for words. Lopez has twins from her former marriage to Marc Anthony (named Emme and Maximilian) who are nine years old, and Rodriguez has two children from his former marriage to Cynthia Scurtis (Natasha and Ella) who are 12 and eight.
According to Entertainment Tonight, Lopez was in the Dominican Republic for a show this past weekend, and because it was Easter, she brought her little ones, along with Rodriguez and his own kids, for a Caribbean family getaway. The couple have reportedly only been together for a couple of months, after running into each other at an event in Los Angeles, but they're already serious enough to be taking trips with their children.
Now, I'm not yet a parent myself, but I imagine that introducing your kids to a new partner and their children would be a pretty legitimate relationship milestone. I think it's awesome that Lopez and Rodriguez are not only happy with each other, but that their kids get along too.
Lopez shared the photo of her daughter, Emme, and Rodriguez's oldest daughter, Natasha, bonding, along with a caption that says, "Tashi and lulu."
Major cuteness overload! And is it just me, or do Emme and Natasha they look like they could be blood relatives?
Lopez frequently post photos of her children to Instagram, so I can't say that I'm surprised she's also sharing pictures of what could be her future step-daughter. In fact, I'm glad she's comfortable with her new relationship and being open with the public about it.
Us fans like seeing that Lopez is happy and enjoying life. Her career is as thriving as ever, between her hit show in Las Vegas and her television show Shades of Blue being renewed for a third season, so it's great that things in her personal life are also going so well.