Jennifer Lopez Is Totally OK Bragging About Her Success, Like All Women Should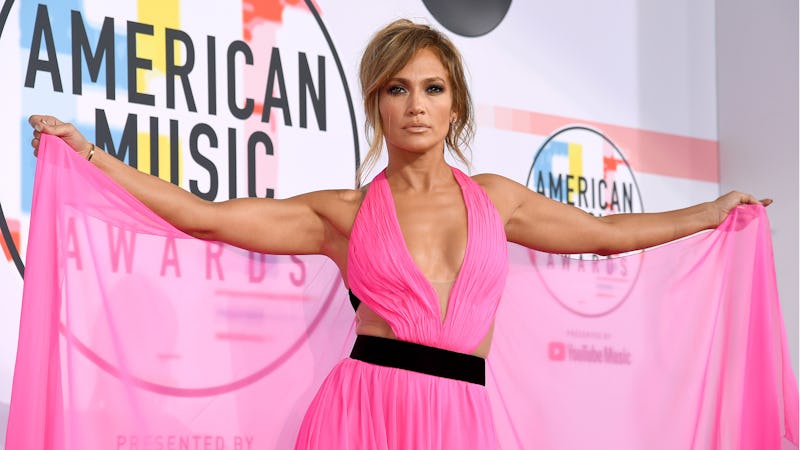 Kevork Djansezian/Getty Images Entertainment/Getty Images
Listen up, because J. Lo has unapologetically spoken. Jennifer Lopez embraces her success and knows she's a boss at what she does well, including singing, acting, performing, executive producing, and so on. As InStyle's December cover star, Lopez admitted she's good at what she does, and it's inspiring to hear. More often than not, women are made to feel bad if they brag about themselves, but not Lopez. She's totally fine with praising herself out loud.
The 49-year-old powerhouse told InStyle,
"When I first started, it was always a matter of 'Am I good? Am I good enough? Do I need to be better? What can I do to be better?' Now I know I'm really good at this. So I just want to do it."
Lopez has been a part of the industry since she made it big in the early '90s as a Fly Girl on In Living Color. She's come a long way and is now known as one of the most famous individuals in the entertainment industry. Lopez doesn't sit still and is always finding something new to do. From creating music to acting in movies to scoring her own Las Vegas residency to starring in and executive-producing TV series', like Shades of Blue and The Fosters, she's a massive talent — and Lopez knows it.
Admittedly, she didn't always have the confidence she does today, but she's worked extremely hard over the years to get to this point in her life and in her career. The Second Act star should absolutely be proud of herself, and brag about herself in the process.
As she told InStyle,
"It has taken time, but I think we're in a very powerful moment where women are going, 'Wait a minute. We're not afraid to say what we deserve.'"
Lopez told The New York Times something similar in her Oct. 31 profile for the publication. "I want what I deserve." She also told the outlet,
"Understanding my own worth and value as a person made me understand it differently in my work, as well. [It] has been a long journey for me. And so I'm very proud to stand in the shoes of, yes, I think I do deserve more. All artists do deserve more. We are the scarce asset. They can't do anything without us. They have no product. So we have to understand that."
While chatting with InStyle, Lopez also challenged the idea that women aren't serious about their careers if they are a multi-hyphenate, like Lopez herself. She thinks it's ridiculous for anyone to think less of a woman who has more than one job or passion. Like she said,
"I don't understand why you can't be an actress and a singer and dancer as well. Like, that's how this whole business started. Entertainment! And why can't you be funny and also be a dramatic actress? OK, some people can't do both. But if they can, let them!"
Lopez has repeatedly fought for her beliefs, not to mention battling the restricted ideas society has put in place for women, especially when it comes to body image. On multiple occasions, the World of Dance judge has been recognized for her butt. She even has a song featuring Iggy Azalea called "Booty." Rather than being made to feel bad about her body, Lopez has always embraced it, and mainly thanks to her family and Puerto-Rican heritage.
"In my family, curves were glorified and part of the culture," she said. "It was just like, 'Jennifer has a big butt, and it's good.'"
She won't apologize for loving herself, and she shouldn't have to. Despite any negativity she's encountered over the years or the challenges she's faced, Lopez hasn't let it stop her. She's here to stay, all while letting everyone know how amazing she is in the process.