Jennifer Lopez Thanked Her Kids & A.Rod In Her Incredibly Moving VMAs Speech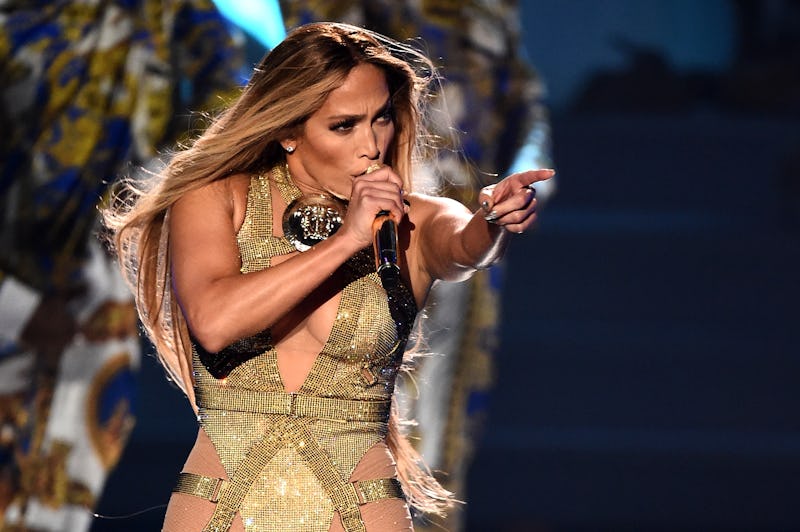 Michael Loccisano/Getty Images Entertainment/Getty Images
At age 49 and after having received a total of 23 VMAs nominations over the years, Jennifer Lopez received the Video Vanguard award at the 2018 VMAs on Monday night. The "Dinero" singer is the 34th recipient of the award, which was first given to David Bowie and The Beatles at the inaugural VMAs in 1984. Lopez is only the seventh woman to receive the lifetime achievement award, and she's the first Latinx to accept the honor. It makes sense then that Jennifer Lopez's Video Vanguard speech at the VMAs had some incredibly emotional moments, especially while she talked about her kids, Emme and Max.
"It wasn't until I had two little angels come into my life that everything changed. I knew I had to be better… I knew I had to be stronger than I had been before," J Lo said. The camera panned to Lopez's twins who were born in 2008 to the singer and her then-husband, Marc Anthony. Then, Lopez said, "I stand here stronger and better than ever," while addressing her children and getting choked up.
Lopez gave her speech after performing a medley of her tunes, including classics like "Waiting for Tonight," "All I Have," and "Jenny From the Block." That performance was only the second that Lopez has eve given at the VMAs; the last time she took the VMA's stage was in 2001, when she performed the "I'm Real" remix with Ja Rule, as Entertainment Tonight reports. It was a big night all around for J Lo, since her video for the song "Dinero" was nominated for two awards.
When MTV announced in August that Lopez would receive the Vanguard Award, which became officially titled the Michael Jackson Video Vanguard Award in 1991, J. Lo appeared on MTV's TRL to talk about the honor. When the host of TRL, Sway, asked Lopez how she felt about receiving the same award that Madonna and Janet Jackson have won in the past, Lopez said, "I grew up in the MTV era... So I was watching all the way back from Tina Turner and Bruce Springsteen, and Madonna, and Janet, and Michael, and all of them, and they were my inspirations to even get in the music business." Then she added, "Their videos inspired me to do the videos that I did and so now to be 20 years in, and here and winning this award, it's just mind-blowing to me."
Lopez shared her excitement for receiving the Vanguard Award by posting throwback video clips with her fans on Instagram. During a countdown to Monday's show, Lopez captioned a video, "I'm feeling nostalgic! I'm sharing some of my favorite video moments from the last 20 years." While posting a clip from her video for "Waiting for Tonight," Lopez wrote, "WFT is one of my all-time favorites because it stands the test of time, it was 1999, just about to be 2000 or Y2K—everyone thought the world was going to crash."
Just as everyone probably remembers the communal panic surrounding Y2K, they also likely remember "Waiting for Tonight." As such, it's so exciting to see Lopez receive such an important award at the VMAs in 2018, so many years after that time in history. J. Lo's music has served as a soundtrack for these past 20 years, and her award on Monday night was so deserved.