This Jenny Slate Tweet Is (Possibly) About Chris Evans & It's Too Cute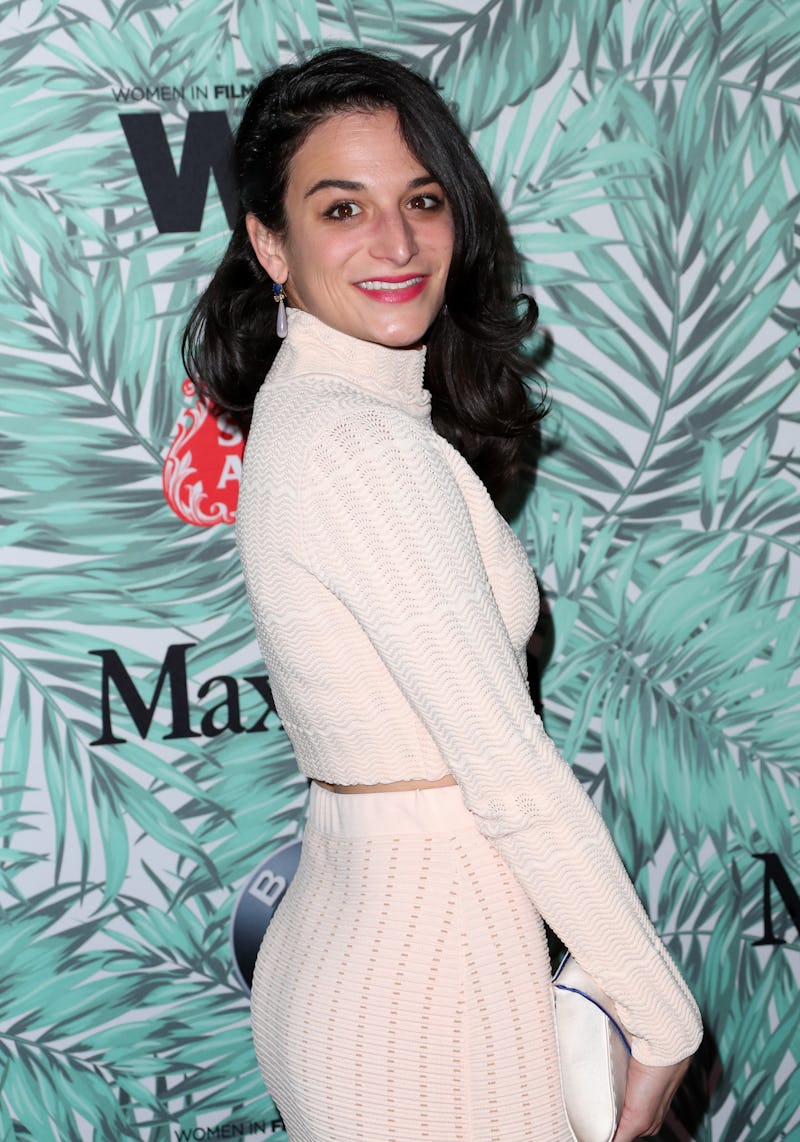 Frederick M. Brown/Getty Images Entertainment/Getty Images
Could it be? Some actual good news? As Hollywood burns to the ground, a breath of fresh, wholesome air emerges: It seems that Jenny Slate and Chris Evans might be back together. The union that could heal America!
The couple broke up in February and even though they were together for less than a year, their split was heartbreaking, and not just for the two of them. They met on the set of their film Gifted in 2016, and the reason for their relationship's untimely end was reportedly that age-old Hollywood killer — conflicting schedules. They have spent the year being the most amicable and supportive exes ever, but Slate and Evans have dropped a couple hints this week on social media that they are back on, leaving any fans of the duo absolutely joyous. TGIF, baby! (Bustle has reached out to reps for Slate and Evans for comment, but has not yet received a response.)
Slate tweeted on Friday that she does, indeed, have a boyfriend, and one that supports (enables?) her online shopping habit, at that.
"My boyfriend does many dreamy&generous things but number 1 in my mind right now is how he celebrates my new turtlenecks/let's me show him my online shopping spoils&cheers me on," she tweeted. Of course, Slate doesn't say who exactly that boyfriend is, but Evans truly embodies "dreamy." And he's even dreamier if he loves a girl in a turtleneck.
Fans went wild in her mentions, hoping ever so much that she was referring to Evans. User @lobster_hands was on a rollercoaster of emotions: "ugh i'm so happy for you - but like it ALSO GIVES ME ANXIETY! it's not my business, but man i hope (we all hope) it's Chris." Accurate. Everyone was pretty over the moon and felt revitalized by such good news in such a dark week (month, year). As @ohkayewhatever put it, "this tweet watered my crops and nourished my lifestock." The Slate/Evans love is the Stuff Of Life.
Slate's tweet comes just a few days after Evans posted a video that also hinted that the couple was back together again. On Tuesday, he tweeted an extremely adorable video of his dog, Dodger, singing along to "The Lion Sleeps Tonight," which Dodger's favorite stuffed lion toy plays. It's so sweet and would make anyone giggle with glee, and in fact, there's a lady laughing in the background that's almost definitely Jenny Slate. She has a great, unique laugh that just gives her away.
Hopefully, for their sake, Slate and Evans are back together, because they're obsessed with each other. In March, in an interview with Vulture, Slate waxed poetic about her ex, and she really has a way with words (which Evans totally loves about her). She said,
"What's the same about us is not just that we're from Massachusetts, which was such a delight, but Chris is truly one of the kindest people I've ever met, to the point where sometimes I would look at him and it would kind of break my heart. He's really vulnerable, and he's really straightforward. He's like primary colors. He has beautiful, big, strong emotions, and he's really sure of them. It's just wonderful to be around. His heart is probably golden-colored, if you could paint it."
Swoon! What a lovely, incredibly loving way to describe someone.
And Evans swoons over Slate just as much, especially her deftness with language. Talking to People in March while promoting Gifted, Evans said of Slate, "She's my favorite human. She's the best." He went on to do some very sentimental gushing of his own: "I've never ever ever met someone in my life who has a mastery of the English language the way she does ... There's nothing not to love about her." Now that is dreamy indeed.
So, while Slate's turtleneck tweet and Evans' giggly video might not explicitly confirm that the wonderful couple are back together, they are some pretty strong signs. Go ahead and believe they've rekindled their love: You've had enough bad news recently, you deserve something pure to hold onto while you patiently wait for a selfie of Slate and Evans in matching turtlenecks.