Jerome Comes Back To Life On 'Gotham'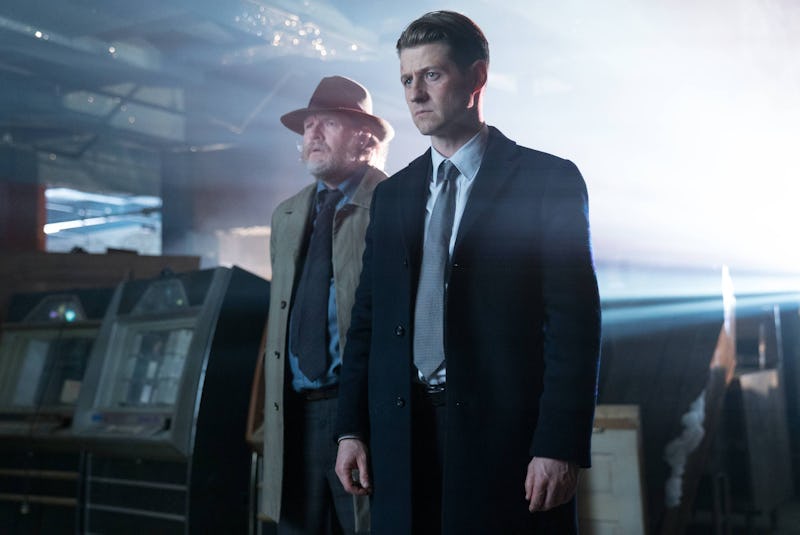 Jeff Neumann/FOX
Who knew, but by bringing back an old villain, Gotham also brought back a familiar structure, and feels remarkably less scattered than usual. That's right, in "Smile Like You Mean It" Jerome comes back from the dead, and structurally, this is a nice throwback to some of the earlier seasons, where Jim, Harvey and the rest of the cops successfully worked together and would solve mysteries by the end of the hour. But this story can't be wrapped up in just a single episode, because Jerome is still on the loose, and, actually, makes things worse by the time "Smile Like You Mean It" comes to an end.
That moment where Jim is looking out on Gotham City and watching the power go out while knowing this cult is ready to destroy the city, is actually quite chilling (for Gotham, at least). With a failing gangster as the mayor and a barely competent police force, for once, Jim's borderline fascistic policing methods are almost justifiable. A cop that doesn't play by the rules, but brutally enforces them is exactly the role that Batman usually plays in his appearances, and since the young Bruce Wayne is still off wandering around hoping Selina consents to being his girlfriend, it looks like Jim will be entering superhero mode in the upcoming episodes.
At first, it seems like the episode will cheat fans out of Jerome's return, when Dwight, after seemingly failing to resurrect his hero, slices off his face. But for fans who were expecting to see Cameron Monaghan back, don't worry — Jerome takes a bit of time to wake up, and needs a refresher course on what happened in the last season — I mean, year — from Lee, but then he's good to go. By the way, I love the new Lee. She's basically the Professor Snape of this precinct now, between her use of truth serum and her bitterness about a lost love. Oh, and her icy one-liners are totally cutting, and she seems very unbothered by being kidnapped yet again.
Between Lee's transformation, Jim and Harvey's return to partnership, and a truly evil villain on the loose, looks like Gotham has actually managed to make this villain's return an effective one.