'BlackKklansman' Reminds Audiences Of A Horrific, Little-Known Tragedy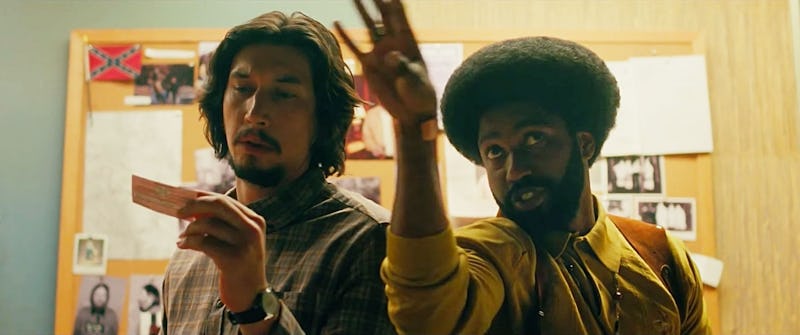 Focus Features
BlacKkKlansman is one of the most talked-about films of the year, telling the shocking true story of how African-American detective Ron Stallworth infiltrated the Ku Klux Klan by pretending to be a white man. One of the most powerful moments of the movie comes towards the end, when activist Jerome Turner (Harry Belafonte) details the lynching of African-American teenager Jesse Washington. The story is so horrific it's hard to imagine, but sadly, Jesse Washington was a real person who was tragically lynched in the early 1900s.
Many people know of the story of Emmett Till, a 14-year-old who was lynched in 1955, but 39 years before his death, Jesse Washington experienced the same fate. In 2006, NPR reported an in-depth account of his story, which continues to haunt Waco, Texas today. The tragedy began when the body of Lucy Fryer was found by her farm's seed shed, having been raped and beaten to death. 17-year-old Washington was a prime suspect because he had been working on Fryer's farm and had allegedly been seen near her house around the time her body was found.
The Waco Tribune-Herald reported that when the sheriff's deputies found Washington, he was wearing bloody clothes, which he alleged came from a nosebleed. Washington then confessed that he had murdered and raped Fryer over an argument about her mules. He also gave them information of where they could find the hammer that was used as a murder weapon.
What followed was extremely disturbing. During the day of Washington's lynching, a crowd of over 1,000 chained him, beat, and dragged him to the town square. The crowd castrated him and cut off his fingers — which were then sold as souvenirs. He was then hung over a fire for hours, being burned alive.
This horrific event scarred Waco forever. KXXV reported that for the 100th anniversary of Washington's lynching, Mayor Malcom Duncan Jr. issued an apology to his family in a ceremony. One of Washington's descendants, Howard Majors, noted the importance of this gesture. "We already knew what he had went through—I thought it was just something that was buried and gone. By the city coming up and acknowledging that now it makes me feel a whole lot better about Waco," said Majors.
Even though Washington had confessed to murdering Fryer, many believe that he was coerced into confessing and was actually innocent, due to lack of evidence besides his confession. The NPR account explained this further, reporting, "The methods used by the justice system of the time also encourage endless speculation about Washington's guilt or innocence. In that poisoned climate, it would have been up to Jesse Washington to prove he was innocent, and Jesse had only the dimmest understanding of what was going on."
It's important to recognize why Washington's heinous story was included in BlacKkKlansman. Even though lynching is now part of America's dark past, white supremacy is still a huge issue that plagues our current political climate. By including this disturbing story, Spike Lee is reminding viewers that black lives are still under threat and there's still so much work left to be done to change this reality.