Jesse Williams Opened Up About Sarah Drew's 'Grey's' Exit, & It Will Break Japril Fans' Hearts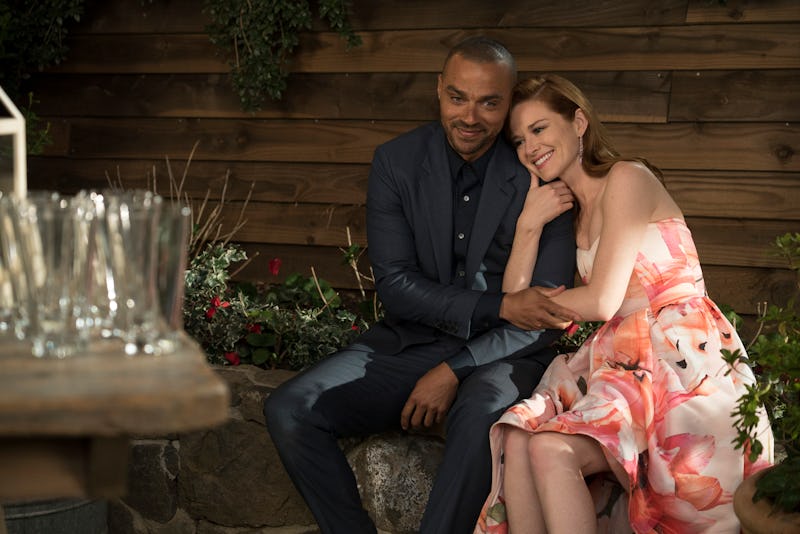 ABC/Eric McCandless
If you're still mourning the loss of one of your favorite couples on television, Jesse Williams' response to Sarah Drew's Grey's Anatomy departure is the only thing that might cheer you up. Speaking to Entertainment Tonight during a recent red carpet appearance, Williams shared that he's not only devastated by his former costar's exit, but implies that he actually fought hard for Drew to stay. And while nothing can heal all the hearts broken by Japril's final chapter, his words are refreshing. Because no matter how you felt about the outcome of the Grey's Anatomy's Season 14 finale, it's a relief to know that one of the show's stars is just as bummed as its audience.
According to ET Online's Deidre Behar, Williams wasn't planning on giving any interviews at the NBA Awards on June 25, but when she shouted "JAPRIL!" the Grey's star came over and very graciously answered some questions. Clearly, the relationship between Jackson (his character) and April (played by Drew) means as much to him as it does to fans. When asked about his response to Drew's departure, the actor shared, "I mean, the whole thing is sad. It's unfortunate," before continuing:
"That's my partner, my road dog, so it was unpleasant, but she's such a professional and did such incredible work down to the last frame and I'm really proud to have had our time together."
The two actors had worked shoulder-to-shoulder as Jackson Avery and April Kepner since 2009, sharing a marriage, children, loss, divorce, and beyond, which is a lot of story and screen time to encapsulate in one statement. But in true Jackson style, Williams nailed it, emphasizing Drew's work ethic, her talent, and how much he's going to miss her, without letting any bitterness taint his message. When asked by the interviewer whether he'd "rioted with the writers" at all leading up to the finale and Drew's farewell, Williams kept things professional, but implied he went to bat for his costar. "Well, I always make my opinion known. I'll leave it at that," he said with a sad smile.
In a tragic but satisfying way, his statement actually reads as life imitating art — Williams supporting his former (acting) partner, even when they can't be together anymore. It's a dynamic that actually mirror's Japril's onscreen relationship in a lot of ways. The couple saw more than its fair share of ups-and-downs during their nine seasons together, but they always had each other's backs no matter what. Their bond was so strong that even though the divorced pair had been on a downswing as of late, many fans hoped and assumed that they'd find their way back to each other by series end.
That didn't happen, of course, and many fans were understandably disappointed. But in many ways, what happened instead was more true to Japril's arc. April got her happy ending, with a spur-of-the-moment wedding to a different ex, her former fiance Matthew Taylor, played by Justin Bruening. And even though he wasn't the one putting the ring on April's finger, Jackson was right there beside his ex-wife, proudly supporting her as she moved forward with her next adventure. (Pause for necessary wiping of tears, because dang there's a lot of dust in here.) It was a beautiful way for April's arc on the show to end, and it's a beautiful way for Drew and Williams' working relationship to end as well.
And while the connection on the show has been severed, the personal bond between actors is one that won't easily be broken. Asked if he's been in contact with Drew, Williams was quick with his response, reassuring fans and the interviewer alike. "Always," he promised. "We spoke yesterday." Just more proof that while this is the end of Japril, it's far from the end of "Sasse," and that's the best silver lining anyone could hope for.