Jesse Williams Finally Reacted To April Leaving 'Grey's Anatomy' After Season 14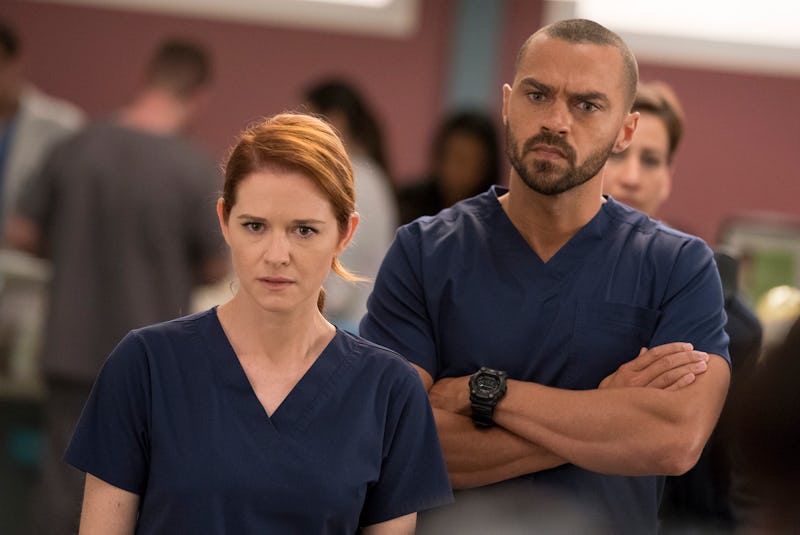 ABC/Mitch Haaseth
The news that two major characters would be leaving Grey's Anatomy after Season 14 blindsided fans, and many are still struggling to catch up. But Jesse Williams' reaction to Sarah Drew's departure from the long-running medical drama is unlikely to give them much relief. Their characters Jackson Avery and April Kepner had one of the most intense relationships on the show, so you'd expect the actors' goodbye to be a difficult one. But Williams' farewell makes no mention of their on-screen love story.
When the news broke on Thursday that Drew's contract hadn't been renewed, Williams posted his goodbye message on Twitter. As one half of a couple that will now be permanently broken up by his redheaded co-star's exit, you'd expect that sentiment to be at the forefront. But the actor doesn't mention April and Jackson once, instead lumping in his farewell to Drew with their coworker Jessica Capshaw, who will also be leaving the show. His two-part farewell tweet began like this:
"Sarah and Jessica are easily among my very favorite people and coworkers, so this news f*ckin sucks. Their immense talent speaks for itself but it's them as people that I'm so grateful to know, privileged to have worked with and learned from."
It's sweet, yes, but hardly speaks to the nine years that Williams and Drew spent on the show together. They shared a marriage, two children, the death of one of those children, a divorce... they overlapped in about as many ways as two characters could on a show. They went through it all, but none of that emotion comes through in the 36-year-old's message.
Instead, it reads as a professional, respectful farewell to both of his fellow actors; Williams even uses the word "co-worker" in his tweet. He obviously has warm feelings for the women he shared the screen with for almost a decade, but you'd expect a lot more closeness with one of those women in particular.
It only adds to the mystery surrounding this controversial and unexpected decision. Williams didn't sound particularly surprised by the departures in his cool, measured statement, so does that mean he's just an uber-professional trying not to question the decisions of creator Shonda Rhimes and the Grey's Anatomy leadership? Or is there a possibility that he saw this coming?
It's unlikely, though, since that knowledge would seem to set him apart from Drew, who posted a statement of her own to Twitter on Mar. 8, the day the news broke. In it, she spoke to fans directly, claiming that she found out about the non-renewal just days before the rest of us.
But while Rhimes did post a statement of her own, good luck finding any clues within it, because it's as clean as Williams'. In a statement posted to Instagram on Mar. 8, she praises the actors, honors the characters, and says that the decision was "hard," but reveals no more about why it was made:
"It's always hard for me to say goodbye to any of my characters. Both Arizona Robbins and April Kepner are not only beloved but iconic — both the LBGTQ and Christian communities are underrepresented on TV. I will be forever grateful to both Jessica and Sarah for bringing these characters to life with such vibrant performance and for inspiring women around the globe. They will always be a part of our Shondaland family."
For now, fans will have to wait to see how April and Arizona's stories end, to get more information about why they had to end, and to see a tearful farewell between the characters of April and Jackson, or their actors off-screen. Until then, it's a sad day for Grey's Anatomy fans, whose episodes with these two beloved characters are officially numbered.