Why 'The Sinner' Still Works Without Jessica Biel's Fascinating Central Character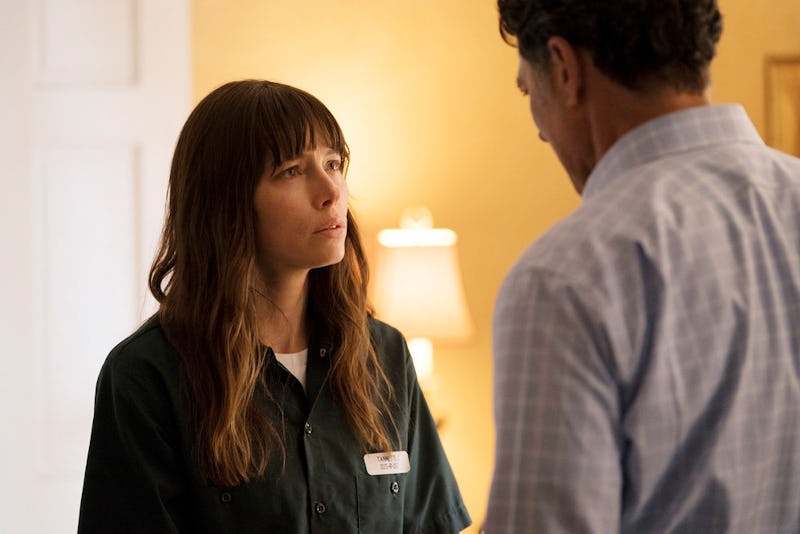 Peter Kramer/USA Network
Equal parts Sharp Objects and True Detective, USA's The Sinner asks not who committed the murder but why. The limited series returns to the small screen on Wednesday, Aug. 1, at 10 p.m. ET. The Sinner's first season followed Cora Tannetti (Jessica Biel), who violently murdered a man named Frankie (Eric Todd) during a family outing at the beach. It was such a sudden outburst against an apparent stranger that the murder confounded not just her husband, but onlookers, law enforcement, and even Cora herself. But if fans are hoping that Jessica Biel is in The Sinner Season 2, they're out of luck.
As a refresher, Season 1 followed Detective Harry Ambrose (Bill Pullman), as he investigated Cora's murder case. Though it was open-and-shut as far as who killed Frankie, he was intent on discovering why Cora did what she did. Throughout the season's eight episodes, audiences discovered that Frankie had accidentally killed Cora's terminally ill sister, Phoebe (Nadia Alexander), several years prior. Frankie and Phoebe had been having sex when she died; however, the 19-year-old had both a weak heart and lymphoma, and she knew the risks when she snuck out of her parents' house earlier that night. All things considered, Phoebe died (relatively) happy.
If that wasn't scary enough, Cora was also heavily drugged by her abusive boyfriend, J.D. (Jacob Pitts), at the time. Frankie then called his father (Christopher Innvar) to clean up their mess. Too scared to either kill her or let her go, he kept Cora locked in a room for two months. During this time, Frankie's father kept her disoriented and made it look like she was a heroine addict, injecting her with the drug and scarring her arms in the process. She was then dropped on a side street in Poughkeepsie, her memory wiped, believing she'd just been on a two-month-long heroine bender. As the season progressed, however, Cora slowly began to remember these traumatic events, which she'd been suppressing up to this point.
Biel's jaw-dropping performance as Cora earned her acting nominations from the Golden Globes, the Emmys, and Critics' Choice Awards, per the L.A. Times. However, the Seventh Heaven alum wasn't the only cast member to get recognition. Bill Pullman received a Golden Globes nod for his turn as Detective Ambrose, and The Sinner was also nominated for a Golden Globe in the "Best Television Limited Series Or Motion Picture Made For Television" category.
That being said, Biel won't be starring in The Sinner Season 2, since Cora's storyline ended with the previous season. However, she is serving as an executive producer on The Sinner Season 2. "I am most definitely drawn to stories that have strong female roles," Biel said in an interview for the USA Network. She went on to cite Natalie Paul, who plays a policewoman named Heather, along with the indomitable Carrie Coon, who plays a commune-leader named Vera, as examples of this season's fascinating women. Of Vera, Biel said, "She will test Ambrose and give him a run for his money."
Per the trailer below, Season 2 involves a murder mystery that's just as gripping as the one in the show's first installment. The show centers around a boy named Julian (Elisha Henig), who is accused of poisoning both of his parents. Similar to how FX's anthology series Fargo operates, The Sinner Season 2 is set in the same universe and will again feature Detective Ambrose. The sad, bearded investigator returns to his hometown in western New York to discover what happened to make a child commit such a heinous act of violence. However, it's clear that there was something going on at Julian's home, just like there was with Cora. "What kind of parents go on a trip and don't pack a bag for their kids?" Heather asks in the teaser. What kind of parents, indeed.
As Pullman hints in his own interview with USA, fans will learn more about his secret past, which Ambrose alluded to in Season 1. What happened to make him so fond of getting his fingernails crushed, and why is he sabotaging his marriage? "As much as [Ambrose] is an extremely successful hider of the truth, there is a sense of him unearthing other hidden things out there in the world that'll...remind him that maybe he's going to be found out," Pullman told USA.
"This season's very twisty," Biel said in the same USA Network interview. "I think it's going to be exciting to see how we unravel the mysteries of this case." So although Cora's mysteries have been uncovered, both Julian's and Ambrose's remain untouched — for now.