This Small-Town Cop Has An Emotional Tie To The Unspeakable Crime In 'The Sinner' Season 2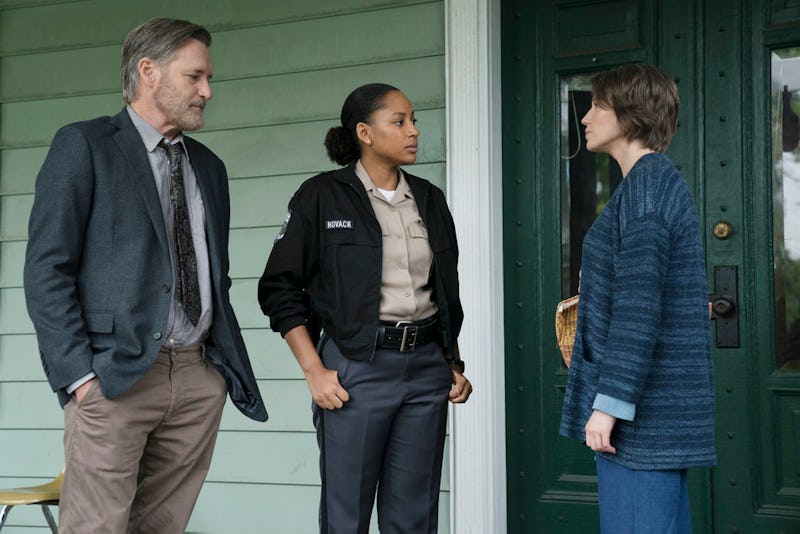 Peter Kramer/USA Network
After a harrowing first season, The Sinner returns with a whole new crime on Aug. 1. Bill Pullman's Detective Harry Ambrose is back, but this time, he's assisting family friend and detective in training Heather in The Sinner Season 2. Natalie Paul of Show Me A Hero, Luke Cage, and The Deuce portrays Officer Novack in the second installment of Jessica Biel's USA series. Just as Season 1 dealt with Detective Ambrose's personal life as well as the disturbing case of why Cora Tannetti (Biel) seemingly killed a random man at the beach, Paul explains in a phone interview that Heather's own journey will be explored in Season 2. So while Heather investigates why the 13-year-old Julian murdered his parents, she'll also need to face her own troubled past.
The Sinner fans have Paul's character to thank for bringing Pullman's Ambrose into another warped case. Ambrose grew up in the same small, upstate New York town of Keller as Heather. He's friends with Heather's father Jack Novack (Tracy Letts) and Paul notes that the veteran detective inspired her character's career choice. So when she discovers that a child has poisoned his parents in a motel room in town, Heather calls up Ambrose for his mentorship and guidance.
"It becomes this unlikely friendship or team that develops between Heather and Ambrose," Paul says. "They actually both have their own demons or sins or whatever that they are carrying. ... That becomes a point of suspicion between the two. We're definitely a team, but I'm like, 'Wait. Who is this guy? What is he hiding? Why did he leave our hometown?'"
In Season 1, Ambrose was dealing with being separated from his wife and his masochistic sexual urges. And Paul notes that you'll see more of his personal life this season. But Heather has her own secrets that she's keeping too. "As we investigate it, the question of this peaceful community in our town comes up, this commune. And I have a friend, a best friend, that the memory of her haunts me," Paul says. Carrie Coon portrays Vera, who is the leader of this commune that has a connection to the boy Julian. And, based on Paul's response, Heather's best friend Marin (Hannah Gross of Mindhunter) may have had something to do with this commune too.
Marin mysteriously disappeared from the town years earlier and through flashbacks, The Sinner will show Heather's relationship to her. "Incidences from my high school years and my teenage years with my best friend reveal more about how Heather got to be who she is," Paul says. "We were trying to figure out the 'why' of the case, but you also see more about the 'why' of the detectives," Paul says.
"It's really a tough industry when you're a woman and to be in that position in law enforcement, you have to be really contained and you can't really show any weakness or personal softness or feelings or anything. So we see Heather now, who's ambitious and trying to really be a good cop, good detective. And then we see Heather when she was a teenager," Paul says.
Besides the disappearance of her best friend and the fact that Heather is a female in a male-dominated career, Heather is also biracial and gay in a town that lacks racial and sexual diversity. "Being the sort of person that she is — being biracial, being a lesbian, being a woman, and being in a small town — she feels a lot of pressure. She feels an incredible amount of pressure to make good on the promise of her being a worthwhile, contributing leader in the community. And you also wonder why she'd stay there," Paul says.
But Paul notes that Heather has her reasons for remaining in the town of Keller. "She has some things that she needs to handle — some things that she needs to figure out first before she can make that leap," Paul says. While what happened to Marin may be a part of those "things that she needs to handle," Paul also references Heather's relationship to her father. "She's kind of codependent with her dad in a way," Paul says. "So she has some growing up to do and some claiming of herself to do and finding herself."
"The journey is so brilliant," Paul says about her character's arc in Season 2. "She's not only trying to solve this outward problem, this case. But it takes her on a journey to figure some things out in herself."
Paul says she was a big fan of The Sinner Season 1 and Season 2 contains the same "why-done-it" (as opposed to "whodunnit") spirit. And she notes how it was just as exciting to be part of the cast and discover a new tidbit of the case with each script she received. "Every other week it's like Christmas," she says with a laugh. "It's like an album drop or something. You're just like waiting for it and you're like, 'Yes! Finally, I get to know a little bit more.'"
While the big reveal of The Sinner Season 2 will be what led Julian to murder his parents, it's clear that Heather's past will be its own point of intrigue as well. And it may just turn out that this detective is more connected to this murder than she even realized when The Sinner Season 2 premieres on Aug. 1 at 10 p.m. ET.