All The Details About Jessica & Cody's Wedding That 'Big Brother' Fans Need To Know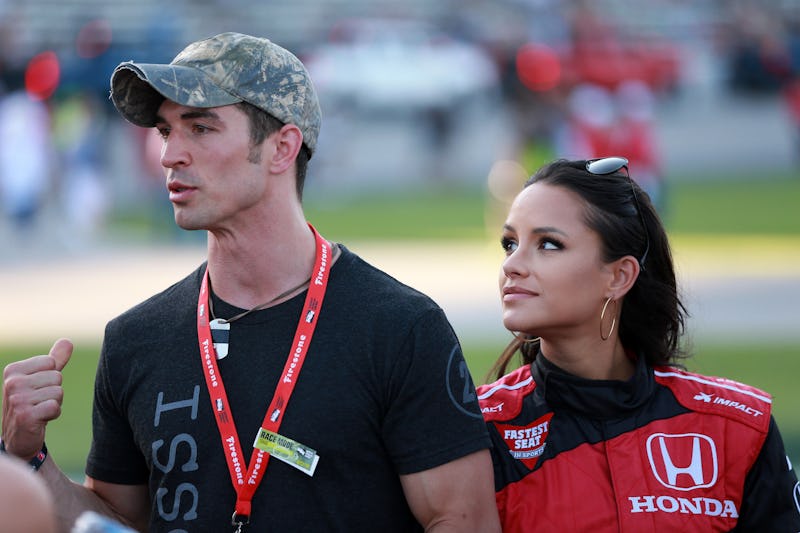 Sean Gardner/Getty Images Sport/Getty Images
Big Brother 19 alums Jessica Graf and Cody Nickson took their showmance from Big Brother to The Amazing Race. And now, they're husband and wife. On Sunday, Oct. 14, Jessica Graf and Cody Nickson got married during a black-tie ceremony in Malibu, California. The couple opened up about their big day in a new interview with People.
The reality TV alums shared a joint statement with the publication, "Our wildest dreams came true today — we're married!" Their statement continued,
"Being surrounded by our closest family and friends and sharing this special day with them was all we ever wanted. We are so lucky to have found each other in the most unconventional of ways but we did. We found our forever in each other and can't wait to begin this new chapter of our lives."
The couple's reality TV history played a role in the ceremony itself. They had Big Brother casting director Robyn Kass officiate the wedding. She told People, "I'm thrilled to have officiated Jess and Cody's wedding." She added, "I'm just so happy for them." Kass also tweeted about the Nickson wedding the next morning.
Cody explained to People, "We wanted it to be somebody that was a part of the special process that even brought us here." That's a very sweet and personal touch for such an important occasion.
The spouses wrote and recited their own vows during the ceremony in front of 100 family members and friends all dressed in black, according to the report. The one exception was Cody's daughter Paisley, who wore a pink dress and served as the flower girl. Jessica remarked, "I know that's very untraditional, but I like the picturesque feel of it all."
Paisley definitely stood out against the color scheme, but there were other notable guests at Nicksons' wedding that reality TV fans will recognize. People reported that Cody and Jessica's Big Brother 19 housemates Mark Jansen and Elena Davies, who started a romance of their own that season, were in attendance. Their The Amazing Race costar Conor Daly was there to support the nuptials as well.
Additionally, Us Weekly reported that fellow Big Brother alum Corey Brooks and their Amazing Race costar Alexander Rossi were at the wedding. The Bachelor Season 21 winner Vanessa Grimaldi even served as one of Jessica's bridesmaids, according to Us Weekly.
In case that's not enough familiar faces, Celebrity Big Brother cast members James Maslow and Marissa Jaret Winokur posed for a photo at the wedding that Jessica reposted on her own Instagram account.
The couple made sure that their guest list included spots for two loved ones that were unable to attend their wedding. In that same People interview, they revealed there were two seats empty in honor of Cody's late brother Dylan and Jessica's departed father.
On Sunday morning, Jessica shared a behind-the-scenes photo of all the makeup that was on hand to get wedding-ready.
The bride also posted, "Guys! I'm getting married!" along with a crying emoji on her Instagram Story.
She reposted a photo from LoriK Public Relations of herself holding Cody's daughter Paisley while she got her hair and makeup done.
The PR agency also shared another cute photo of Paisley — this time at the wedding reception in her father's lap.
Everything is really coming together for the Nicksons. After their season of Big Brother, Jessica and Cody won The Amazing Race Season 30. They are awaiting the arrival of their first child together. Now they are husband and wife, proving that a reality TV showmance can turn into a real life romance.