Jessica Won't Show Up In The New 'Luke Cage' Season — Here's Why That's Actually A Good Thing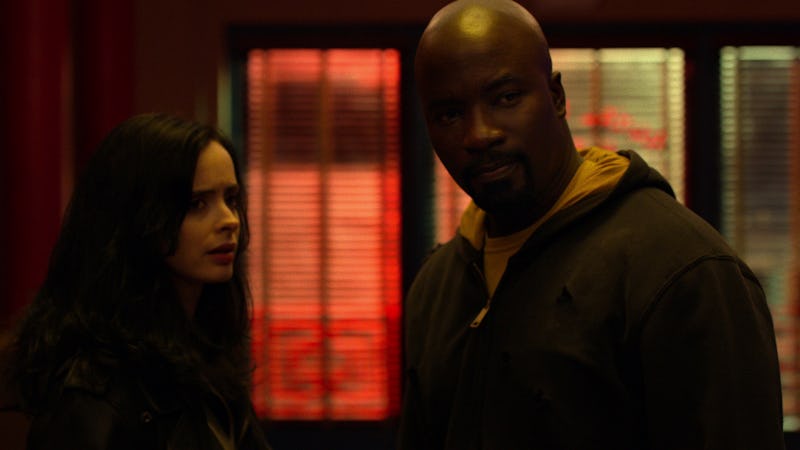 Courtesy of Netflix
One of the great things about having multiple Marvel shows at your disposal is knowing that sooner or later a few of the main characters are bound to interact for an epic crossover. Netflix has already done this multiple times, but it's not always a guarantee. The second season of Luke Cage is premiering on June 22, and some familiar faces will probably show up. Unfortunately, it doesn't look like Jessica Jones is in Luke Cage Season 2.
It would make sense to see her, considering it was her show that introduced Mike Colter's character in the first place. But unfortunately, it doesn't look like New York City's favorite private eye will be making an appearance this time around. If you go to Krysten Ritter's IMDB page, she isn't credited as appearing in any Luke Cage episodes, though if you stop and think about it, that really shouldn't be all that surprising, given the complicated history of these two characters.
During the first season of Jessica Jones, Luke discovered that Jess was responsible for killing his wife, Reva. Granted, she was under Kilgrave's control at the time, but she still kept this humongous secret from Luke even after they began sleeping together. Their team-up during The Defenders may have helped to temporarily mend fences between the two of them, but they definitely still have a long way to go before they can really move on from their past. But that doesn't mean none of Luke's Defenders buddies will show up.
As you can see from the promotional image above — which was initially revealed via Entertainment Weekly — Danny Rand, aka Iron Fist, will be included in Season 2, though it's unclear how significant a role Finn Jones's character will play throughout the installment. Danny and Luke first met in The Defenders and developed an amusing rapport with one another, so Danny's involvement may come with some comedic relief — which is good since this season is sure to be intense if the official synopsis, according to TheWrap, is any indication:
"After clearing his name, Luke Cage has become a celebrity on the streets of Harlem with a reputation as bulletproof as his skin. But being so visible has only increased his need to protect the community and find the limits of who he can and can't save. With the rise of a formidable new foe, Luke is forced to confront the fine line that separates a hero from a villain."
The trailer has since revealed this so-called "formidable new foe" as being someone known as the Bushmaster (Mustafa Shakir), who evidently also shares Luke's bulletproof abilities. But that isn't the most shocking thing about him — it's the fact that his powers are so intense that he can make Luke bleed. The promo shows Bushmaster taking Luke down in a way our Harlem hero didn't think was possible. Could this be enough to warrant a phone call to Jessica for a little help? Maybe, but it feels unlikely. Odds are Danny will stop by to help his new friend out for a while. Not to mention Luke will once again have Claire Temple by his side, though this could be the last time she'll be assisting her many Marvel comrades.
During a panel at MCM Comic Con London in May, Rosario Dawson, who plays Claire, revealed that Season 2 of Luke Cage could be the end of the road for her character. "Yeah, its pretty wild actually. I don't know if I'll be back after this, to be honest, but it's been an amazing few years," Dawson told fans and reporters, according to Comic Book Resources.
Could this mean something will happen to Claire that'll explain her absence in future Marvel shows? That remains to be seen, but if that's the case then Luke will need his other friends more than ever before — including Jessica. So even if she's not currently a big part of his life, she may be a very big part of his future.