Jessica Simpson's Tweet To Natalie Portman Emphasizes How Women Can Be Unfairly Boxed In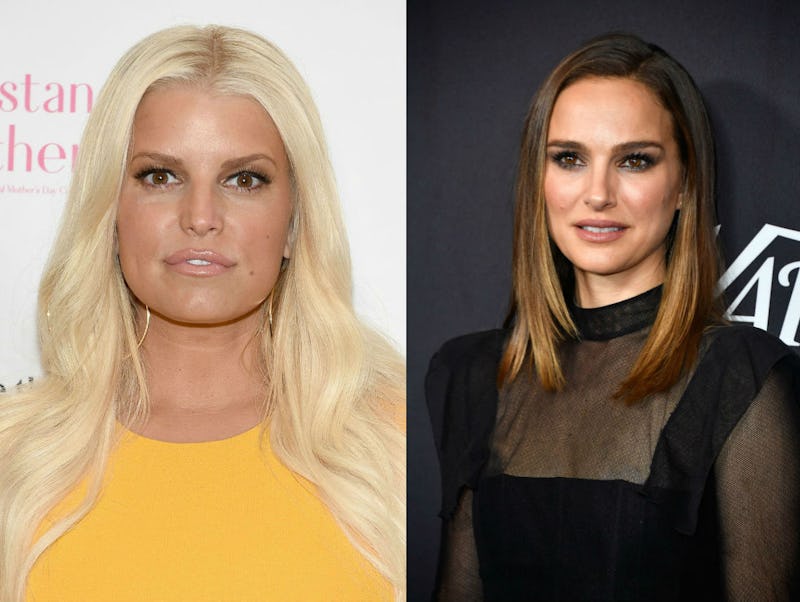 Dimitrios Kambouris/Getty Images Entertainment/Getty Images; Frazer Harrison/Getty Images Entertainment/Getty Images
There's no denying women tend to be unfairly labeled by society — but there are also women who refuse to be defined in these ways. On Wednesday, Jessica Simpson tweeted Natalie Portman, defending herself, her body, and her sexuality in response to a statement Portman made about Simpson wearing a bikini on a magazine cover back when she was still a virgin. Portman's comments were in an interview with USA Today that was published on Dec. 4, and she later responded to Simpson on Instagram with supportive words and an apology.
First, let's discuss Portman's initial comments. While talking about her new movie Vox Lux, where she plays a pop star, the actor opened up about admiring Madonna when she was a child. Portman said,
"I felt really lucky to have her as a little kid, because I saw someone who was brazen and disobedient and provocative and trying to mess with people and always changing — I thought it was a great thing to see in a woman growing up."
Then, the Academy Award winner touched upon, as USA Today reported, "the virgin/vixen paradigms lobbed by the music industry as the millennium neared."
Portman commented,
"I remember being a teenager, and there was Jessica Simpson on the cover of a magazine saying 'I'm a virgin' while wearing a bikini, and I was confused. Like, I don't know what this is trying to tell me as a woman, as a girl."
Simpson found fault with Portman's words and decided to respond on Twitter.
As you can see above, Simpson's tweeted,
"@Natalieportman — I was disappointed this morning when I read that I 'confused' you by wearing a bikini in a published photo taken of me when I was still a virgin in 1999. As public figures, we both know our image is not totally in control at all times, and that the industry we work in often tries to define us and box us in.
However, I was taught to be myself and honor the different ways all women express themselves, which is why I believed then — and believe now — that being sexy in a bikini and being proud of my body are not synonymous with having sex."
When she first became famous as a singer, around the same time she was dating and then engaged to Nick Lachey (they got married in 2002, but later divorced in 2005), it was a well-known fact that Simpson was waiting until marriage to have sex. As she told People in 2000, "My virginity is something I stand strong in."
She fully embraced her choice and still does to this day. The shoe designer also tweeted Portman,
"I have always embraced being a role model to all women to let them know that they can look however they want, wear whatever they want and have sex or not have sex with whomever they want. The power lies within us as individuals."
Simpson continued,
"I have made it my practice to not shame other women for their choices. In this era of Time's Up and all the great work you have done for women, I encourage you to do the same."
Soon after Simpson's tweet was posted (she also shared it on Instagram), Portman responded in the Instagram comments section with an apology and nothing but praise for Simpson. (Simpson has not yet responded to Portman's post.)
Portman partially wrote,
"@jessicasimpson Thank you for your words. I completely agree with you that a woman should be allowed to dress however she likes and behave however she likes and not be judged. I only meant to say I was confused — as a girl coming of age in the public eye around the same time — by the media's mixed messages about how girls and women were supposed to behave."
You can read her full post here:
Like both Simpson and Portman noted, someone can wear a bikini and be a virgin. An individual's virginity and choice of outfit or swimwear aren't mutually exclusive.
Simpson's tweet should be applauded, because she makes a lot of great points, not to mention how she stands up for women everywhere. It's also understandable why Simpson felt like she needed to defend herself, something she's been doing most of her life. As for Portman, she's always been a class act and there's no denying she continues to influence and uplift women.