Here's How To Score Plane Tickets For Under $50 This Week Through JetBlue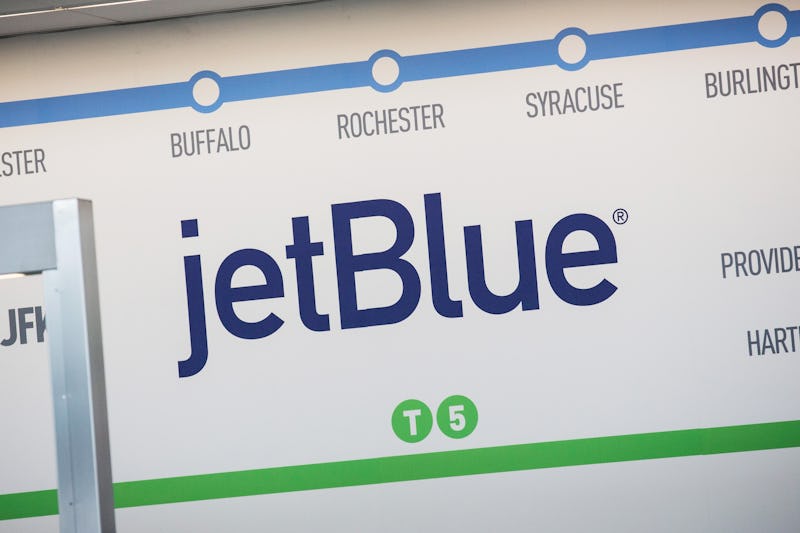 Andrew Burton/Getty Images News/Getty Images
Summer is here, and it's time for slushies, extended porch parties, roasted marshmallows, and beach bags full of good books. If you're lucky, you already have some exciting travel planned for the months ahead, but if you forgot to book a vacation and are feeling some FOMO, don't worry. You can get plane tickets for under $50 this week with JetBlue's flash sale. It sounds too good to be true, right? Fortunately for the wanderlusty among us, it's not — but some restrictions do apply, and you'll want to have all the info before you start dreaming of those crazy cheap flights.
JetBlue rolled out their "Sale Into Summer" deal on May 30. It will run only until 11:59 p.m. EST on May 31, so if you're at all tempted to check out the fares, you best start investigating ASAP. In addition to the restrictive purchasing window, there's also a limited time for travel. The deals will only apply to flights departing between Jun. 6 and Jun. 20, 2018, and Friday and Sunday flights are pretty much excluded across the board. Basically, if you're the spontaneous type (or are trying to be the spontaneous type just this once) who doesn't need to travel over a weekend, this could really be a good thing for you... even if it won't prove very useful for weekend getaways or trips later in the summer.
It all sounds great, but, as with most things, these fares — some as low as $44 one-way — come with a few catches. According to a spot-check from USA Today, certain routes (including Portland, Maine to New York JFK and Las Vegas to Long Beach, California) are easy to come by at the low, low prices touted by the airline.... but others (like the trip from Charleston, South Carolina to Washington Reagan National) are only available on one or two days of the two-week travel window noted in the deal's restrictions. Additionally, some of the low-priced tickets can only be purchased for flights going in one direction. The same fares are limited or entirely unavailable on the return trip, per the USA Today spot-check.
Still, this flash sale is still a welcome incentive to plan some last-minute June travel. A limited number of cheap flights is still better than no cheap flights in my book! Taking advantage of Sale Into Summer is super simple too, so if you're at all curious about this news, you might as well do a little more research to find out whether any of the available inexpensive flights would be the right fit for your June 2018 schedule.
All of the participating flights are listed on the Sale Into Summer deal page. You can easily search for specific origin and destination airports to determine if your route of choice is part of the sale. Assuming it is, the page clearly lists the best available deal, although you'll want to move your cursor over each sticker price to learn more about the particular restrictions that might apply for that flight. You can also look at flight costs in terms of points if you're a regular JetBlue customer, or review flight and hotel packages. Once you've settled on a flight, you can proceed to book directly from this page, which makes the whole process feel more streamlined than many other blowout sales, which can require multiple steps, codes, and the like.
The moral of the story? Approach a promotion like Sale Into Summer with caution so you don't find yourself totally disappointed, but don't hold back! There really are cheap flights — to Orlando, Atlanta, New Orleans, and more — to be found.