Trump's Tampa Rally Audience Heckled Jim Acosta Nonstop & His Response Is Sobering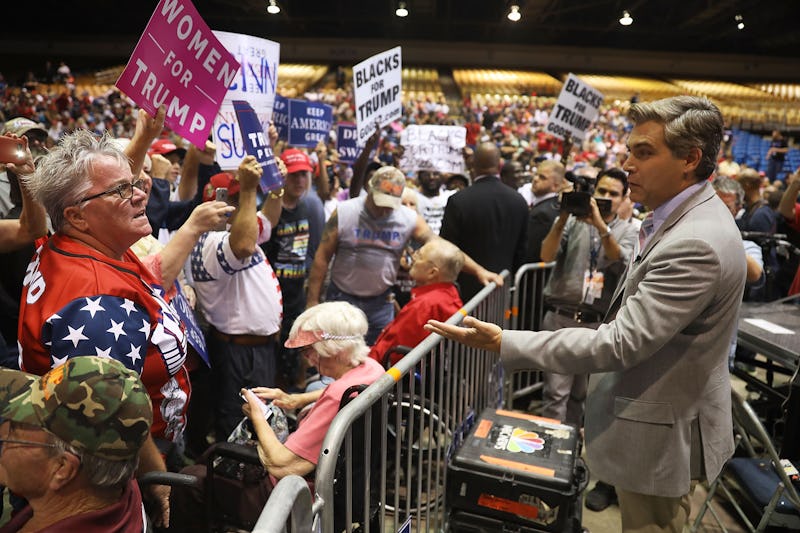 Joe Raedle/Getty Images News/Getty Images
In Florida on Tuesday night, a CNN reporter was again heckled by Trump supporters, facing shouts of "traitor" and "fake news" as he was reporting live from a Trump rally. After the event, Jim Acosta responded to Trump's Tampa rally supporters booing him, writing on Twitter that he is very concerned by the hostility toward the media that is exercised by the president and some of his supporters. Notably, on Tuesday, the president retweeted his son Eric's tweet describing the video of Acosta being heckled as "#truth."
Acosta reflected on how he was treated at the rally on social media on Tuesday night. He expressed concern that the hostility he witnessed in Florida could have dangerous implications for all Americans. As Acosta wrote:
Just a sample of the sad scene we faced at the Trump rally in Tampa. I'm very worried that the hostility whipped up by Trump and some in conservative media will result in somebody getting hurt. We should not treat our fellow Americans this way. The press is not the enemy.
Others on Twitter also expressed worry about the ramifications of hostility toward the press in the United States — particularly negativity endorsed by a presidential administration. Indeed, as author John Pavlovitz wrote on Twitter, " ... Tonight's treatment of Jim Acosta in Tampa, and Trump and company's glorifying and celebrating of it, is its most brazen, reckless, and irresponsible move yet."
Acosta has been a frequent target of both Trump supporters and the president himself. For example, back in July Trump refused to take a question from Acosta during a press conference, telling the CNN reporter (according to Newsweek), "CNN is fake news. I don't take questions from CNN. CNN is fake news." Newsweek also reported at the time that Trump then called on a reporter from Fox News and referred to the outlet as a "real network."
Acosta has also been heckled at previous Trump rallies. For example, back in June, the Huffington Post reported that crowds shouted, "Go home!" and "CNN sucks!" at Acosta as he was waiting in a press area at a Trump rally in South Carolina. The Huffington Post reported at the time that Acosta subsequently reflected on the heckling on CNN. The reporter noted that, while some people treated him nicely, a woman came up to him and said "CNN should get the 'f' out of this auditorium" and proceeded to "whip" the crowd "into a frenzy."
However, at the time, Acosta added that he was not going to let the crowd's hostility get in the way of his reporting, saying to CNN, "We are here to do our jobs and report the news and report on this rally, and we're not going anywhere."
More recently, Acosta was berated by a White House aide for asking the president questions during a photo opportunity in the Oval Office. As The Hill reported, it is common for reporters to seek to ask the president questions during these events — and the president will sometimes respond. However, in this case, Acosta was criticized by White House staff for posing his questions, with The Hill noting that one aide told him, "Make your way out. Let's go. Move, Jim, let's go. Keep going, Jim, let's go ..."
Overall, Acosta has certainly faced a barrage of criticism from members of the Trump administration and from Trump supporters. It is very apparent that the CNN reporter is concerned about how some who are affiliated with Trump view the role of the press in American society — and urges people to be cognizant of their attitudes and actions toward others and toward the media.